Faizan Anwar, new kid in the boxing ring
The 20-year-old is No.1 pro boxer in India across weight classes by virtue of points earned, according to boxrec.com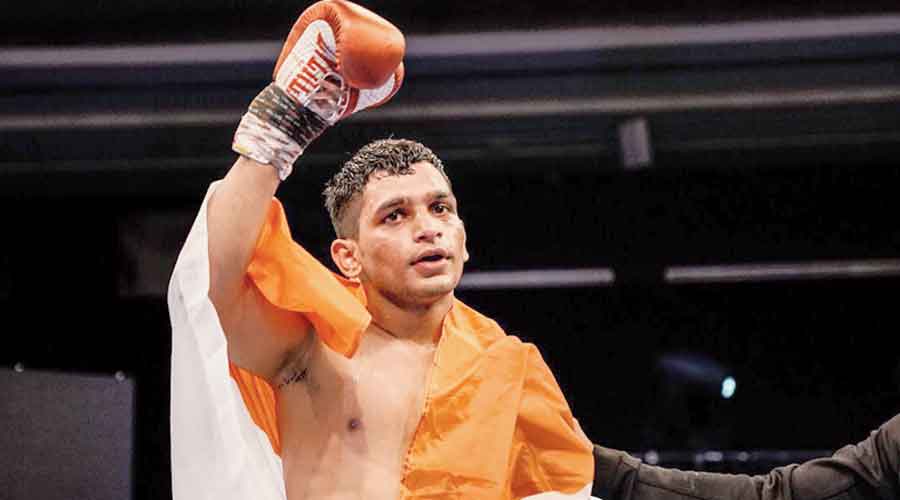 ---
Calcutta
|
Published 21.09.21, 02:14 AM
|
---
In the lanes of Kidderpore a dream was born. It is being nurtured in Dubai and the goal is a gold medal in the 2024 Paris Olympics.
That is the story of 20-year-old Faizan Anwar, a welterweight (66kg) professional boxer from Calcutta.
Anwar, who turned professional just two years ago, is not only ranked No.1 in his category by the Indian Boxing Council, which governs the sport in India, but is also the No.1 pro boxer in India across weight classes by virtue of points earned, according to boxrec.com.
And that puts him, at least on paper, ahead of even Vijender Singh (super middleweight), the original poster boy of Indian boxing. While Anwar has 2.199 points according to the latest boxrec.com chart, Vijender has 1.795.
But Anwar humbly admits that he has a long way to go. Despite creating waves in the pro-boxing circuit, having won all his eight bouts so far, he considers Vijender a legend. "I can't compare myself to Vijender. He is a legend. I have more points now maybe because I have played more bouts recently," Anwar told The Telegraph.
That is a great attitude to have, to be grounded and humble and being focused on his career.
"After winning the bronze medal at the Beijing Olympics he (Vijender) also made pro-boxing popular in India and we are all following in his footsteps," Anwar added.
"I started boxing to become fit. I was an obese kid. So I was enrolled at the Kidderpore School of Physical Culture. When I was seven years old, I started taking part in age-group state championships and from 2014 to 2018 I won in sub-junior and junior categories," he added. He won nine gold medals and a silver to prove his point.
But what inspired him to turn pro was a trip to Bangalore in 2018 to meet his uncle Mujtaba Kamal, who is a pro-boxing coach.
"While I was in Bangalore my uncle took me to see a pro-boxing bout. I was hooked immediately. The glamour, the crowd — it was all so different from the amateur circuit that I was used to.
"Since in India training facilities for pro boxing are still not that good, I shifted to Dubai. I joined the Round 10 boxing gym and D4G boxing promotion under manager Jose Mohan and promoter Ahmed Siddique. Dubai is now a hub of pro boxing and there are a number of pugilists with good track records," he said.
While Kamal had been a guiding force in his career, he is now coached by Robert Etorma of the Philippines.
On August 20, the south paw Anwar continued his unbeaten run in pro boxing, defeating Filipino boxer Ricky Sismundo at the Conrad Hotel in Dubai. He has won all eight of his bouts till date.
With professional boxers allowed to take part in the Olympics since the Rio Games, Anwar has his heart set on competing at the 2024 Paris Olympics. "My dream is to qualify for Paris and I will definitely bring a medal for India. I want to win a gold medal for my country."
Though settled in Dubai, at heart Anwar is a Calcutta boy. And what does he miss most? "Mutton biriyani. I just love Calcutta biriyani. In Dubai also I found an Arsalan. And I love sweets," he said, ruing the fact that he can't really indulge much since he has to watch his weight and stay fit.