Europa League Final: Villarreal beat Manchester United in epic penalty shootout, Marcus Rashford faces racial abuse
Unai Emery won his fourth Europa League title. The Red Devils issued a statement soon after the forward brought the matter to everyone's notice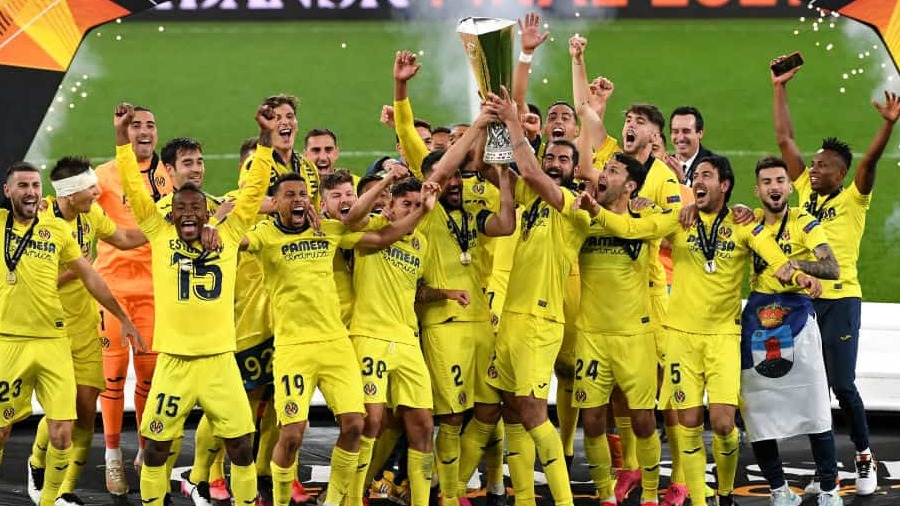 Villarreal beat United 11-10 in the penalty shootout.
Twitter/@TimileyinAdere6
---
Published 27.05.21, 04:59 PM
|
---
Manchester United have now clocked four years without a trophy, and that's the worst ever stumble for the club in 31 years.
Villarreal punctured Ole Gunnar Solskjaer's last hope of winning his maiden silverware as United manager, by beating the Red Devils 11-10 on penalties in the Europa League final last night in Gdansk. United goalkeeper David De Gea missed the decisive spot-kick in the shootout, handing Unai Emery's Villarreal their first ever major title. 
After Gerard Moreno put Villarreal ahead in the 29th minute, Edinson Cavani equalised soon after the second half went underway. But it was not United's day, and their manager thinks they could've done better. "We didn't play as well as we can do. We started alright and they scored from their only shot on target but it was disappointing to concede a goal on a set play. We pushed and pressed and got the goal. But after we scored we couldn't control the game and dominate the way which we wanted," Solskjaer told BT Sport after the game.
This victory is Unai Emery's fourth Europa League title. United énded their Premier League campaign at number two, 12 points behind derby rivals and champions Manchester City.
Marcus Rashford faces racial abuse
Things went from bad to worse for United forward Marcus Rashford last night. After losing the Europa League title to Villarreal, Rashford was at the receiving end of a slew of racial slurs. He immediately brought it to everyone's notice. "At least 70 racial slurs on my social accounts counted so far. For those working to make me feel any worse than I already do, good luck trying. I'm more outraged that one of the abusers that left a mountain of monkey emojis in my DM is a maths teacher with an open profile. He teaches children!! And knows that he can freely racially abuse without consequence," Rashford wrote on Twitter.
After Rashford spoke up about his unpleasant experience, United backed him by issuing a statement on social media. The club took to Twitter to say, "Following the final, our players were subjected to disgraceful racist abuse.If you see any form of abuse or discrimination, act and report it."