Euro 2020: Italy draw strength from past
It is now 33 matches since the Azzurri last tasted defeat and that winning habit showed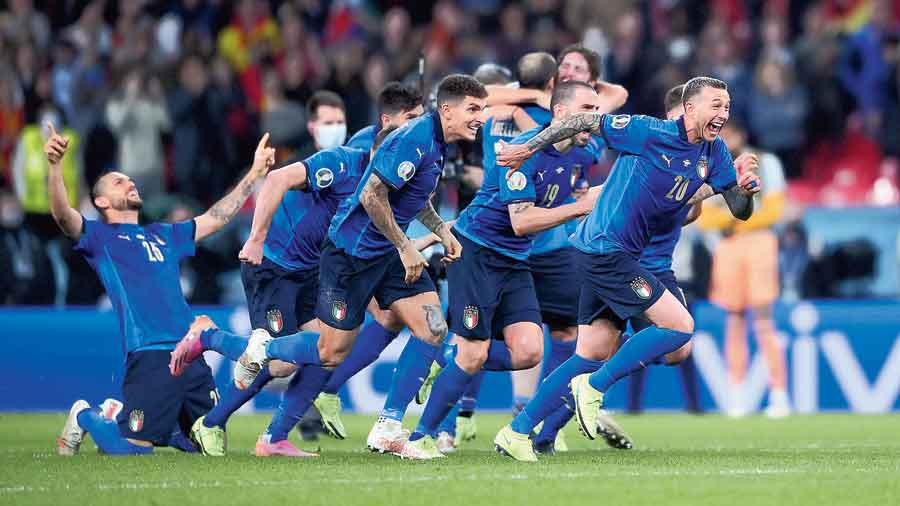 Italy players exult after Jorginho's decisive penalty against Spain in the Euro 2020 semi-final shootout at Wembley Stadium on Tuesday.
AP/PTI
---
Published 08.07.21, 03:34 AM
|
---
The final touch, the decisive touch, after two hours of thunder and fire, was soft and delicate and perfect.
Jorginho stood in front of the massed ranks of Italy fans, straightened his back, took a breath, and started his run. Halfway there, he paused, just for a beat, just for long enough to knock Unai Simon off balance. And then, when he got to the ball, he did not strike it. He addressed it. He caressed it. Simon was falling in the other direction, and Italy was heading to the final of Euro 2020 where they will meet England on Sunday.
Roberto Mancini's Italy has displayed plenty of that sort of elegance on the way here, in sweeping past Turkey and Switzerland and Wales in the group phase, in despatching first Austria and then Belgium in the knockout rounds.
But this — the final strike in a 4-2 penalty shootout win over Spain in their semi-final — was an occasion for more traditional Italian virtues.
Italy had taken the lead, through Federico Chiesa, but for much of the game it ceded the ball. It accepted that Spain would dominate possession, and that it would have to live up to a stereotype it has tried, over the last three weeks, to overhaul.
Giorgio Chiellini and Leonardo Bonucci stood sentry at the back, repelling everything the Spanish could muster, until one finally broke through: a quicksilver one-two between the lively Dani Olmo and Alvaro Morata, and Spain were not just level, but in the ascendant, and Italy was clawing to stay in the game.
It did, of course, because it is Italy. It held on until penalties. Manuel Locatelli and Olmo both missed when Morata, on the back of a tempestuous tournament, made the long walk up the field. He shot low, to his right. Gianluigi Donnarumma read it, pawed it away.
All Italy needed after that was a single touch. A single, soft, delicate, perfect touch.
It is now 33 matches since Italy last tasted defeat and that winning habit showed.
Penalty shootouts aren't a "lottery", as they are sometimes called, but nor can their outcomes be easily explained, given the range of technical and psychological factors at play.
However, Italy showed real steel and confidence as they bounced back from Locatelli's missed opener, to score their next four penalties, including Jorginho's ice-cool winner.
It was the same mental strength that had helped Italy cope with having limited possession for large stretches of the game.
Olmo will regret that his goal efforts were not of the same precision but he was otherwise excellent, constantly asking questions of the Italian back line.
Italy's focus in the final third has been the key to Mancini's transformation of a team that was a national disgrace three years ago. They believe in each other and that confidence and unity has powered them to the final.
The pundits applauded the energy and directness of Mancini's side but in the knockout stage they have shown they still have the more traditional qualities of Italian football.
Donnarumma was the hero with the save from Morata's spot-kick that made the difference and he was quick to point to the qualities that have taken his team all the way. "We are only one step away from realising our dream. Spain are very strong, but this Italy side has a lot of courage, we never give up," he said.