Euro 2020: Southgate faces 'defensive' posers
England seek answers after Euro final defeat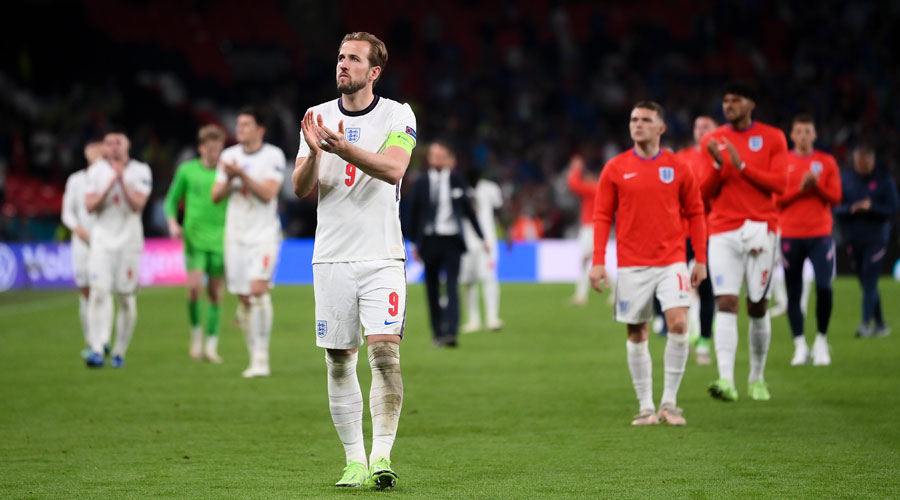 ---
Calcutta
|
Published 13.07.21, 03:08 AM
|
---
Playing a final of a major tournament after 55 years might have made every England fan euphoric but Italy deservingly took the trophy to Rome.
Euro 2020 was heavily loaded in England's favour. They got a favourable draw (that was not in their hands though), six out of seven matches were played at the Wembley Stadium, only one game on the road, that too against pushovers Ukraine, in the quarter finals. The only big name was Germany in the second round but this Germany is not the team of yore.
It was England's best chance to end the 55-year wait. It didn't happen and that's because Gareth Southgate and his men were gripped by the fear of losing. Nothing else can justify a team sitting back and allowing as formidable a rival as Italy to come back into the game after scoring inside two minutes.
"They were under immense pressure. I think England scored the goal very early and decided to wait to avoid Italy's counter-attack. What they forgot is that there were 88 minutes of regulation time left and a lot to play for. We all knew the equaliser was coming. This was Southgate's biggest mistake. England should have continued to press high on the pitch and not to retreat to its own half," ATK Mohun Bagan coach Antonio Lopez Habas told The Telegraph from Madrid.
Rigid composition
That's a surprise for Southgate. In his last four years on the hot seat, he has been pragmatic and brought in a breath of fresh air in the way England play. In this Euro though he was rigid with his team composition. When Spain coach Luis Enrique banked on 18-year-old talented Barcelona midfielder Pedri to pull the strings from the midfield, Southgate, who had exceptionally talented players like Phil Foden (didn't get a start after the first two group matches and was unfortunately injured before the final), Jadon Sancho and Jack Grealish at his disposal, preferred to keep them on the bench.
What can explain a player like Grealish coming in at the 99th minute, by which time Italy were on top of the game? Or Sancho, who was scooped up by Manchester United from Borussia Dortmund for a tidy sum, entering the field at the 120th minute? The need of the hour was to bring in people who could have played the ball forward to Harry Kane.
Midfielders Declan Rice and Kalvin Phillips are good at defending but are not comfortable moving the ball upfield. Grealish or Sancho could have had a run against the ageing Italy central defender duo of Giorgio Chiellini and Leonardo Bonucci. As we saw, Bukayo Saka was zipping past the Italy captain who had no other option but to pull his shirt. With Italy pressing higher and higher, Bonucci and Chiellini defending at the halfway line, was there ever a better time to introduce the pace of Rashford, Grealish or Sancho?
Surprising substitutions
Southgate's substitutions also showed his lack of big-match experience. Sample this. Jordan Henderson and Kyle Walker were pulled out and in came Marcus Rashford and Sancho at the 120th minute. That happened just after England conceded a set-piece. It was something difficult to understand. Both Henderson and Walker have defensive qualities whereas Rashford and Sancho are attackers. England could have lost the match there only. "It was a technical decision. You have to respect that. Had England won the match nobody would have questioned his substitutions," Habas reasoned.
But did those two substitutions rob England of their first trophy since 1966? Both Sancho and Rashford, who were sent in for the penalties, missed from the spot and then a 19-year-old Saka was thrown into the cauldron. He also faltered. Bringing two players on just to take the penalty kicks is a move fraught with risks.
Sancho and Rashford immediately took us back to the 1986 World Cup quarter final between Brazil and France where Zico, brought in by Tele Santana in the 71st minute, missed the penalty awarded moments later. The match was evenly poised at 1-1. It's not easy to take a penalty in a crunch match coming in as a substitute and nobody knows that better than the legendary Brazilian.
Southgate strategy
Southgate has said it was his decision who would take the penalties.
"Obviously it's the coach's call. But he pens the names after consulting the players, because there will be some with less confidence. The coach also sets the order, choosing the most reliable shooters at first and the less the last," Habas said, offering a glimpse into how a coach's psyche works.
But history says good penalty takers can also find themselves in a spot of bother. For example in the 2012 Champions League semi-final, Real Madrid lost to Bayern Munich. Guess who failed? Cristiano Ronaldo, Sergio Ramos and Kaka. "Yes, that can happen. I always tell my players that a penalty kick has to result in a goal and not the best goal in the world," Habas said.
Southgate has given English football fans a renewed hope and got many of his calls correct, but he got it wrong on the night that it mattered the most.