David Miller: I've been born for something greater than cricket
Exclusive ♦ KXIP veteran on his faith & beliefs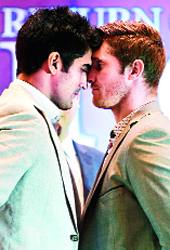 ---
Calcutta
|
Published 04.05.16, 12:00 AM
|
---
Calcutta: David Andrew Miller, who is capable of turning a match on its head, spoke to The Telegraph at the ITC Sonar on Tuesday evening.
The Durban-based Miller began IPL 2016 as the Kings XI Punjab captain, but has had to make way for Murali Vijay.
Miller is a veteran at Kings XI and losing the franchise's captaincy could make him more determined to explode in the latter half of this IPL.
The ongoing edition of the IPL hasn't seen Miller anywhere near his best, but he'd topped the Kings XI averages in 2014 and in 2015.
Clearly, Kings XI need the Millers in their squad to cut loose, otherwise they'll struggle to get off the bottom of the table.
Excerpts...
Q Would you be better off without the Kings XI captaincy?
A I don't think captaincy had anything to do with my form as such... I had 30 not out in the last match I'd captained (against the Mumbai Indians)... In four of those six matches I played strokes which I would have even if I hadn't been the captain... Having said all that, captaincy is a different role, particularly off the field... Even on the field, you have to take more decisions than usual... Anyway, I'm no longer the captain.
After an outstanding 2014, which saw the Kings XI make the final, both 2015 (last) and this year have been dismal. Why this slide?
It all comes down to performance, or the lack of it. When we did well, certain players did really well... Then, collectively, the team chipped in too. Somebody played a blinder, or somebody had a great spell... Some individual or the other stepped up. In Test cricket, you need four-five players to come good over five days... In ODIs, two-three have to stand out... In T20 cricket, because of the nature of the format, one individual could make the difference. Teams which look formidable have players who step up.
At the half-way stage, Kings XI are at the bottom of the table. Could the latter half of this IPL see a remarkable recovery?
Why not? Last year, the Mumbai Indians lost four in a row, yet won the IPL... It's possible... Much would depend on just how much we want it (the trophy). We'd also need some luck going our way... A few catches which should have been held were dropped... Or, the ball fell just over the fielder's head... One or two decisions didn't go our way... We were off luck, as they say. Often, the little things make a big difference in the shortest format. Hopefully, our luck will turn.
How is Virender Sehwag as the Kings XI mentor?
I've enjoyed working with Viru, he's so simple and straightforward. He doesn't say any more than he needs to. I suppose Viru's experience comes into play, as he's been through it all during his India career. The emotions, the pressure... Viru has the credentials to talk about it all. As a batsman, he'd been a class act and can give inputs to improve others.
You've spoken of luck... What else is needed in T20?
Well, you need one individual to make it count in every match. Look at what Akshar (Patel) did the other day... He got four wickets in two overs, that was a game-changing effort... We'll need more of that.
Kings XI face the Kolkata Knight Riders (KKR) on Wednesday... Your thoughts on Gautam Gambhir's team?
Very well balanced with very good all-rounders... KKR have won the IPL twice in recent years and have the experience of handling the big occasions. There's always talk of their bowling, but openers Gambhir and Robin Uthappa are so consistent. KKR's starts are invariably good. That makes a difference.
Some questions away from the IPL... You've been playing for South Africa from 2010, but have come to be labelled as a limited overs specialist. Surely, you'd like to play Test cricket...
That's my dream... Of course, I'd love to play Test cricket... It's so close to my heart... But I'm in a catch-22 situation, as the ODI and T20I commitments hardly leave time to play first-class cricket at the provincial level. How do I prove to the selectors that I'm good enough for the longest format too? I'm 26 (only), let's see what the future holds.
South Africa came to the recent World T20 as one of the favourites, yet couldn't make even the semi-final. Why?
I wish I knew... Can't give the answer... If you have it, do let me know... We'll then be able to rectify things... We were on the back foot from the very first match when England chased down 230... It was very disappointing... But, then, this is sport... You need a helping of good fortune.
Just over a year ago, South Africa had a good World Cup, but tripped in the semi-final (to New Zealand)...
We did have a very good team, but didn't choke. As I've said, sport gives no guarantees.
[Miller, a left-hander, had a fruitful World Cup. He totalled 324 runs at a handsome average of 64.80.]
Do you set targets?
It's about one step at a time. That way, you get to the end result... In T20, I try and maximise the situation I find myself in.
Role model in cricket?
Wouldn't say role model, but I loved watching Adam Gilchrist and Matthew Hayden... In fact, Gilchrist's approach to the game was very much like Viru's... No fear... As for Hayden, he just dominated the bowling. Awesome power.
South Africans are into sport in a big way. Are you passionate about any sport barring cricket?
Golf... I was into surfing, but gave it up. It's very demanding.
Favourite golfer...
Tiger Woods... I'd say Woods has been my inspiration... If I've looked up to one sportsman, it is Woods... He's changed the face of golf and I respect him for doing that... Woods was the world's best for quite a few years and it must have been difficult for him... I also like Rory McIlroy.
What is your handicap?
It's 12... I'm more of a social golfer.
You are deeply religious... Would you enlighten us?
I'm a Christian and, right from my childhood, my parents (Jenny and Andrew) have instilled values... I've always been inclined towards religion, have always believed in Jesus Christ... It's a journey for me and I'm still travelling... I believe I've been born for something greater than cricket and certainly haven't accomplished everything. I still have to get through with a lot in this life. You and I are human and humans do make mistakes. Fortunately, I have a good support structure back home to fall back on. I'm satisfied with what I get in life.
Are Jenny and Andrew very religious?
Both are. I have an elder sister (Jessica) and a younger brother, Gregory, and we've been raised with values and the importance of values.
Does your religious bent of mind make it easier to handle failures or disappointments?
Definitely. I'm more relaxed... There's more hope within... When things are bad I realise that I'm on earth for better things, for a greater purpose. I believe in reaching out, I believe in being a better person not just a better cricketer... My faith and my beliefs give me that balance in life.
So, you don't go overboard when things go your way?
I like being consistent, both during the ups and the downs... That's what I meant when I talked of balance. It helps being the same person, whatever the circumstances.
The final one... Two decades on, could we actually see you as Rev. David Miller?
(Laughs ) Unlikely... Well, can't say... Don't know where I'll be 20 years from now.