David Gower opens up in a candid chat
I think I like to be called an icon, but I don't ask for it, said the former English skipper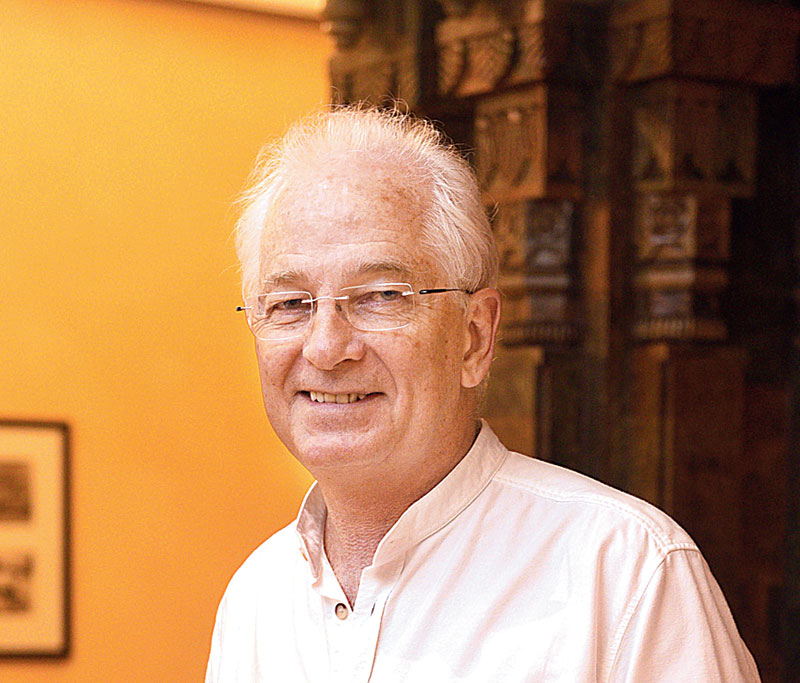 David Gower at The Oberoi Grand's Gharana moments before delivering the Tiger Pataudi Memorial Lecture, presented by Air India and a joint initiative by The Bengal Club and The Telegraph, in association with The Oberoi Grand Kolkata, on Wednesday evening.
Picture: Rashbehari Das
---
Published 30.03.19, 12:40 PM
|
---
White shirt, camel trousers, tan shoes. The David Gower we met on Wednesday at The Oberoi Grand was all vintage and subtle. Yet when those twinkling blue eyes spoke, Gower's assertion was winning. The legendary left-hander was in town to deliver the Tiger Pataudi Memorial Lecture, presented by Air India and a joint initiative by The Bengal Club and The Telegraph, in association with The Oberoi Grand Kolkata, a week before his birthday (April 1).
We caught up with him at Tea-time Tales, a high-tea event at the hotel's Gharana banquet, before the lecture. He chatted with us at ease, sharing his plans of dropping in at Eden Gardens to watch Kolkata Knight Riders play Kings XI Punjab later that evening, a smile in his eyes and a leisurely charm about him.
You were saying you are back in Calcutta after a very long time…
I have been here many times. The first time would have been probably 1981-82 and there are lots of fond memories from then. Then I have come as a player, a commentator and now as a narrator.
What is the most prominent memory of Eden Gardens in your mind?
In a way, just the sheer size of Eden Gardens stadium and with that size and with the immense interest…. In those days, Test cricket was the thing. And the place was pretty full. Just looking around that stadium and looking around everywhere… just to how far back it went, just to see the number of people there… the noise, the oranges… lots of things about the atmosphere that stand out. It is an still an iconic ground among the world's iconic grounds… something very special.
And now when you step into Eden Gardens?
With luck, we are going to see the IPL game, which will be very different for me. I have not been to an IPL game live at all… I have not been asked to work on IPL, not been here to commentate. We watch it back in the UK, of course. And it has become what it is. To see what it feels like to be in the stadium in IPL will be another step. I am sure it'll be buzzing tonight.
Do you enjoy the format?
I confess I am best with things like Test cricket. I am still a very strong proponent of Test cricket, but I learnt a lesson many years ago, ignore progress at your peril. So, I am very instant to adopt and adapt to the new forms of the game. So, it's now what 10-12 years that you've had an IPL game, seems it's like just two minutes, but it's strong, vibrant and it's a big part of the international calendar now. I think one of the great things about it is that it exposes so many more players to the pressure of playing with a big crowd. So, I think, for the Indian players, it's brilliant, it's part of their education. For all the guys who come from overseas, some of them are already used to it, but from what they tell me, IPL feels different again.
So, who are you supporting?
I think it's safe to sound neutral. Since I am being hosted in Calcutta, I should support KKR, at least for one night, but to be fair, I don't think I am going to go home and sign up as a registered member of KKR! (Smiles)
How much of IPL do you watch back home?
I see bits. If I may confess, I am not very good at watching sport a lot on television at home because I have other things to do. If I am working for Sky (Sports), for a Test match, I love it and if I am elsewhere, at home, there are always things that I am told I have to do.
Like what?
One's own social life, responsibilities, wife and family, the house, the garden….
So, give us a glimpse of your daily life...
Daily life can be anything. For instance, daily life can be very mundane, very staid, very dull. When I am in Calcutta or something like this, being feted by people, very friendly like this, this is not daily life. This is very different. When I am working… I have somehow managed to stay in cricket for 40 years… as a player and broadcaster….
Somehow?! People really look up to you…
When they do it's nice and when they don't, it's not so nice. I think I like to be called an icon, but I don't ask for it.
Who would you pay to watch?
There are the very obvious ones like Virat Kohli and Kane Williamson, Chris Gayle, Joe Root, Jos Buttler… it's quite a long list of players I'd happily watch.
So, it's a combination of power and skill for you…
Chris Gayle is the ultimate power man! All that comes with skill. Someone like Jos Buttler has more finesse to him and Kohli has everything. Some are pugilists, some are artists and some like Virat can bridge everything. I am not just playing to the audience if I say he is probably the best player in the world today. He is!
Do you think he will break all records?
I don't know. He has a long way towards doing it. The thing about breaking records is that it also takes time, but he is not wasting time and he produces runs every time. He is already one of the greats, and by the time he finishes, which ain't soon, he will be right up there.
Who are your all-time favourites?
The most awesome batsman I played against is probably Viv Richards, who gave me a lot of trouble, gave us a lot of trouble far too often. I like him a lot. He was a very proud individual. Very proud of his heritage, his country, his region. And he was driven by all those things as much as any sense of personal gain.
Then there were people like Allan Border of Australia whom I've always counted as a friend as much as an adversary. In days gone by, you had the time to make friendships, to learn about people, to respect them, to get to like them, to get to dislike them if you wanted to. That was all part of the fun. That was all part of the game. I don't know how much necessarily that goes in the same way today, but then you have things like IPL which brings in people from all around the world and enemies become friends and play in the same side. So, we get some of that, which is a new way of doing it. Have you ever disliked anybody?
I have liked people less. I find that's just a waste of energy.
Don't you think there is too much cricket right now?
The problem with cricket now is there is a lot of cricket, but not enough time. It's quite interesting to watch how players both manage their own careers and how they are managed by their respective boards. At least nowadays there are chances to rest and people are managed in that way. If the work gets too heavy, they are allowed to take a break. But when you watch AB de Villiers taking a break for a couple of years, and then playing a little bit of Test cricket and a little bit of One Day, the obvious conclusion to draw from that is there is a lot of pressure....
Virat is a new breed. He is so much stronger and fitter. Take Indian cricket 10 years ago and compare the standard of fitness of players from then to now, it's already very very different. That has been a very important part of the way in which Indian cricket has developed and the way the team has developed.
Who were your friends in the Indian team?
Sunny (Sunil Gavaskar) I have a lot of respect for. Very shrewd, little character. I have had wine with him, I have eaten with him, I have enjoyed his company. People like Sourav (Ganguly), we didn't play against each other but I have had a few chats with him over the years. From my early days here, Kapil (Dev)... great player... I used to like Syed Kirmani... I used to talk to him when he was behind stumps. Dilip Vengsarkar.… And, Ravi... Ravi Shastri... he has looked after us when we have come to India. He has been a very good host, especially when we've been in Mumbai. It's been a friendly experience.
Do you have a fave stadium in the world?
Across the world, I guess Lord's. It has always been special. I used to love playing in Sydney. And I had a better record at the Oval. In terms of our pitches in the UK, that was one of the best pitches for a long time in the '80s. A bit of pace and a bit of bounce, unusual for England that time. I love the atmosphere of all the grounds I played here in India. I always say to people when you are playing with a crowd, for or against you... it's a very good test if you are in the right or wrong career. If you enjoy that, you are in the right career. If it feels like pressure, then you are probably in the wrong career.
As a tourist, is there an Indian city you connect with a lot?
As a player, you have less time. As a commentator, when I have visited before, I have taken time to go to places if there were four-five days between games. One of my great passions in this country is tiger reserves. So, when I first came here, we went to Kanha (National Park). During my second visit, I went to Ranthambore (National Park). That's one of the things I value a lot about this country.
When we were here (Calcutta) first, we used to stay in the same hotel, which is then as now, the grand dame of Calcutta (The Oberoi Grand). When we first came here, we were always entertained at The Tollygunge Club, which probably was and still is a lovely contrast to a lot of what you see in central Calcutta. We used to have good times there. Cricket has its own culture in India which I appreciate, understand and enjoy.
We have to ask you about the World Cup. Who would you pick if you were the captain?
I think England are deservedly favourites. India is a very close second. Virat, of course, he can be in any team. There are some of the Indian bowlers… (Jasprit) Bumrah, Bhuvi (Bhuvneshwar Kumar) whom I'll probably have… some of the English players like Buttler whom I'd definitely have... Jason Roy, Joe Root, Ben Stokes, Eoin Morgan…. I'll have Eoin Morgan as captain… I am a very big fan of his and he understands the One Day game especially. I think he has sort of eyes that drill into you.
Blue eyes like yours?!
His drill better than mine.