Watson: MS showed how much CSK means to him
We have got a very flexible squad, says Super Kings opener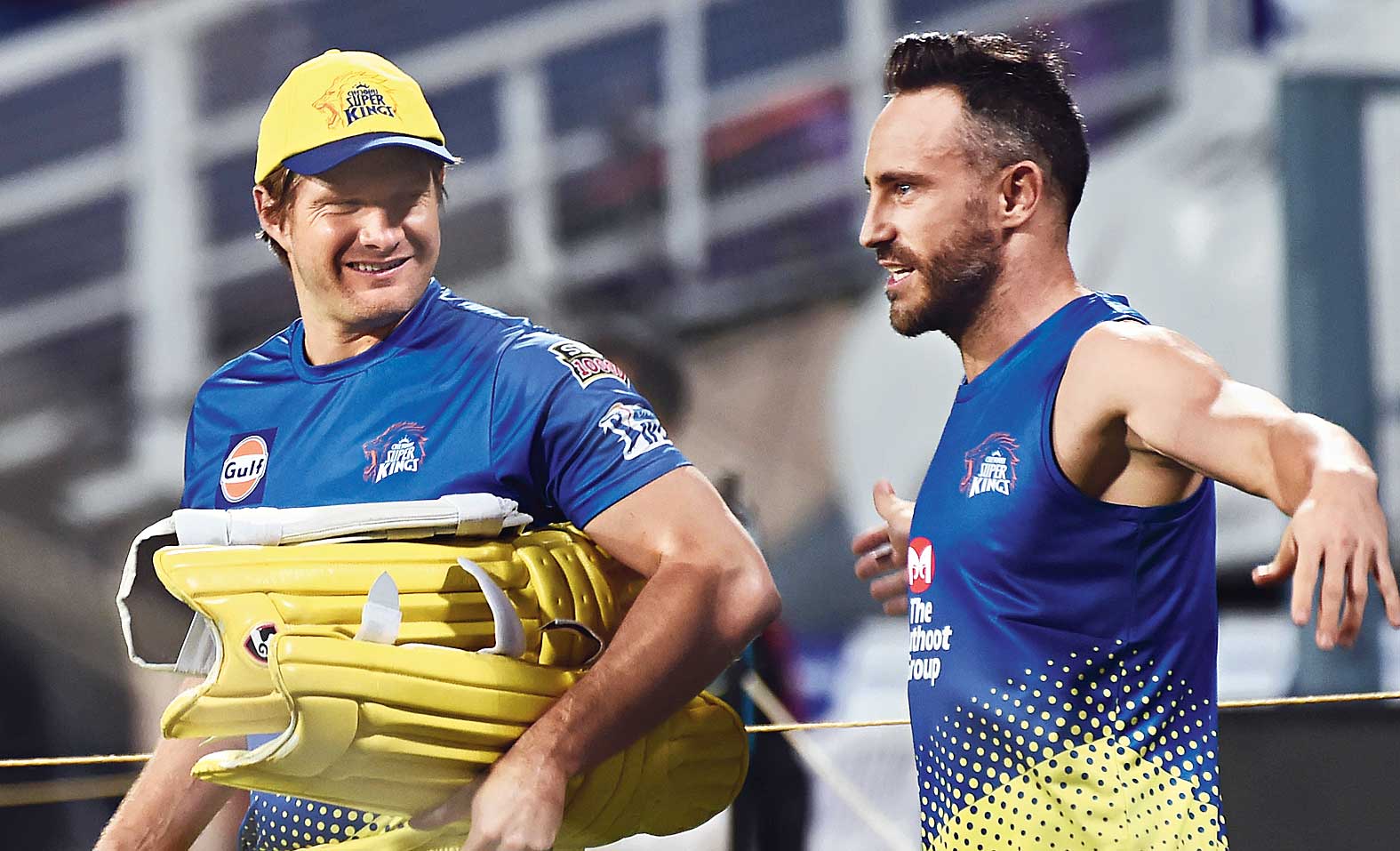 ---
|
Calcutta
|
Published 13.04.19, 08:48 PM
---
Shane Watson of Chennai Super Kings (CSK) has backed Mahendra Singh Dhoni after his captain was criticised for stepping on to the field during the IPL XII match against Rajasthan Royals the other evening.
"To me, it shows how much CSK means to him. What it means to be able to play well and win and be consistent.
"For me, it just shows how much playing for CSK means to him," Watson said during the opening of an M&W outlet and launch of SG Summer Collection at a city mall on Saturday afternoon.
Dhoni was fined 50 per cent of his match fee after the former India captain lost his cool and rushed into the field to confront Indian umpire Ulhas Gandhe after he flip-flopped on a no-ball on Thursday night in Jaipur.
Former cricketers came down heavily on Dhoni, saying the act has set a wrong precedent.
Watson, however, was all praise for Dhoni's captaincy too. "Dhoni is so experienced and he has got amazing intuition of the game.
"He has been in all different situations and knows how to handle them. He knows how to get the best out of the players on and off the field.
"When you have a younger captain who is still finding his feet from a tactical and leading point of view, there are more chances of making a few more mistakes. MS is someone who has been there and done that," the former Australia all-rounder said.
Watson was asked about the secret behind CSK's success despite having most of the players in the wrong side of the 30s.
"One thing CSK have always done is to keep the core group of players. They stuck with them all the way through, while other teams chop and change players even through the tournament.
"See, in cricket — no matter what format it is — the more experienced you are as long as your body can hold together, you would be more consistent to execute your skills. We have an experienced squad, so more chances of being more consistent through the tournament.
"Yes, young players are coming in and they have got amazing skills and are very exciting. But there are more chances of them being inconsistent as they are still trying to find their feet."
The Eden wicket on Sunday would be very different from what CSK have been playing at home. Watson agreed that it would be challenging, but at the same time was confident that they would be able to adapt quickly.
"Normally, it is a very good wicket here. Chepauk is a bit more challenging, more spinner friendly. But we have got a very flexible squad. So, we can adapt to whatever the conditions are."
The World Cup is round the corner and talking about it, Watson was said: "I would like Australia to win back-to-back titles.
"It is going to be interesting time for the Australian team because there are players coming in and going out. Steve Smith and David Warner are on the brink of coming back. And we have won eight matches on the trot (three against India and five versus Pakistan).
"Still, if you ask me about favourites, I would put my money on England and India."