Today, India come across as a complete package: Sohail
Virat attacks the situation, it's a quality which wows, says former Pak captain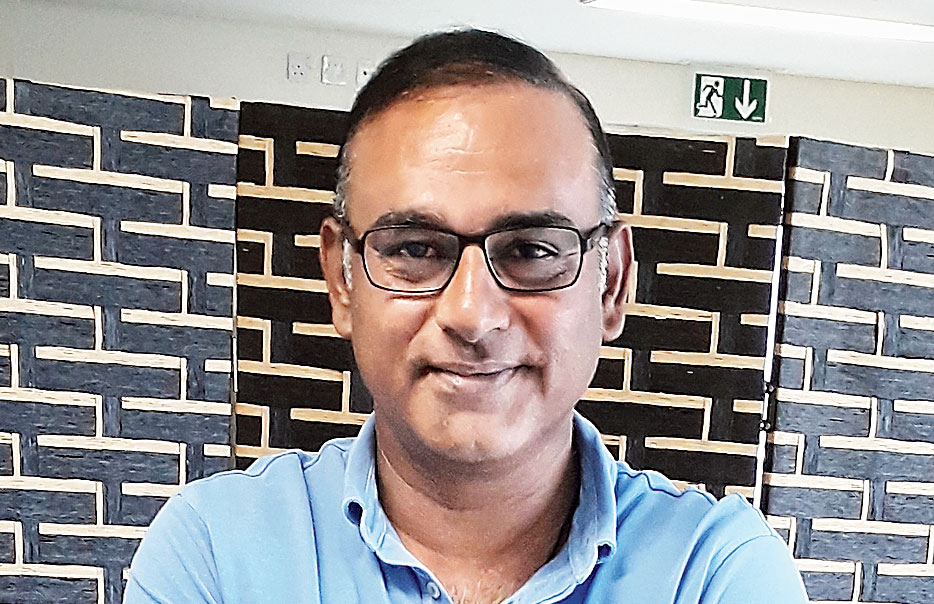 Aamer Sohail in Dubai on Friday.
Picture: LPS
---
Dubai
|
Published 28.09.18, 09:49 PM
|
---
Aamer Sohail, a former cricket captain of Pakistan, spoke to The Telegraph at the Dubai International Stadium on Friday afternoon.
Sohail, 52, is also a former chairman of the selection committee.
Excerpts....
Q What's the biggest change you find in the India of today compared to the time you played against them?
A There's a distinct change in attitude, certainly a change for the better... The players are more positive and play fearless cricket. You can only play without fear once you have the skills to fall back on. India have invested in cricket and that's showing.
Q Are you referring to the IPL and the fearlessness it has encouraged?
A Not just the IPL... Clearly, a significant investment has been made in cricket in general and you reap what you sow... If there's quality, then the players who get to the national team won't be short there... I recall, in my time, almost every India squad had a couple of players who'd probably been accommodated. Not so now, so the selections are exclusively on merit. It matters.
Q Any other change?
A Nowadays, India have good fast bowlers and that has made a massive difference. Traditionally, India have had some of the world's best batsmen and top-rung spinners. Today, India come across as a complete package.
Q When you talk of fearless cricket, I suppose regular captain Virat Kohli's approach has rubbed off on teammates...
A Virat attacks the situation, it's a quality which wows... He doesn't go out there and absorb the pressure. That could come in later. First, it's all about attacking. Virat has this ability to hit even good balls for boundaries. Brilliant.
Q Virat as captain?
A At times, I feel Virat needs to hold himself back... Because he's an explosive batsman, he tries to be an explosive captain as well... Virat will do better if he calms down a bit, for you can't be seeking to attack all the time. On occasions, the waiting game must be played.
Q The Asia Cup final has just begun... How has India's stand-in captain, Rohit Sharma, handled the responsibility?
A Rohit has handled situations well. He's calm and doesn't betray emotions. It's good if a captain can lead that way, for why let the opposition catch on to what's going on within, especially if the going isn't good? Rohit gives the impression he's always thinking, always plotting.
Q Pakistan were pathetic...
A Indeed... Pakistan arrived as the favourites, but were most unimpressive... It's one thing to carry a label, quite another to actually possess the skills to live up to the label. Pakistan's weaknesses were exposed in their very first match against India. They got more and more pronounced... If you have technical deficiencies, then you end up being under more and more pressure.
Q What's the way forward for Pakistan? Captain Sarfraz Ahmed feels this lot is the best around...
A If that is so then, as a team, Pakistan are still a work in progress. And, going by the Asia Cup, much work remains to be done. Pakistan's players have to improve their skill levels... I can't understand why the support staff keeps harping on the fitness levels. Their focus should be on improving the players' skills, then the fitness. Common sense says that a player with skills can make it work even if he's not that fit. The opposite, however, won't work... You need to win cricket matches, not prepare for the next Olympics or for the WWE!
Q Why don't players learn?
A Don't know... They can't sit on ego and not take advice... I recall the help Mohinder 'Jimmy'pa' Amarnath gave me in Sharjah in the latter half of the 1990s... I'd been struggling and when he asked 'kya ho raha hai'? I promptly asked him to help out... Next morning, Jimmy'pa watched me at nets and, after 10 minutes, tweaked my stance. After two balls, the strokes began to flow. I'll always be grateful to Jimmy'pa, who'd so kindly helped out... Point I've made is that no one is too big to ask for guidance.
Q What must players quickly take on board?
A Accept that they evolve as players and no one is born in the perfect mould... If you think you don't have to improve, then don't play sport. You just cannot be rigid. Be honest with people around you and, most important, be honest with yourself.
Q Sarfraz's captaincy was bland...
A I've been backing Sarfraz, but he should quickly get back to being proactive... His field placements in the virtual semi-final, against Bangladesh, had been poor... The impression one got right through the Asia Cup is that Sarfraz waited for batsmen to get out, he didn't try to get them out. That's not captaincy.
Q The 2019 World Cup begins eight months from now...
A Woh abhi duur hai. Pakistan must first identify the players and their roles... Also, stop playing so much against the West Indies and Zimbabwe. Instead, face off versus the big teams.
Q One more... Do you spend most of your time in the UK?
A I divide my time between Oxford and Lahore.