Sorcerer Sonny Ramadhin, little master of spin
An off spinner with a whippy action who could bowl leg-breaks with a twist of the wrist that often deceived batsmen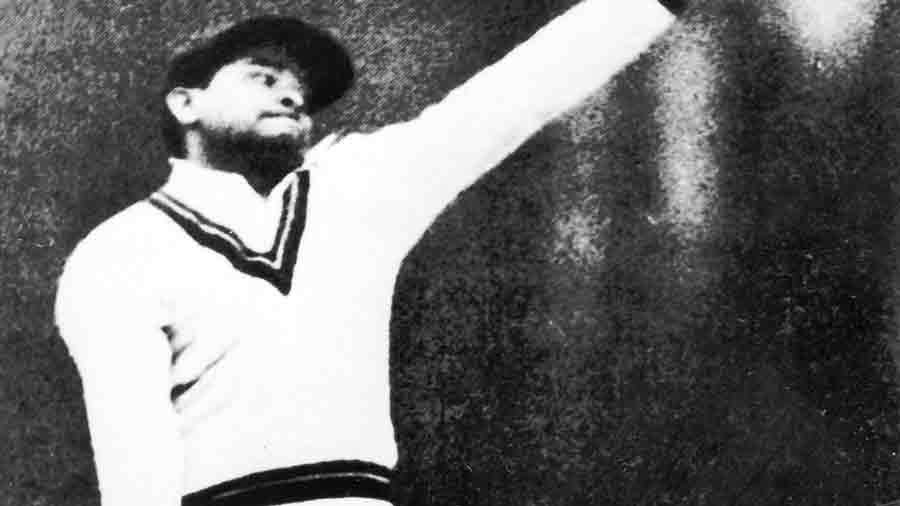 Sonny Ramadhin
Sourced by The Telegraph
---
Published 01.03.22, 02:10 AM
|
---
West Indies cricket great Sonny Ramadhin, who has died aged 92, baffled batsmen with his ability to spin the ball both ways without any discernible change in action.
At a time when it was fashionable for fast bowlers to hunt in pairs, Ramadhin, the first man of Indian origin to represent the West Indies in the sport, would form a lethal combination with left-arm slow bowler Alf Valentine to become cricket's first genuine "spin twins".
Ramadhin, an off spinner with a whippy action who could bowl leg-breaks with a twist of the wrist that often deceived batsmen, played 43 Tests for West Indies, taking 158 wickets at an average of 28.98. His first class record was enviable — 758 wickets at an average of 20.24. His final appearance for West Indies was in the second Test in Melbourne of the now famous tour of Australia by Sir Frank Worrell's team in 1960-61.
Ramadhin helped West Indies to a 3-1 series victory over England in 1950, their first in the country, combining with Valentine to take 59 wickets — including his own career best figures of 11 for 152, in the second Test at Lord's.
Valentine, who died in 2004, and Ramadhin both made their debut in the Manchester Test, the first of the 1950 series. Ramadhin got two wickets in each innings but it was Valentine who was the star, picking up 8 for 104 in England's first innings and another three in the second. West Indies lost but the twins had arrived and would dominate the English summer.
The 5ft 4in Ramadhin, cap on, sleeves buttoned down to the wrists, complemented Valentine, the tall, bespectacled Jamaican, who could send down his deliveries with a vicious tweak.
West Indian immigrants in London, who had recently docked at the Port of Tilbury on the HMT Empire Windrush, a troopship Britain had taken as prize of war from Nazi Germany, celebrated as much as people in the Caribbean. Among those who travelled on the Windrush was the calypso musician Egbert Moore, known as Lord Beginner, who, while gushing about the West Indies victory, wrote Cricket, Lovely Cricket! immortalising the twins with the lines, "those two little pals of mine, Ramadhin and Valentine".
Former India batsman Syed Mushtaq Ali gave an insight into Ramadhin's bowling in his 1967 memoirs Cricket Delightful. Recalling the Commonwealth tour of India of 1950-51, Ali wrote: "He (Ramadhin) was a slow right-arm off-break bowler, but mixed leg-breaks quite deceptively, without giving any indication of a change in action.
"He had two kinds of off breaks: one coming from outside the off-stump, and another from the middle stump, going to the leg, where three shark-like fieldsmen waited for a catch. With a short run, he maintained immaculate length throughout, and it was difficult to take liberties with him."
Ramadhin was especially deadly on a turning pitch or on coir matting. Batsmen who chose to play him on the backfoot were easily snared in his spin web. Ali, who had watched Ramadhin bowl at nets, said those who played forward and smothered the spin had a better chance of tackling him.
Ramadhin continued to cast his spell on batsmen till 1957 when he returned to England. In the first innings of the first Test at Edgbaston, Ramadhin was unplayable, taking seven for 49. But in the second innings the England batsmen adopted an approach that many in the Caribbean felt was as "un-gentlemanly" as Bodyline.
England captain Peter May (285n.o.) and Colin Cowdrey (154) had studied Ramadhin's bowling and they decided to frustrate him by using their pads. During a marathon partnership of 411, May and Cowdrey, both tall men, countered Ramadhin by stretching their left feet well down the wicket, padding away any ball that was too short to drive. At the time the leg before wicket law was flexible — if a batsman was hit on the pads outside the line of the stumps then he could not be given out, even if he was not playing a shot.
Ramadhin sent down a record 98 overs in that career-crushing encounter, finishing with 2 for 179. He had countless lbw appeals turned down, most of them against Cowdrey. The two though went on to become friends for life.
Their tactics prompted a change in the lbw law but effectively finished Ramadhin. On the 1960-61 tour to Australia, captain Worrell dropped him for the third Test, preferring Lance Gibbs. Ramadhin never got his Test place back. After his international career, he joined England's Lancashire in 1964.
Ramadhin remained in England after his career ended, living in Delph on the edge of Saddleworth Moor, around 265km north-west of London. Away from cricket, he was the licensee of a few pubs in the region for about three decades.
Sonny Ramadhin was born on May 1, 1929, in St Charles Village, about 25km south of Port of Spain, the capital of Trinidad where his grandparent had emigrated to from India to work as an indentured labourer.
He lost both his parents early and was raised by an uncle in southern Trinidad where he attended a Canadian mission school. This is where he picked up cricket and also got a name. His classmates started calling him Sonny to go with the one name he had at birth, Ramadhin.
When he arrived in England in 1950, he was told that "nobody could go through life without initials". To his bemusement, Ramadhin found that the English press had made him "K.T. Ramadhin". He never knew what "KT" stood for. Sonny it would be for eternity.