Old Trafford: where the twain met, danced & played
Indian and Pakistani community settled in England turned up in numbers to savour the rivalry in their backyard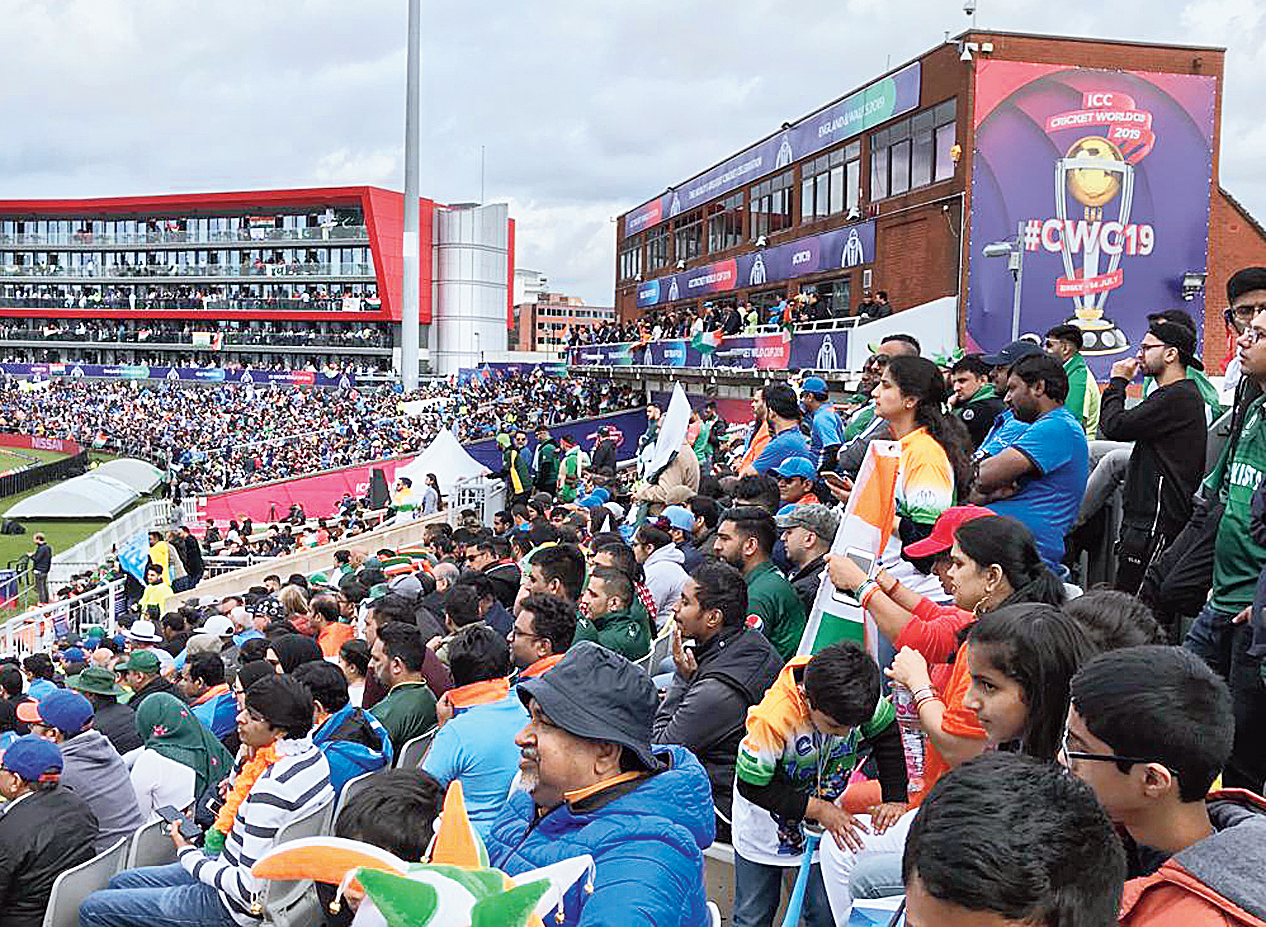 Indian and Pakistani supporters fill the stands at Old Trafford on Sunday.
Picture by Parthasarathi Mandal
---
Calcutta
|
Published 18.06.19, 01:27 AM
|
---
Flags in hands, Indian and Pakistani supporters danced bhangra together outside Old Trafford on Sunday to the dhol beats of the Bharat Army, a group of uniformed Indian supporters.
The World Cup match between India and Pakistan was yet to begin. But for Rudrajit Chatterjee, a market researcher from Burnpur now settled in London, this was the moment he cherished more than any on the ground.
If the Old Trafford galleries were a sea of blue with islands of green during Sunday's marquee clash, it was due to the Indian and Pakistani community settled in England turning up in numbers to savour the rivalry in their backyard.
"We Indians were in the majority — about 70 per cent," said Parthasarathi Mandal, a Burdwan boy who now teaches in Manchester University. But the atmosphere, he said, was friendly, much more so than in 1999 when he had seen the two teams square off at the same venue at the World Cup within months of the Kargil war. "Security too was relaxed this time."
Since the seating was mixed, supporters of the two teams sat together. Amlan Bhattacharya, a doctor from Cardiff, said: "Every chant of 'Jeetega bhai, jeetega, Hindusthan jeetega', was followed by 'Jeeye jeeye Pakistan'. Some chanted 'Ganpati Bappa moriya' as well. Some gave slogans, probably in Tamil. A man in a Narendra Modi mask and dressed in jacket and kurta danced in the stands to the amusement of many of us."
Mandal explained why things could be so friendly. "The two immigrant communities mix a lot here so there is none of the tension that is projected between the countries back home." A man seated in front of him had come from Islamabad with his daughter. "We engaged in friendly banter all through. When Shoaib Malik (Sania Mirza's husband) got out on the first ball, he told us "Aap logon ka damad sasural ke liye khel raha hai (Your son-in-law is playing for his father-in-law's nation)," Mandal said.
So the fear was not of violence in the stands but of rain.
"I kept switching between the weather app and the Duckworth Lewis app on my phone once it started raining to figure out what the revised target would be for Pakistan if the match was curtailed," he said.
People had bought tickets way in advance. "I applied in May last year and got the confirmation in August," said Mandal. Though talks of India forfeiting the match to Pakistan were rife in the aftermath of the Pulwama attacks in February, he was hopeful.
In a bid to attract children to cricket, the ICC had priced tickets for minors at £6. "That was what I paid for my son Pico though mine cost £70," he said.
Bhattacharya drove to Manchester from Cardiff, picking up a friend in London on the way. "That was a six-hour drive." But London was still close. Such was the craze for the clash that Indians had converged from across the globe. "Next to me was a Rajasthani couple who had flown in from North Carolina, US. Another man came from Singapore," said Chatterjee.
The day's centurion Rohit Sharma was lauded by all for his copybook cricket. "He took the match away from Pakistan," Chatterjee said.
When Babar Azam and Fakhar Zaman were stitching a partnership, the Pakistan supporters did start playing their bugles. "But once they departed, they fell silent," Bhattacharya said.
He left early, along with most Pakistanis, during the long rain-induced break as he had to drive back to London. But Chatterjee and Mandal sat till the end, savouring the feeling of making 7-0 past the arch rivals in World Cup history.