Not perfect, but Bhuvi is now more 'mature'
'As an Indian, I'd like my team to take home the World Cup, but there's merit in those who say it will be pretty open'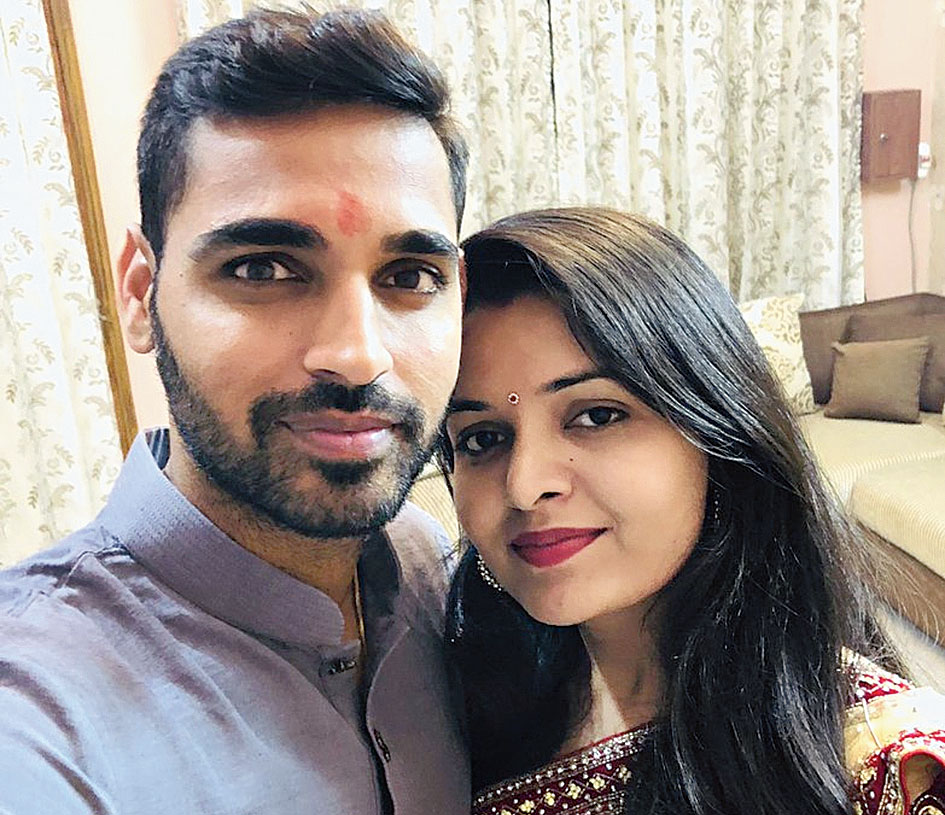 Bhuvneshwar Kumar with wife Nupur Nagar.
Picture courtesy: @BhuviOfficial
---
Calcutta
|
Published 25.05.19, 08:53 PM
|
---
Bhuvneshwar Kumar, expected to play a big role in India's quest to regain the World Cup, recently spoke to The Telegraph in Chennai, courtesy his IPL franchise, the Sunrisers Hyderabad.
Excerpts...
Q Your first India match was back in 2012, so you're now a fairly senior pro. How do you look back on your progress?
A If you keep doing the same thing for X number of years, you're bound to improve. I have... My average pace has improved... However, I can't pinpoint what I have now and didn't have some years ago. I'm a more mature bowler at this stage of my career.
Q Are you, then, now a perfect new-ball bowler?
A I wouldn't say I'm perfect. A perfect bowler is someone who will do well every single day and in all conditions... I try and adapt and do my best. Experience matters.
Q Do you set goals?
A I don't. I never tell myself that I have to do this or that. I just try to do my best. Collectively, the team would have goals, like winning the World Cup.
Q India's pace attack is both respected and feared. Thoughts on Mohammed Shami, Jasprit Bumrah and all-rounder Hardik Pandya, all of whom are in the World Cup squad...
A We have been playing together for a few years, so we understand each other and the bonding is good. Our strengths are different, we complement each other... I hope the conditions in England suit us in a tournament regarded as most important in a cricketer's career.
Q Quite a few expect the World Cup to be fairly open, with a clutch of teams capable of winning it. Your take?
A As an Indian, I'd like my team to take home the World Cup, but there's merit in those who say it will be pretty open. All 10 teams would like to win and, potentially, all are dangerous as one of the so-called underdogs could beat a much-more favoured team. What you are on paper could be totally different from how you actually play on the field.
Q Two of your Sunrisers teammates, Rashid Khan and Mohammed Nabi, will be turning out for Afghanistan, a team definitely capable of causing an upset or two...
A Well, Afghanistan can beat any team on a given day. The opposition will have to be at their best.
Q The T20 format was supposed to make life very difficult for bowlers. Yet, quite a few have made a mark...
A (Smiles) The format has made bowlers smarter.
Q To what extent do you adapt from one format to the other?
A It's not that difficult to move from ODIs to the T20Is, but it's hard on the body when you switch from ODIs or T20Is to Test cricket. The body-management then becomes important. From bowling between four to 10 overs, you may be called upon to bowl 20-25 overs in a day. The significant increase in workload has to be managed... Length-wise there's not much of a difference. However, while you hardly bowl yorkers in Test matches, it's different in ODIs and in T20Is. Bottom line is to adapt.
Q A favourite format, perhaps?
A Not really. Each format has challenges and I'm game for that.
Q Biggest challenge in Test cricket...
A (Laughs) Getting up early five days in a row! That, indeed, is a big challenge. Also, you have to motivate yourself each morning, five days in succession.
Q Across formats, where you have 217 International wickets, is there a batsman who has challenged you?
A Many, not one. Any batsman in form can challenge.
Q How do you handle the pressure driven by expectations?
A There's no formula as such. What's important is how many people you're listening to. I'd be lying if I said I don't listen to anybody... Then, there's social media, newspapers... I'm not saying there's only criticism for the sake of criticising. There's positive criticism too... Lekin main kum sunta hoon aur kum padhta bhi hoon. That's the way I am.
Q What matters more: Your own expectations or the expectations which others have?
A I do respect people's views, I know what they expect from us. But if I tell myself I'll take five wickets today, then that wouldn't be the most practical thing to do.
Q How do you deal with a bad day in office?
A By looking to get better the next day. It motivates me.
Q The importance you give to batting...
A A lot... I'm much more confident now with the bat. I have the belief that I can do something. I may not, but that's something different... Whenever I get the chance, I interact with (India batting coach) Sanjay Bangar Sir, idea being to improve.
Q Would you like to be counted as an all-rounder in the next couple of years?
A My approach won't change if somebody says I'm an all-rounder or if somebody says I can't bat. More than what others feel, it depends on what I think and how mentally strong I am.
Q VVS Laxman, the Sunrisers' mentor, considers you a very fine thinker of the game. In fact, he must have played a big role in elevating you as vice-captain of the franchise. Having already captained the Sunrisers, is it tough for a bowler-captain?
A Work becomes easy if you have a mature team with helpful seniors. Like it is at Sunrisers.
Q You come across as a very quiet person and largely keep to yourself...
A That's my nature. At the end of a day's play, I'm just too tired to do anything.
Q It appears you're not big on social media...
A Used to be, not any longer. It's not the real thing, though it could be linked to status for some.
Q Superstitions? Likes and dislikes...
A Subconsciously, kuch (superstitions) ho jate hain... No likes and dislikes.
Q The last one... You're a huge fan of Lionel Messi. If you happen to meet him, what will you say?
A That you're a genius. Indeed, for me, Messi is from another planet. The way he dribbles... Amazing. I follow the teams Messi plays for.