Living Bridge — Living the Dream
A British diplomat, after witnessing the iconic Pink Ball Test Match at Eden Gardens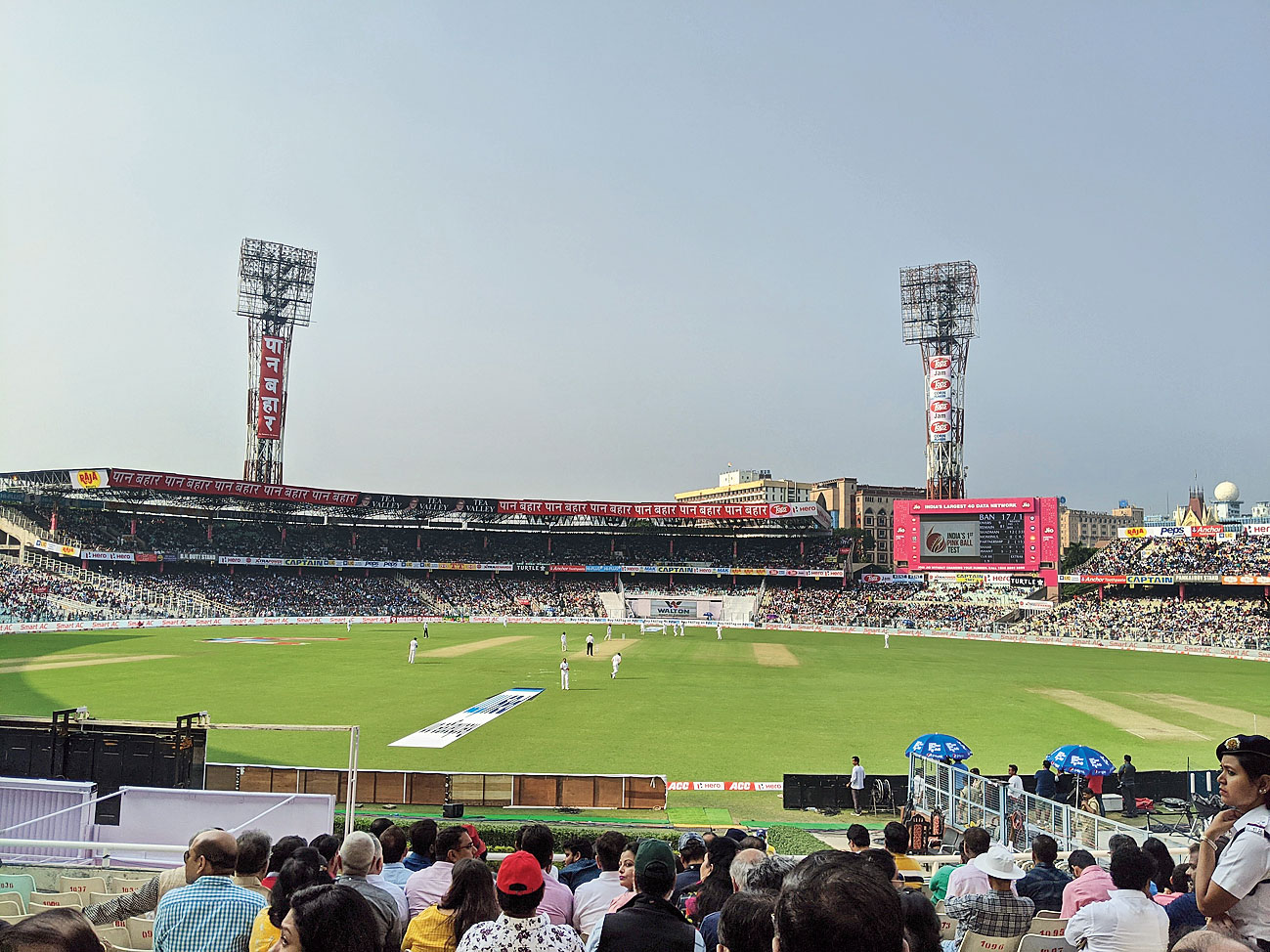 ---
|
Calcutta
|
Published 28.11.19, 05:54 PM
---
My vision of the 'Living Bridge' between the United Kingdom and India is of a thick cord of the finest silk. Each brilliantly coloured strand is a separate element, exquisite and beautiful in its own right but which combines to form something that is vibrant, precious and unique. Each strand has a different, personal meaning to every one of us: both in the here and now but also taking us back to a special place in the past. For this article in t2, forgive me if I choose the stunning golden strand that is cricket.
As a diplomat I work hard on behalf of my country to make the world a better place. That ranges from local action to tackle the great global issues of our time — things like climate change, stopping plastics getting into our rivers and oceans, and fighting the menace of superbugs and anti-microbial resistance.
India and the United Kingdom are working ever more closely on those and other issues as a 'Force for Good'. It's satisfying work. Being a diplomat also gives me the opportunity to do things, meet people and go to places that it's hard to imagine I could do in any other walk of life. Last week… well, let's just say that if I've had a better week at work in my 27 years as a diplomat, I don't remember it! In consecutive evenings, I had the honour and privilege of meeting and talking to Ravi Shastri and Sunil Gavaskar. Those are moments that stay with you for a lifetime. In a world where terms like "world class" and "legend" are bandied about daily, these giants of the game were and are the real thing. A month after arriving in Calcutta, last week was also my first visit to Eden Gardens. Eden Gardens! The very name has a magic that excites!
As a boy, if you'd asked me the three most famous cricket grounds in the world, I'd have said Lord's, Eden Gardens and the MCG (Melbourne Cricket Ground). And I'd say the same now. I don't keep a "bucket list" of things to see before I die. But if I did, Eden Gardens would have been on it.
Let me start by congratulating everyone concerned with a memorable occasion. The stadium looked great. And the atmosphere was great. The tens of thousands watching were passionate, informed and sporting. Brilliant to see the odd Bangladeshi flag being waved amidst a sea of green, orange and white Indian tricolours. Bengal united by its shared love of cricket.
Congratulations too to Ravi Shastri and the boys! What a couple of months it's been. South Africa and Bangladesh both put to the sword. A new world record of four consecutive innings wins in Test cricket. Something that had never previously been achieved in history. England, blooding a new-look Test side in New Zealand, will have taken notice. This is the 'Living Bridge' in glorious action. And my own personal, meaningful journey back in time.
Like many others, I was struck by the quality and hostility of the Indian pace attack. An assault force so powerful, nay irresistible, that it accounted for every Bangladeshi wicket that fell. How times change! Let's travel back along my golden strand to a special place in my past — India's tour of England in 1971. It was the first Test series that I saw on television as a boy.
And it wasn't any old Test series. It was India. And it was a team that was going to play with three specialist spinners, two with names that I had difficulty mastering — Bhagwat Chrandrasekhar and Srinivasaraghavan Venkataraghavan. Bishan Singh Bedi, the third member of the trio, was easy to say but Bishan wore a patka, which the young Nick Low found magical.
There was quality in the batting too — Ajit Wadekar, Dilip Sardesai, Gundappa Viswanath, the exotically named Farokh Engineer and, yes, the young Sunil Gavaskar fresh from announcing his genius to the world in the Caribbean. It wasn't a bad England side either. Geoff Boycott, Brian Luckhurst, John Edrich, Dennis Amiss, Basil D'Oliveira, Alan Knott and Ray Illingworth were a top seven all capable of making hundreds. The bowling however, with the exception of my great hero, the "cricket rebel" John Snow, wasn't quite the same quality. That said, England came into the series unbeaten in 24 Tests. And India had never won a Test series, or even a Test match, in England.
The first two Tests were draws —one exciting, one less so. The series came down to the third Test at the Oval. England batted first and made a respectable 355 before dismissing India for 284, a handy lead of 72. Enough to win, surely? But Bhagwat Chandrasekhar, the leg spinner from Mysore with the withered arm, had read a different script. Bhagwat produced what Wisden (cricket's "bible") was to recognise as India's "best bowling performance of the century" in England's second innings. To this day I've never seen anything like it. Just six overs of military medium from Abid Ali and Solkar and the spinners were on! Bhagwat Chandrasekhar bowled 18 overs and a ball, three maidens, six for 38. India's target of 173 to win wasn't a foregone conclusion. But 40s from Wadekar and Sardesai, 30-odd from Viswanath and 28 not out from Engineer down the order saw India home by four wickets.
The setting, characters and fashions may be different but the magic is the same and cricket's Living Bridge stronger than ever. Thank you Calcutta for sharing it with me.
Love England. Love India. Love cricket. Let's keep the conversation on sport going!
Nick Low is the British Deputy High Commissioner to Calcutta