Jayant Yadav's tip: Enjoy game, wait for turn
That forgettable Test versus Australia in Pune back in February 2017, in which India were handed a 333-run drubbing, was the off-spinner's last Test appearance before the Wankhede outing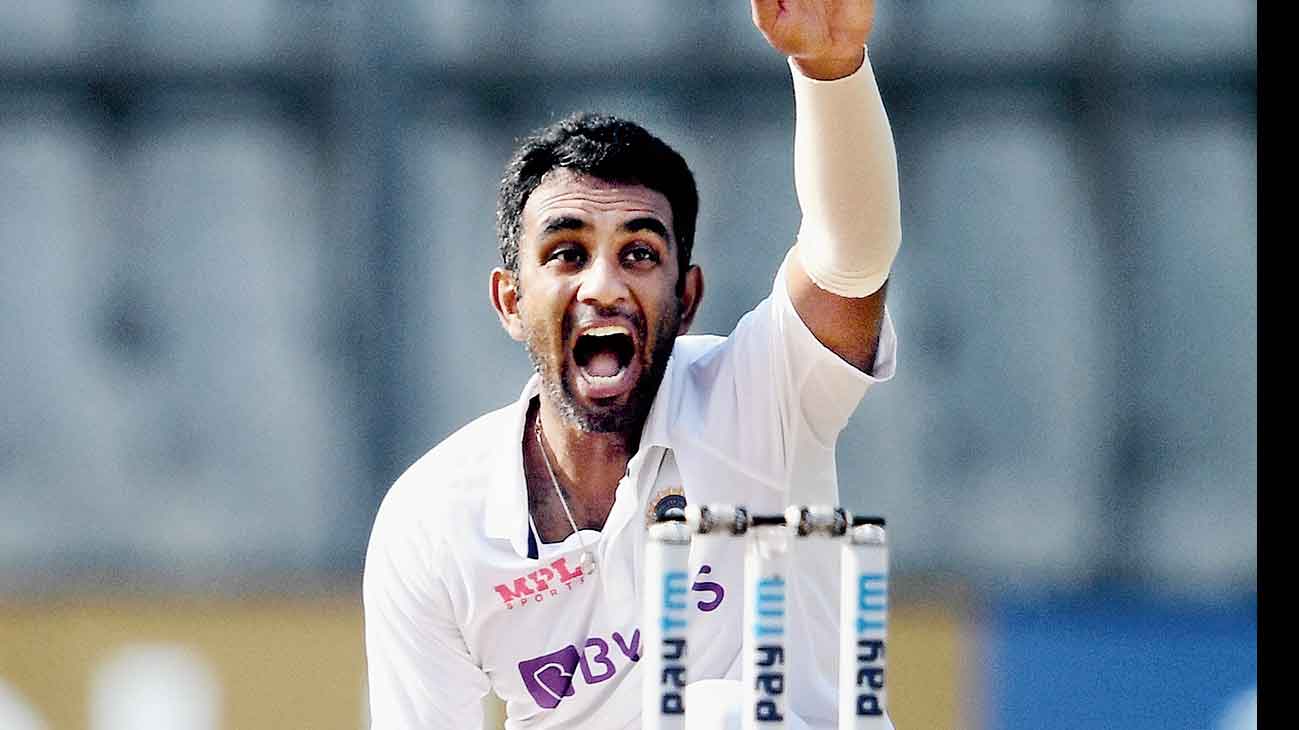 Jayant YAdav.
File Photo.
---
Published 13.12.21, 02:34 AM
|
---
For a cricketer to stage a comeback at the international stage after almost half-a-decade is certainly an arduous task. But enjoying the game, staying motivated and having self-belief does sometimes make the situation favourable, something that has happened with Jayant Yadav.
His belief turned into reality when he regained the Team India cap during the second and final Test versus New Zealand at the Wankhede in Mumbai earlier this month. He did his best in that game and then, with frontline spinners Ravindra Jadeja and Axar Patel nursing injuries, Jayant was also rewarded with a berth as the second specialist spinner in the India Test squad for the upcoming tour of South Africa.
It all happened really fast for the off-spinner, who agreed having gone through one of the most eventful phases of his career so far.
"For any cricketer to be able to represent his nation is the highest honour. So when I was included in the squad for the New Zealand (Test) series, I was really thankful… And when it came to playing at the Wankhede, it was a mixture of a lot of emotions," Jayant, who has so far played five Tests and an ODI, told The Telegraph.
"I was really happy and excited to be able to have an impact on the game. So all in all, yeah, they were really eventful."
That forgettable Test versus Australia in Pune back in February 2017, in which India were handed a 333-run drubbing on a minefield, was Jayant's last Test appearance before the Wankhede outing. Importantly, during the time (four years and 10 months) he was out of the India team, he made sure not to brood over the circumstances.
"Well, ultimately, it's a game that you love and where you always aspire to do well. But I believe it shouldn't be a problem or issue for any cricketer just because he's not getting to play for his country…One shouldn't start losing motivation because of that.
"You start this game because you enjoyed playing cricket and then as you play well, things happen. That is the essence of everything and for me too it's the same. I just kept enjoying my cricket during that period."
Preparation for SA
More than being surprised, Jayant was "very happy" on being selected for the South Africa Tests. Well aware that conditions in South Africa won't be ideal for spinners, Jayant is currently focusing on the mental adjustments required to keep himself ready for the tough test.
"At present, honestly, I'm just preparing like I would for any tour. You can take into consideration that the conditions there will be different, but till you actually reach there and try and implement what you've prepared, you wouldn't really know.
"So it's more about trying to adjust mentally first and then focusing on your skills. Whatever I'm trying to do skill-wise, it's all about preparing my mind first looking at the conditions.
"I'm just keeping in mind that I need to prepare well and give everything on the field whenever I get the chance," Jayant emphasised.
Rohit captaincy
Jayant didn't forget to mention how helpful captain Rohit Sharma has been during his stint with Mumbai Indians, beginning 2019. "Everybody knows the prowess Rohit has when he's the captain.
"He understands the players, gives them complete freedom. Whenever I've played under him, he has given me the utmost freedom to do whatever I felt in that particular situation. He has backed all his players throughout," Jayant said.