Franchises stare at Indian Premier League deal windfall
STAR India retained the TV rights for the subcontinent for Rs 23,575 crore while Viacom18 secured the digital rights in the same region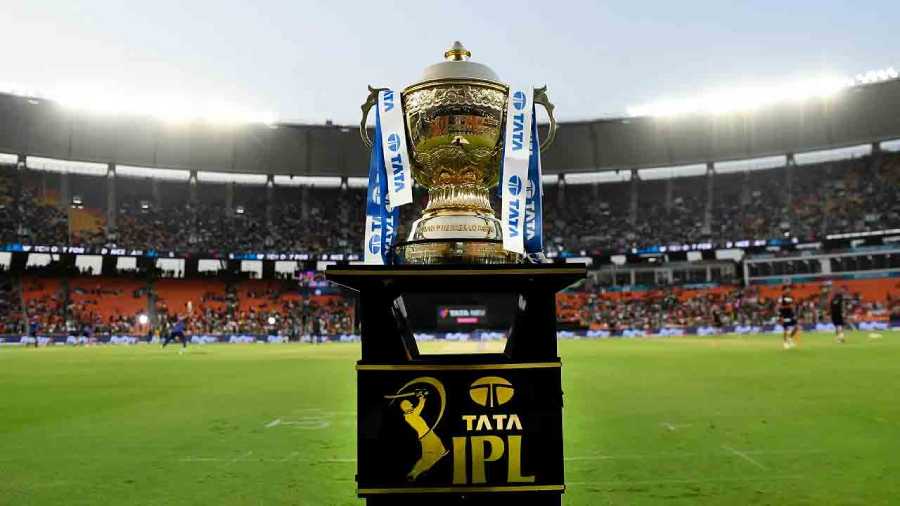 The BCCI on Wednesday put the "cumulative figure" from the media rights at "Rs 48,390.32 crore
File Photo
---
Published 16.06.22, 01:23 AM
|
---
A day after the Board of Control for Cricket in India (BCCI) raked in the moolah at the IPL media rights e-auction for the 2023-27 cycle, franchises and associations were staring at the prospect of minting money from the blockbuster deal.
The BCCI on Wednesday put the "cumulative figure" from the media rights at "Rs 48,390.32 crore, subject to execution of definitive documentation and completion of formalities as required...and other obligations specified in the Invitation to Tender (ITT) being completed".
STAR India retained the TV rights for the subcontinent for Rs 23,575 crore while Viacom18 secured the digital rights in the same region. STAR India will pay Rs 57.5 crore per match, while Viacom18 will dish out Rs 50 crore a match. Viacom18 also committed another Rs 33.24 crore per match for a non-exclusive package of 98 high-profile matches. It ensured Viacom18's exclusivity in the digital space.
In 2008, when the eight franchises were sold, BCCI's broadcast rights stood at Rs 8,200 crore for 10 years. Real estate player DLF came on board as title sponsors for five years at Rs 200 crore.
In 2017, STAR India paid Rs 16,347.50 crore to buy broadcast rights for the 2018-22 period. Vivo bagged the title rights at Rs 2,200 crore along with four other official sponsors.
The total central revenue pool of the IPL grew to around Rs 19,500 crore in 2017. This got distributed among the BCCI and the eight franchises on a 50:50 basis. The revenue pool saw some minor adjustments following Vivo's decision to pull out in 2020.
Each of the eight franchises was thus earning Rs 1,218 crore approximately for five years or Rs 244 crore annually. Their annual income is set to go up by at least Rs 500 crore from next season because of the mega media rights deal whereby Rs 24,195 crore will be part of the central revenue pool. In 2022, each of the 10 franchises reportedly earned about Rs 201.65 crore from the BCCI.
The other half of the Rs 48,390.32 crore deal will be distributed among the BCCI's 38 state associations in an effort to improve infrastructure and game development. Something that former IPL chairman Lalit Modi tweeted about on Wednesday.
The franchises are also hoping that there is a substantial increase in the team purse during the coming years. At the mega auction held in February, it was set at Rs 90 crore but has been increased to Rs 95 crore and Rs 100 crore in the next two years.
Amid the euphoria, industry experts believe the winners could have to play dearly for their aggressive bidding because of the economic situation. A total of 410 matches have been spread across five years with the BCCI earning Rs 118 crore per match.
"I think it was a bit stretched. Rs 90-100 crore per match was rational and beyond Rs 100 crore anything will be irrational. The broadcasters will struggle to make profits in the current scenario," Santosh N, managing partner of financial consultancy firm Duff & Phelps India, which had been involved in IPL's valuation from 2014-2020, told The Telegraph.
"Profits are unlikely to happen unless advertisement and broadcasting revenues double. This insane bidding could have been part of competition and customer acquisition strategy... During the last cycle STAR India paid around Rs 54 crore per match but still struggled to make money," Santosh added.
Former CEO of Neo Sports Harish Thawani, who was involved in an advisory role to one of the bidders during the e-auction, felt STAR India will make money.
"STAR India played the game very well and retained the TV rights. They knew where the money is. They drove the price up for digital and when it became unaffordable and foolish to pay that much, backed out. I'm not surprised by how smart STAR played it and not surprised that Viacom18 took it since they didn't have a choice," Thawani said.
"The digital price reflects an irrational exuberance and the reality is TV still continues to dominate the revenue landscape in India," he said.