Rahul Dravid needs to sew up all loose ends
Simply put, India weren't good enough at Edgbaston since the fourth day onwards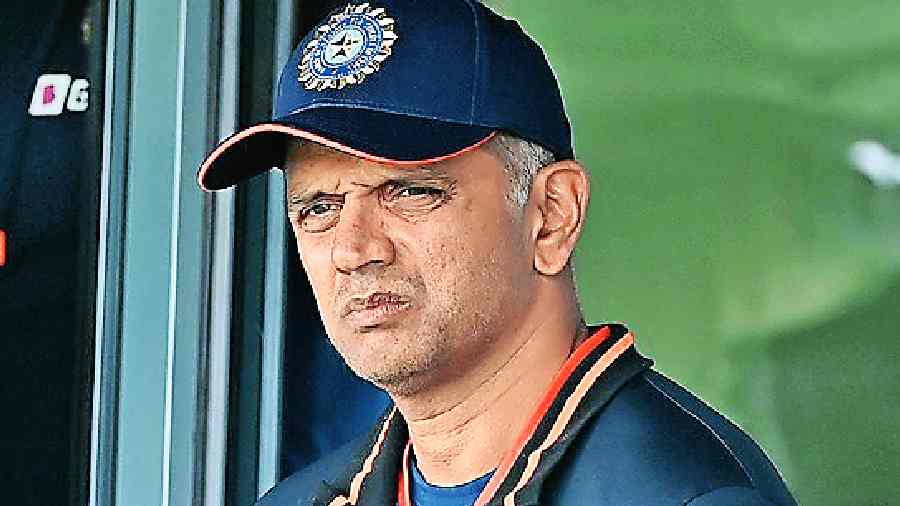 India head coach Rahul Dravid at Edgbaston on Tuesday.
Getty Images
---
Calcutta
|
Published 06.07.22, 01:54 AM
|
---
Mohammed Azharuddin had predicted a lead of 425 for India to have a "very good chance of winning" in Birmingham. Jasprit Bumrah's men fell 47 runs short and allowed England to square the series.
It would be naive to think about what would have happened had the fifth day not been washed out in Nottingham when India needed 157 runs for victory with nine wickets remaining. Or what if the series was completed last year itself with India riding high on momentum.
Simply put, India weren't good enough at Edgbaston since the fourth day onwards. They lost their remaining seven wickets in the second innings for 92 runs. That is where they lost the plot and never made any concerted effort to make a comeback.
Still, England needed 378 to win and close out a duel which could by no means be regarded easy.
But as luck would have it, Bumrah had to encounter Joe Root and Jonny Bairstow's monstrous show of batting might on his captaincy debut.
There's no denying the fact that Bumrah's inexperience in handling tricky situations showed as England closed in on victory.
The field placements were too defensive once Root and Bairstow changed gears. England had lost three wickets in the space of two runs after tea, but India let go the advantage.
There wasn't much help from the wicket but by sticking to a lone slip and a spread-out field, the Indians played into the hands of the English batters.
Moreover, the slips were standing too close, which resulted in Hanuma Vihari failing to hold on to a sharp chance off Bairstow's bat when the Englishman was on 14. Similarly, mid-on and mid-off were pushed back making it easier for the batters to rotate the strike.
It also made little sense to have a rookie slip fielder in Vihari to stand there when experienced hands like Shubman Gill or Shreyas Iyer could have made a difference.
The pacers sticking to a predominantly leg-stump line also didn't reap the desired results. Instead, Root mostly benefited by playing behind the wicket. It was evident from the outset that Bumrah and Shami were a class above Mohammed Siraj and Shardul Thakur, which compounded problems. It was bizarre to see Siraj open the attack on the final morning when only 119 runs were needed. Thankfully, Bumrah didn't allow him another over in that spell.
For most of England's chase, the Indians' body language was hardly inspirational. There was hardly any attempt to make things happen.
Ravichandran Ashwin could have been a viable option in the circumstances in place of Thakur. Edgbaston has traditionally assisted the spinners with Nathan Lyon's nine wickets orchestrating a famous Australian win in the 2019 Ashes.
Dravid tried to justify the exclusion saying, "even going into the last day, the wicket hasn't really spun". However, dry English conditions, as the one witnessed at Edgbaston, were suited for Ashwin. Ravindra Jadeja was too flat and the absence of turn made it easier for Root and Bairstow.
Dravid has now lost three overseas Tests on the trot. India's next overseas tour outside the subcontinent will be known after the new Future Tours Programme. For now he will have to live with this ignominy, though he alone can't be held responsible for the poor show.
The head coach has had to work with five different captains this year. Rohit Sharma's fitness issues since assuming charge hasn't helped Dravid's cause. Unless Rohit shows remarkable improvement, the BCCI may have to consider split captaincy.
The national selectors, led by Chetan Sharma, have to make some tough calls to improve overseas record. The need to keep out the non-performers also demands urgent attention. Perhaps the return of Rohit and KL Rahul could provide the much sought-after silver lining.