Early finishes stump purpose that drives pink-ball cricket
The argument behind holding Tests in the evening followed the popularity of ODIs and T20s whereby more spectators could turn up after finishing their daily routine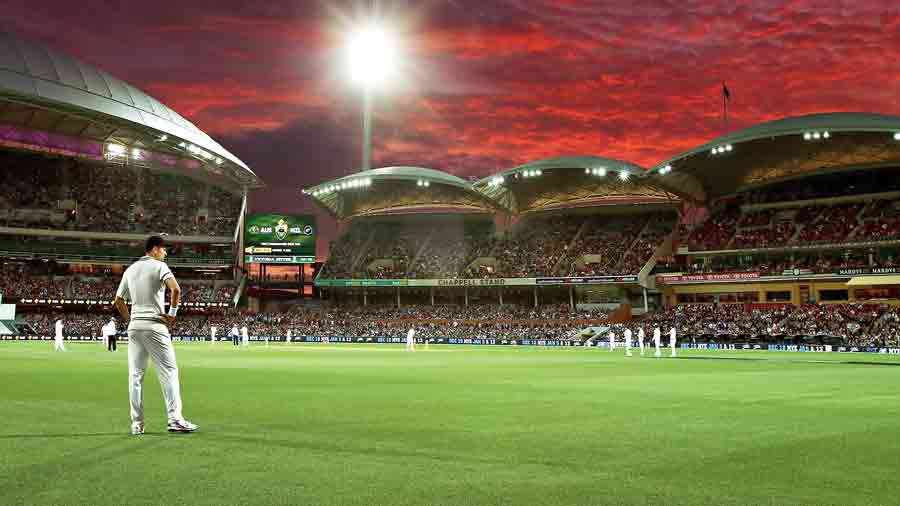 The first-ever Day-Night Test underway at the Adelaide Oval, between Australia and New Zealand, in November 2015.
Getty Images
---
Published 18.03.22, 12:31 AM
|
---
Soon after taking over as president of the Board of Control for Cricket in India (BCCI) in October 2019, Sourav Ganguly made it clear that he was a "huge supporter" of Day-Night Test matches.
"I hope the Day-Night Tests are a solution to bringing the crowds back to the stadium," the former India captain had told The Telegraph.
True to his word, India played its first pink-ball Test against Bangladesh at Eden Gardens a month later. While the world hasn't seen an alarming surge in spectator count in Day-Night Tests, their duration has seen a drastic slide.
Two pink-ball Tests have ended in three days in India while the other witnessed a two-day finish. A closer scrutiny will reveal that while all such Tests have produced a result, only six of the 19 Day-Night Tests have gone the full distance of five days; two have finished in two days, seven in three days and four in four days.
Test cricket has come a long way since the 1980s and 1990s. In the 20-year period from 1980 to 1999, only one out of 3.6 Test matches finished within four days. In the last couple of decades, more Test matches have finished within four days. The argument behind holding Tests in the evening followed the popularity of ODIs and T20s whereby more spectators could turn up at the ground after finishing their daily routine. Also, there was a general belief that Day-Night Tests were more likely to produce results than the conventional form.
The pacers have done well in Australia, England and New Zealand. India were shot out for 36 in Adelaide in December 2020. Asian surfaces have similarly suited spinners with Axar Patel claiming 11 wickets against England in Ahmedabad in February 2020-21.
It's not to suggest that the Day-Night Tests have been dominated by the bowlers. Azhar Ali's triple hundred came in Dubai in October 2016 while Alastair Cook made 243 at Edgbaston a year later.
That Test cricket has become more result-oriented could be a fallout of the players' mental approach, courtesy the proliferation of the T20 format. A total of 300 or more in a day's play is now considered normal.
Teams too have become more conscious of the outcome because of the points structure in the World Test Championship. The home Boards have become less remorseful about preparing wickets that suit their needs. The quality of the teams also plays a significant role in a match lasting the distance.
The wicket at the Chinnaswamy in Bangalore during the just-concluded pink-ball Test against Sri Lanka could hardly be considered "ideal". A year earlier, 30 wickets fell inside two days in Ahmedabad as India beat England by 10 wickets.
Not without reason was there a proposal to reduce Test cricket to four days but the cricket committee of the International Cricket Council (ICC), headed by Anil Kumble, didn't consider it worthwhile for discussion.
Former India captain and chief selector Dilip Vengsarkar has never been a supporter of the Day-Night variety. "May be the bowlers get more movement out of the pink ball because of extra lacquer. That could be one of the reasons for such Tests finishing early. Anyway I have never been in favour of Day-Night Tests. I am a traditionalist and wouldn't like to see Test cricket being tampered with in any way," Vengsarkar told The Telegraph on Thursday.
"From what I have heard and seen, the wicket for the last Test wasn't good. We have to save Test cricket. A Test match finishing in three days is a bad advertisement. The onus has to be on the home cricket Board to produce quality wickets.
"To get crowds to watch Test matches, we need good wickets. Too much grass or too dry a surface will kill Tests. Turning wickets from the first day spoils the fun of watching matches. Swing bowlers should also get some advantage. We can't expect them to deliver only overseas," Vengsarkar argued.
But what do early finishes mean for the stakeholders? Broadcasters, advertisers and sponsors have to do with less viewership time and loss of revenues running into crores. "Early finishes result in a loss in revenue to the tune of almost Rs 100 crore for a series," a stakeholder said.
A spokesperson for the ICC said the three/four day finishes in Day-Night Tests and its possible reasons haven't "been a consideration for the men's cricket committee".
The basic purpose of making the game more attractive with a series of radical solutions to tackle Test cricket's dwindling popularity gets defeated if such issues aren't looked into. All stakeholders, including the Boards and the ICC, have to get involved, else Test cricket will continue to bleed.