Choke the funds to curb racism
We, like the Minister, are watching closely and fully intend to ensure that cricket cleans up its act: Nigel Huddlestone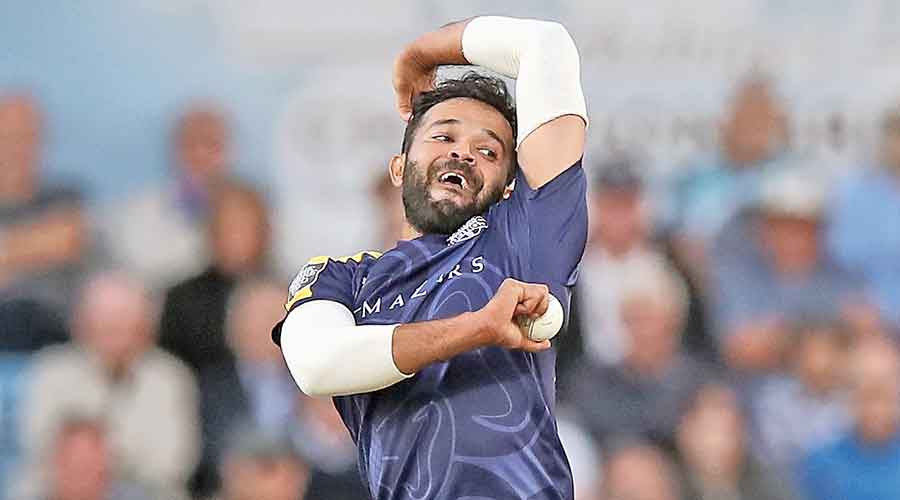 ---
London
|
Published 15.01.22, 04:08 AM
|
---
A damning report from a British parliamentary committee, which heard evidence from a tearful Azeem Rafiq in November last year, has recommended that the UK government should cut off public funding given to English cricket unless the sport can demonstrate a serious willingness to eradicate a "deep-seated" problem.
In its 13-page report, the House of Commons Digital, Culture, Media and Sport (DCMS) Committee referred to the promise to take tough action made by the sports minister, Nigel Huddlestone, and concluded: "We, like the Minister, are watching closely and fully intend to ensure that cricket cleans up its act.
"We recommend that the Government ensures that any future public funds for cricket are dependent on continuous, demonstrable progress in getting rid of racism in both the dressing rooms and on the stands.
"We recommend that the England and Wales Cricket Board (ECB) develop a set of key indicators by which they might measure their progress and then report to us on those indicators every quarter. We will invite Yorkshire County Cricket Club and the ECB to give evidence on their progress early in 2022."
After publication of the report on Friday, Rafiq, a Pakistani-origin cricketer who first revealed the extent of racism he had encountered at Yorkshire County Cricket Club, said its contents were "not a surprise to me — they won't be a surprise to a lot of people".
He said: "The committee has listened and taken sensible action. It is absolutely brilliant that (chairman) Julian Knight and his colleagues on the committee are going to hold the ECB to account.
"This shows just how seriously politicians are taking an issue that too many people in cricket ignored for so long. The committee understands how important it is to clean up the game.
"I'm glad that MPs will monitor any progress, so that the reforms needed to make the sport inclusive to all youngsters can happen soon."
Knight, a Tory MP, commented: "This is a watershed for cricket. Those who love and support the game are part of the solution and must play their part."
On behalf of the government, a DCMS spokesperson said: "We thank the select committee for its report into the disgraceful treatment of Azeem Rafiq by Yorkshire County Cricket Club and racism in the sport. We will now consider the report's recommendations and take further action if necessary."
Indian-origin peer, Kamlesh Patel, who was brought in to clean up Yorkshire cricket as its chairman, agreed with Knight: "Azeem Rafiq's testimony was a watershed moment for the sport as a whole, and we are committed to ensuring that no one endures the unacceptable experience that he did."
He believed that the ECB ban on holding international matches at Headingley in Yorkshire would be lifted. "In the last two months, Yorkshire have made significant progress in our efforts to rebuild, and I am heartened that the committee considers that there is room for optimism in what we have achieved."
Barry O'Brien, interim ECB chair, promised: "We are determined to root out racism — and other forms of discrimination — from our sport. We had already taken important steps to make cricket more inclusive in recent years. We are deeply sorry for the pain people have suffered and recognise the courage it has taken to speak out. We are determined to make cricket a stronger, more welcoming sport."
Tim Hollingsworth, chief executive of Sport England, added: "Sport England's funding is explicitly linked to the development and implementation of robust diversity and inclusion policies and plans. We have made that clear to the ECB, who have responded positively and constructively."
The report by the all party committee will make for uncomfortable reading for anyone who believed that English cricket stood for fair play down the ages. These have been values that British rulers took to the colonies during the time of empire, especially in India.
These values representing the essence of what it means to be English are best represented in Sir Henry John Newbolt's 19th century poem, Vitaï Lampada, which speaks of "England" and "honour" and begins: "There's a breathless hush in the Close to-night/ Ten to make and the match to win/ A bumping pitch and a blinding light,/ An hour to play and the last man in./ And it's not for the sake of a ribboned coat,/ Or the selfish hope of a season's fame,/ But his captain's hand on his shoulder smote/ 'Play up! play up! and play the game!' "
In marked contrast, the MPs said in their report: "At our oral evidence session, we were convinced by Azeem Rafiq's moving evidence of how he had been subject to racial discrimination and his conviction that this was not simply a personal issue but an endemic problem across the whole of cricket. We had concerns about the lack of coordinated action between Yorkshire County Cricket Club and the England and Wales Cricket Board."