Bengal seniors to undergo pre-season camp in Pondicherry
We will finalise everything soon. Hopefully, things will be sorted out in a couple of days or so: CAB president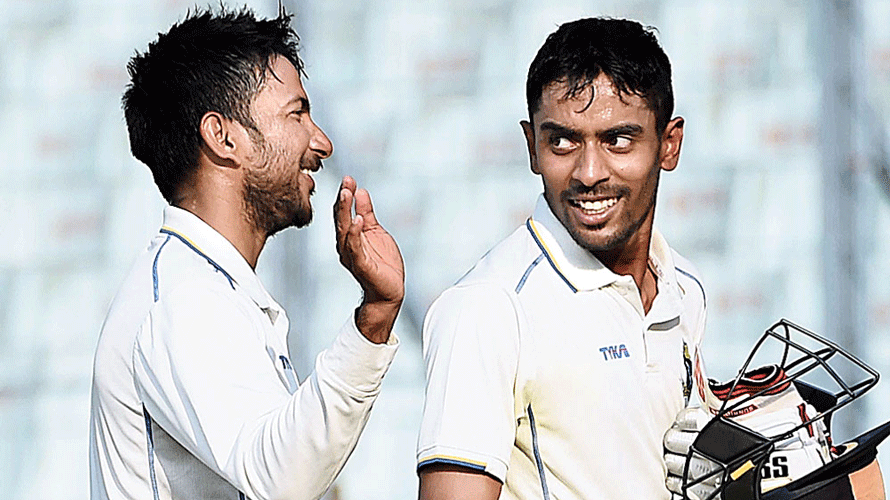 ---
Calcutta
|
Published 22.08.22, 03:44 AM
|
---
The Bengal senior men's team are set to undergo a pre-season camp in Pondicherry, which is likely to begin at the end of this month.
The team's pre-season training has been a cause of concern due to the prevalent weather conditions here at this time of the year.
Since their training sessions began on August 3, they had to either practise at the Cricket Association of Bengal (CAB)'s indoor centre or at the makeshift nets put up beneath the 'K' block at Eden Gardens. Bengal's Namibia tour for a T20 tournament in Windhoek slated to begin next month also wasn't approved by the BCCI.
With not even two months remaining for the Syed Mushtaq Ali T20 Trophy, which gets underway on October 11, the state association was forced to come up with an alternate plan.
According to CAB sources, it was Bengal's batting consultant WV Raman who suggested sending the players to train in Pondicherry.
The Abhimanyu Easwarans will be having on-field training and playing prac-tice matches amongst themselves in Pondicherry.
In addition to that, the CAB is also trying to organise a few warm-up games against some local clubs in Pondicherry and Chennai after consulting the Tamil Nadu Cricket Association."
"We will finalise everything soon regarding the team's pre-season in Pondicherry. Hopefully, things will be sorted out in a couple of days or so," CAB president Avishek Dalmiya said on Sunday.
It has been learnt that the Cricket Association of Pondicherry Ground 3 has been reserved for the Bengal squad as the CAB had initially planned to hold its annual T20 tournament in Pondicherry.
"That plan has been shelved for the time being," said a CAB insider. "The (Bengal) U-25 players need to have their share of training and trials as well in the coming days. So the association felt it would be convenient to have the T20 meet in October or November in some of the grounds here with those players who wouldn't be able to make the Bengal senior and U-25 squads for the respective domestic competitions.
"However, since one ground in Pondicherry had already been reserved (for that T20 meet), the association wants to send the players there for better preparation,as Raman had suggested.
"The Pondicherry weather, too, should be comparatively better than how it is in Calcutta at this time of the year. So the players should be able to prepare better for the season after they train there," the insider added.
The cricketing facilities in Pondicherry have also developed a lot more than how they used to be earlier.