'A lot of people have got the technical ability and the game plan, but not many have the champion mindset' — Paddy Upton
In town to launch his book The Barefoot Coach, he spoke about success, failure, Indian cricket, mental strength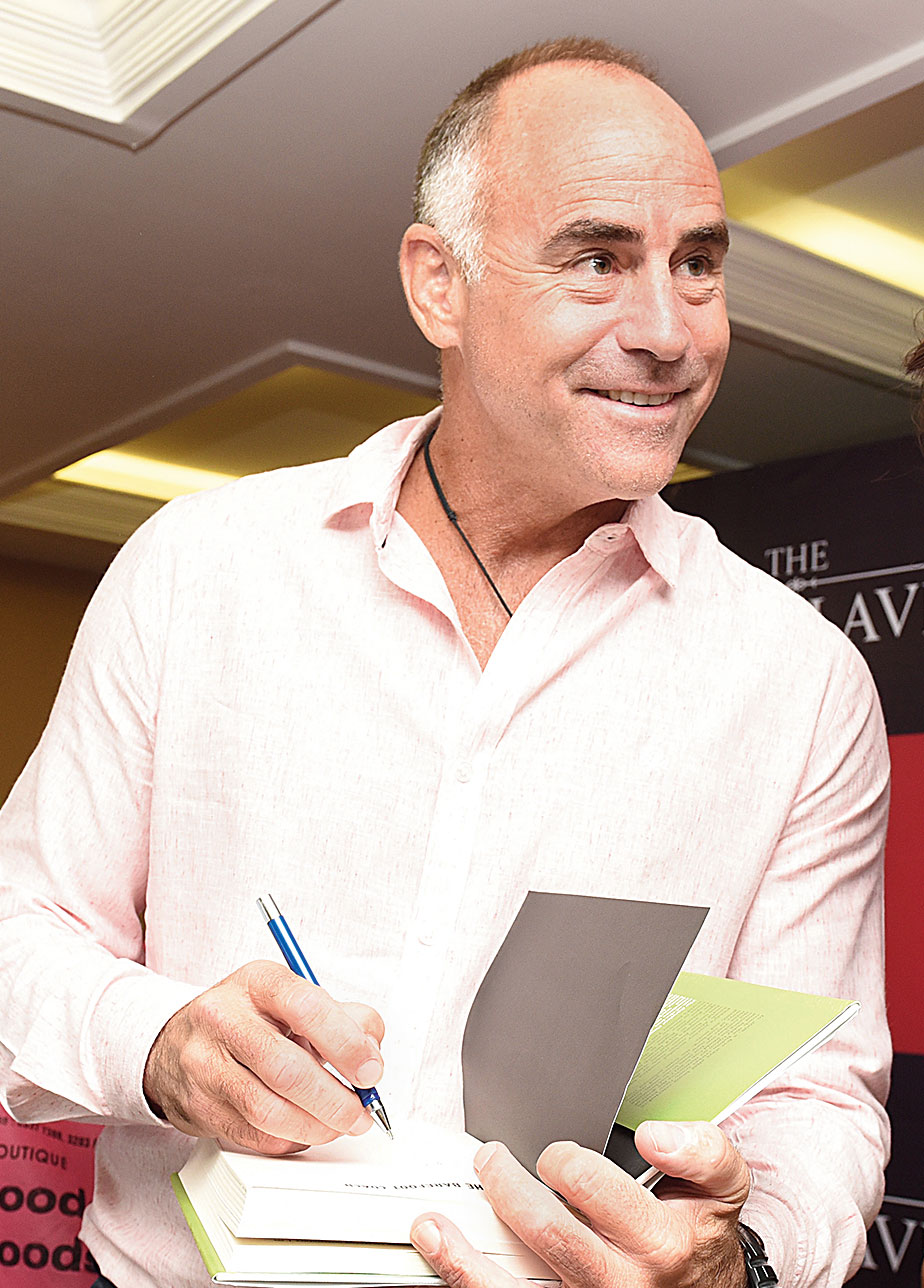 Paddy Upton
Telegraph picture
---
Published 21.05.19, 04:29 PM
|
---
Earnest, encouraging, empathetic and insightful. That's Paddy Upton, the genial mental conditioning coach and fitness trainer, picked by Gary Kirsten when the famous South African batsman got the "biggest job in world cricket" — to coach the men in blue. Gary had "never coached a cricket team in his life" and during his tenure, India climbed to the top of the world Test rankings and clinched the ICC Cricket World Cup in 2011. Paddy, the head coach of Rajasthan Royals, very much in the thick of things.
In town to launch his book The Barefoot Coach, he spoke success, failure, Indian cricket, mental strength in a conversation with Rita Bhimani at Red Sofa Conversation presented by The Conclave, in association with t2 on May 13. We sat him down for an adda post the chat.
Your talk was very inspiring. Are you emotional by nature? You spoke so much from the heart…
Hmmm… not very, but yes.
You have worked closely with M.S. Dhoni. How do you think he must have reacted after the one-run IPL final loss to Mumbai Indians?
I would imagine he would have been very disappointed in himself because that's the kind of moment when he really stands up and delivers for his team and would have wanted to do that… to get out like that…. I saw the footage of the preseason, very emotional speech preseason. So, obviously there was a lot of emotions invested in this particular season.
Is he like all of us?
He is like all of us. He doesn't wear his heart on his sleeve, like a (Virat) Kohli does, but yes, you would definitely feel that he has got a remarkable ability to remain balanced, composed and calm under all situations. That's a real gift for him and his leadership gift.
We all have very fond memories of the Indian team winning the 2011 World Cup, a team you were an integral part of. Going into 2019, what do you think of this Indian team?
I think the Indian team is an exceptionally good team at the moment, very balanced in terms of the batting options they have got, the bowling options… both the seamers and the spinners… very good fielding side…. So India go to England as one of the favourites that are playing away from home. We don't know what those English wickets are going to be like, if they are going to be fairly spicy or slightly tired from being in the middle of the season. They've also got England and Australia who are going to be huge competitors for that top spot, but India are definitely in the running.
How do you think Virat Kohli has evolved?
I think the evolution has been in three (areas)… one in him as a person, two in him as a captain and three, as a batsman. The most significant has been his evolution as a batsman. He has really learnt in all three formats of the game how to set a total if batting first or chase down a total if batting second and he is clearly one of the best in the world. When he goes into bat, he never falls behind in the run rate, never goes ahead and really irks the opposition. No bowler really dominates him. He is able to keep that scoreboard ticking non-stop and it is like slow death injected into the opposition bowling attack. Just his ability… whether it is for ODI or T20, he's got a remarkable ability to pace his innings to be able to get to the total at the right time… every reason that he is the best batsman in the world at the moment.
It is the first time in Indian cricket history that you've got a captain and a senior player who is really a fitness fanatic and what's happened is that the other players in the team have followed that lead and what has transpired is you've got a very fit Indian cricket team. You've always had really good fitness trainers in the Indian team… now for the first time you have someone from inside in the leadership position who is driving it. So, there is so much more natural bind.
What was the fitness barometer in the team you inherited?
The team I inherited then had seven years of the two best fitness trainers in the world in Adrian Le Roux and Greg King. They were a very averagely fit team on a good day. So, we actually ended up scrapping fitness tests and redefining fitness training.
I think we arrived at the 2011 World Cup probably as the second or the third unfittest team in the world. We made other things priority because we knew we weren't going to get Dhoni do a whole lot of running and training and we would have probably injured (Sachin) Tendulkar had we tried to bring him up to the required running fitness levels.
What makes a champion?
Obviously, one needs to have the requisite skill to be able to succeed at that level. Without that the mindset doesn't matter. One needs to have a good enough understanding… once you have got the technique, skill and strategy, mindset comes next. It is the last thing, but probably the thing that makes or breaks. A lot of people have got the technical ability and the game plan, but not many have the champion mindset, which is a whole lot of different things, but essentially being able to consistently perform at a really high level, particularly when the stakes are high, in the key moments of the game.
How do you do that without putting pressure on yourself?
First thing is to understand what pressure is. Two biggest mental obstacles to success, I believe, are fear of failure and pressure. The two of them are very closely linked and even overlap. The important thing with pressure is to understand what pressure is. Pressure comes from the amount of importance you place on the results. The more important we make a result in our head, the more pressure we feel. The first thing is to decrease the value of the result. Losing a wicket or a cricket match is actually not that important in the context of life and death. A family member with cancer is consequential. Losing a wicket or a cricket match is not consequential.
So, it's simple…
It's fairly simple then. And, the other part which is may be a bit more lengthy… the reason we make results really important is we attach our self-worth to the results and if one builds ones self-worth independent of results and you are actually okay with whether you win or lose or score a 100 or a nought. That also decreases the pressure and sets up the ability to perform consistently. That's where being a good person really helps. You don't need the result to feel good. You want a result but you don't need it. There is very subtle but a very important difference.
How did fitness become a passion?
Well, just studying it at the university. I ended up doing my masters degree in sports science and understanding about fitness. Then when I joined as the fitness trainer of the South African cricket team in 1994….
How did the people you worked with in the initial stages of your career shape your personality?
What I really learned from Bob (Woolmer) was to have the courage to innovate and know that when you innovate, three out of four of your ideas are probably going to fail and people are going to judge you and you are potentially going to be ridiculed, but that's the curse of an innovator.
Who is your favourite captain?
It is difficult to say… Dhoni is very unique and incredibly inspirational and Rahul Dravid… I was lucky to work with him as a coach when he was a player and then work with him… he has got the potential to do amazing things in Indian cricket… bring up the Indian youngsters.
Who are some of the greatest leaders outside cricket who have inspired you?
Nelson Mandela. Coming from South Africa and having had that experience… someone who has been 27 years in jail, for a cause that he believed in… and he had no bitterness, no retribution. It doesn't get that much more inspirational.
You said working with the Indian cricket team was the best job in the world. You did sign off on a high, but did you ever wonder what you have gotten yourself into?
No. It was remarkably challenging, which any job like that is, but remarkably smooth. We really didn't get caught up in a lot of politics. We had really good people in that team and we were on the same boat working together. Then it becomes quite easy to navigate the difficult times. I always use this analogy of a team culture being like a ship. If you all together build a really strong ship, what it really enables you to do is to sail through really stormy waters. The Indian team was a really strong, united ship.
Together we built this. From Day One, it felt like we were working in the same direction. It is a real willingness from all parties to work together to build something special. Yes, there were difficulties, but we were all going in the same direction which makes those difficulties easy.
What do you think changed in the years you were associated with the team?
I think they always knew that they could be world beaters, but the mindset of together we could be world beaters… and I think there was a real bind to the team and a team energy… just seems like there was more enthusiasm and energy, more celebration together….
If you were working with the team today, what would you be telling them?
Be diligent in all the processes required to set yourselves up for success. Study the whole book for exams and not cut any corners and trust the process, plans, skills and leave the result to look after themselves.
What have you loved about India over the years?
I first started coming to India in 1996 and then with the Indian team in 2008, I spent a lot of time out here exploring the countryside and the country. Probably the last six years since I have been coming back as the head coach (of Rajasthan Royals), I literally don't find time to get out of the hotel.