A bunch of kids had gathered around him at the dining table at his in-laws' house in Calcutta's Golf Green. The day before, Bengaluru FC had beaten ATK at the Salt Lake stadium in Calcutta. With a smile on his lips, Sunil Chhetri, 34, was signing autographs.
Born in Hyderabad, brought up in Delhi, with his dad's army background taking him here and there, Chhetri never thought life would pan out the way it has. That he is all heart makes it even more endearing. "He is emotional by nature," said Sonam, the daughter of footballer Subrata Bhattacharya, whom he has known since 2004 and married last year.
Indian football's 'Captain Fantastic' opened up to t2oS, with wife Sonam by his side.
'Please come and watch us. It's the best game in the world and we play for our country' — your plea in the video you posted during the Intercontinental Cup in June got the whole nation rallying for you...
Nobody knew about the video. Neither my PR team, nor those who handle my social media, or Sonam. Usually ISL garners a lot of fans… Calcutta, Kerala, Chennai, Bangalore, the Northeast… and suddenly to play for India, which should have a bigger fan base... the Mumbai stadium was almost empty. I was thinking, these young boys are doing so well now and there is no one here. I felt bad and I just randomly made that video. I had no clue things were going to turn out the way they did. Now when I look back… good that I made it. The message was received well and people came, which is nice. Now there is a slogan called Fan Banna Padega (in ISL). I hope this continues, not only for my own sport, but for every sport.
Did you always want to be a footballer?
I always wanted to play football. I didn't want to or aspire to become a footballer because I didn't know if I could become a footballer or the right route of becoming a footballer. I never dreamt of this life and I don't take it for granted. If there is something I am really passionate about and I give my 100 per cent to, it's football.
You were asking me how Sonam fell in love with me? Football. I asked her one day if I wasn't a footballer, would she have married me? She said, probably no, and she was being honest. There aren't a lot of special things about me if you take out football. When you say 'people love you', it feels great, but they only love one thing about me and probably that's the only thing that is so lovable about me. And when you have that thing, which makes so many people fall in love with you, you want to keep it like that and give it everything because that has made you. Everything is because of one thing — your happiness, luxuries, fame, name.... Football has been special.
Being someone who likes football was easy because both my mum and dad were footballers. Getting the game into my system and enjoying it was never difficult. Being a professional footballer started with coach (Subrata Bhattacharya).
How did you meet Subrata Bhattacharya?
My first meeting with him was when I came to Mohun Bagan in early 2000s. Somebody told me he was the coach of the main team and I thought I won't even see him. He saw me once at training and he called me and said I play well. I was thinking, wow, the head coach came and spoke to me! Later I came to know how huge he was. He kept me here for a week.
Little did I know that he was trying to test me and was considering me for the main team! I had no clue. I was a happy kid, training. And I think in about 10 days, he gave me a contract. In the three years I was in Mohun Bagan, he gave me chances. A lot of coaches don't do that. They aren't very kind to youngsters. He was the coach of a big team… he had some nine top strikers with him at that point, including (Jose Ramirez) Barreto and Bhaichung (Bhutia), but he still gave me a chance and I am really thankful for it. No matter how good you are, if you don't get a chance...
Which players did you idolise while growing up?
Internationally, Ronaldo, the Brazilian one, was a big influence. He has motivated me a lot. In India, I think I.M. Vijayan, Bhaichung Bhutia, Renedy Singh. Basudeb Mondal was big. Krishanu Dey was huge in my family. I was lucky that eventually I got to play with a few of them.
Was taking up football as a career a risk?
We didn't know how much money someone can earn. Nothing was planned. It's like someone who hasn't done theatre suddenly gets a blockbuster film. Mohun Bagan was the biggest name then. A lot of people still think so, but I think now it is Bengaluru FC (laughs).... All the big names were there. So, for me to get a chance to play for Mohun Bagan was something unheard of.
Reaching there was a lot of luck. Then the hard work started. It's one thing to get into a club like Mohun Bagan, it's another thing to sustain it. I don't know how I did it. I struggled. There is the pressure of playing for Mohun Bagan. When he (Subrata Bhattacharya) left, Alok Mukherjee didn't fancy me that much. I wouldn't get a lot of game-time, it was frustrating. Then I got malaria and jaundice at the same time. But that's there in every career. You have to work hard initially. That's what I did, and now we are here.
What is the key to sustaining in this field?
You've got to believe in yourself. In testing times, I have always told myself that if you are not going to believe in yourself, no one will. If people realise you are not confident, they will not give you an inch. There is a thin line between believing in yourself and arrogance. When you believe in yourself, there is at least somebody who believes in you, which is you yourself. Then people join you.
Tough times are more often now. Every game is judged. Every time you take the field, they expect. Every game I played bad, they would be like: 'How could he?' My wife is so critical when I play. My own dad is so critical. So, if I cannot please them, imagine other people! My mum is a blind fan… how mums are... I keep telling myself: 'Relax. You have seen these bad times. There is a process. Get into it and things will turn.' I do believe in God. You've got to do your bit of hard work, but somewhere up there somebody is looking out for you. I am somebody who has been blessed with much more than what I probably thought of. My work is to give my best.
Does being the captain of the national football team put you under pressure?
No pressure. It's a privilege, man... 1.4 billion in this country and you are the chosen one. Not everyone can do it. People who have achieved so much in life, they cannot be the captain of India. I still get goosebumps when the national anthem plays.... I know this is not going to stay for long. I want to cherish and enjoy it.
What is the current state of Indian football?
It's an up because what we are chasing is so far that we cannot sit back and relax. Football has done really well in the last seven-eight years, in all departments. In my lifetime, I see my country growing, but where I want to see my country, I hope I see it in my lifetime.
Playing the World Cup would be amazing; the ultimate dream of every Indian. Are we improving? Most definitely yes. Can we up the pace? We have to. As a player, as federation, as government, as fans, as media… every one of us are in it together. There are no grey areas, but a lot of barren land that we have to work on. I try to improve myself to be a better player. That's the only thing that is in my hands. Blaming others is not going to help us.
You've said that you don't take the comparisons drawn between you and Lionel Messi-Cristiano Ronaldo seriously...
People should understand that there can be no comparison at all as a player between me, Messi and Ronaldo. People who understand football will tell you this. Do I enjoy playing for my country? Absolutely yes. It gives me immense pleasure, pride and honour to score for my country; I'll keep doing it. But comparisons as a player between Messi, Ronaldo and Chhetri, it's utter nonsense. As an Indian, when you see those memes, be happy for five minutes and then forget about it.
You are heavily into fitness...
You have to keep reinventing, especially when you are post-30. When you attain that level of proper fitness, it is a different level of high. It's an everyday process. The gym is the easier part. The difficult part is the sleep and the food… boiled broccoli, vegetables, oats… every day… that's difficult. If I am very happy, I'll have a lamb burger. ("He will remove the patty and just have the lamb," says Sonam.) I love Bengali food… daab chingri, paturi, kosha mangsho… but fitness is a process. It is more mental.
You tweeted about Virat Kohli recently...
When I see Virat, I feel happy. I have seen him when he was not as fit as he is now. I feel very proud of him. You don't generally associate that kind of fitness with cricket, if I may say so. The way he is going is unbelievable... the way he is scoring 100s. I just hope he continues. He is a very good boy. Anushka (Sharma) and Virat are a grounded couple. We connect because we talk about normal stuff.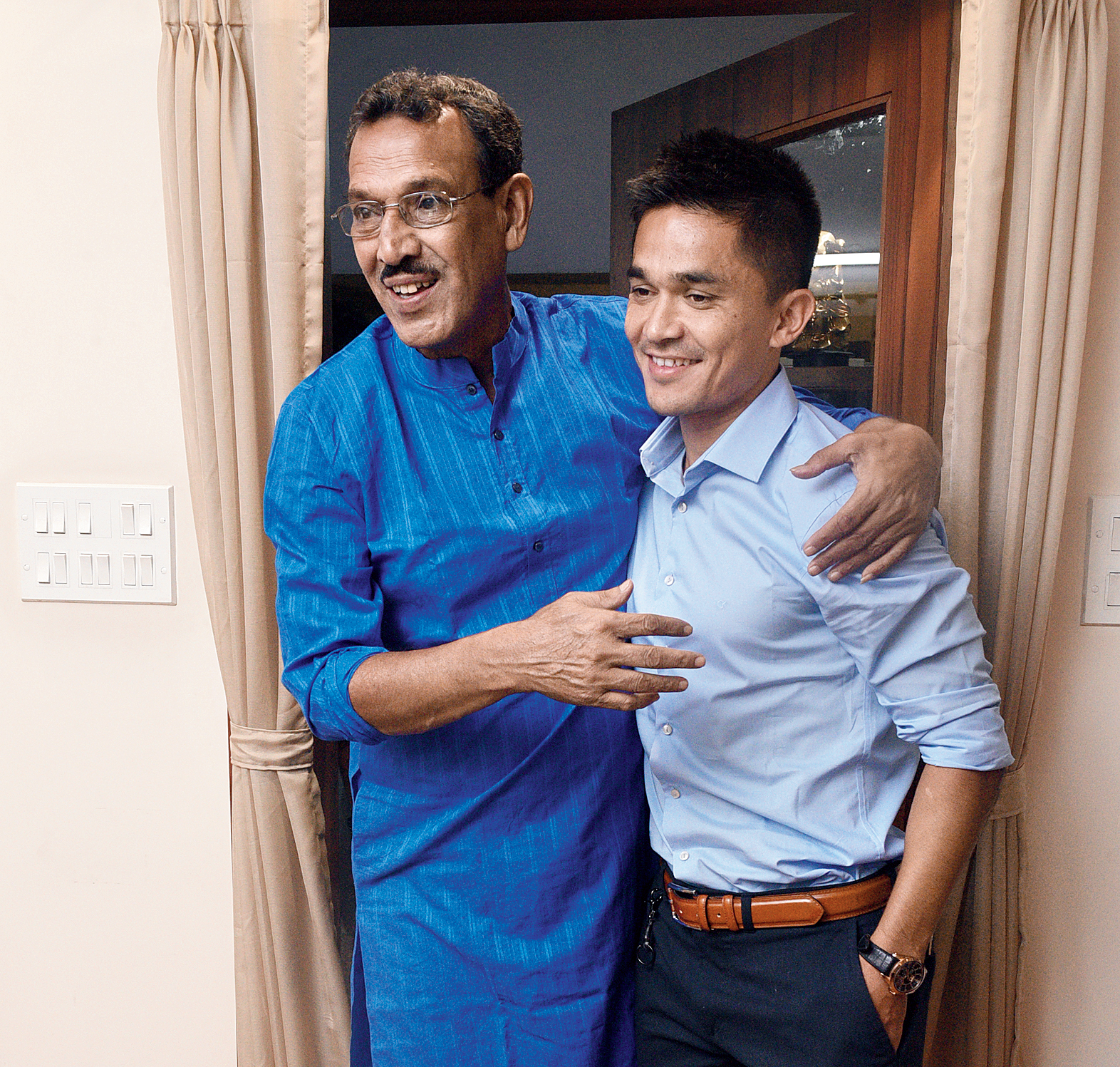 Subrata Bhattacharya with Sunil Chhetri Rashbehari Das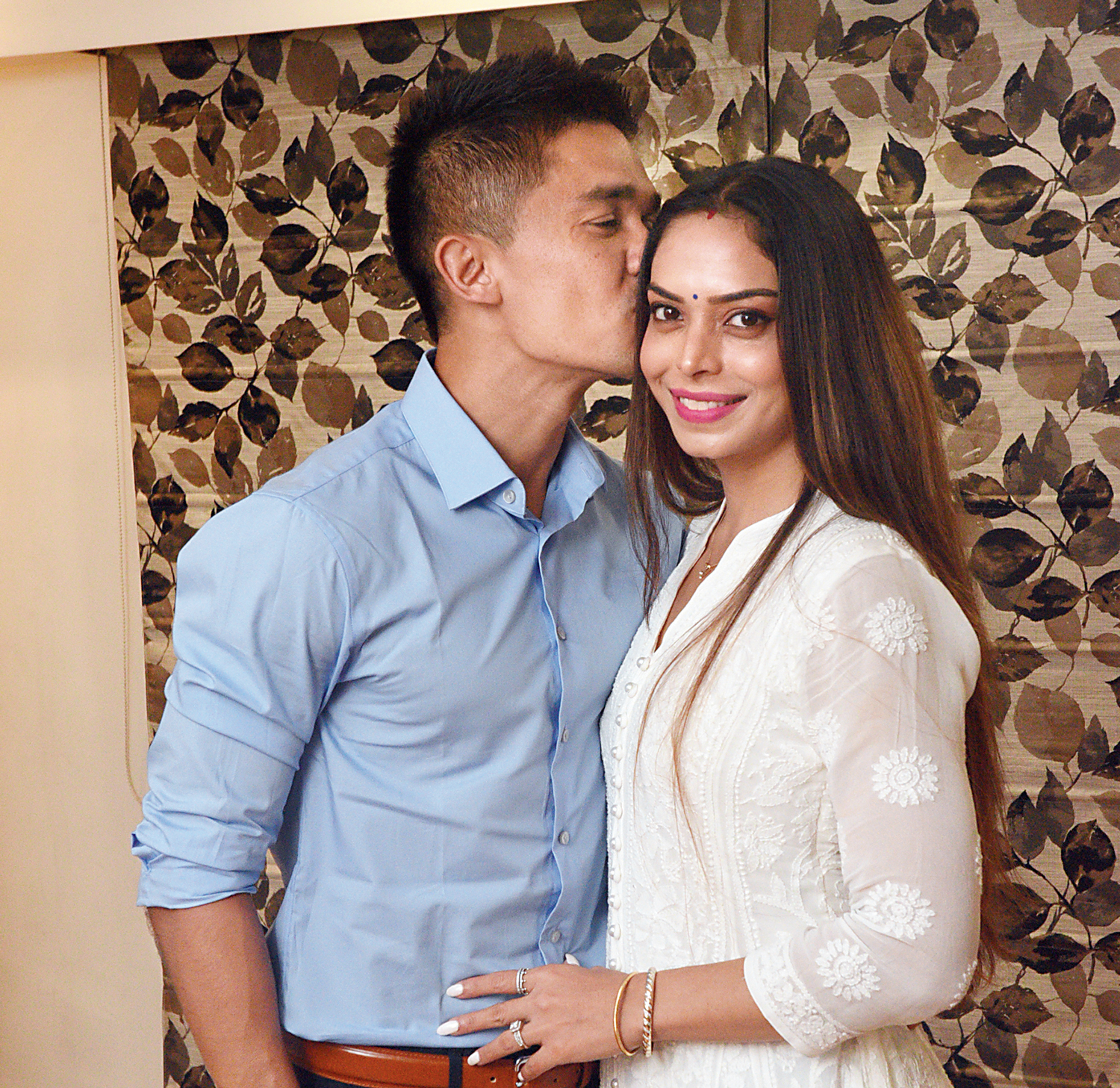 Sunil Chhetri with wife Sonam Rashbehari Das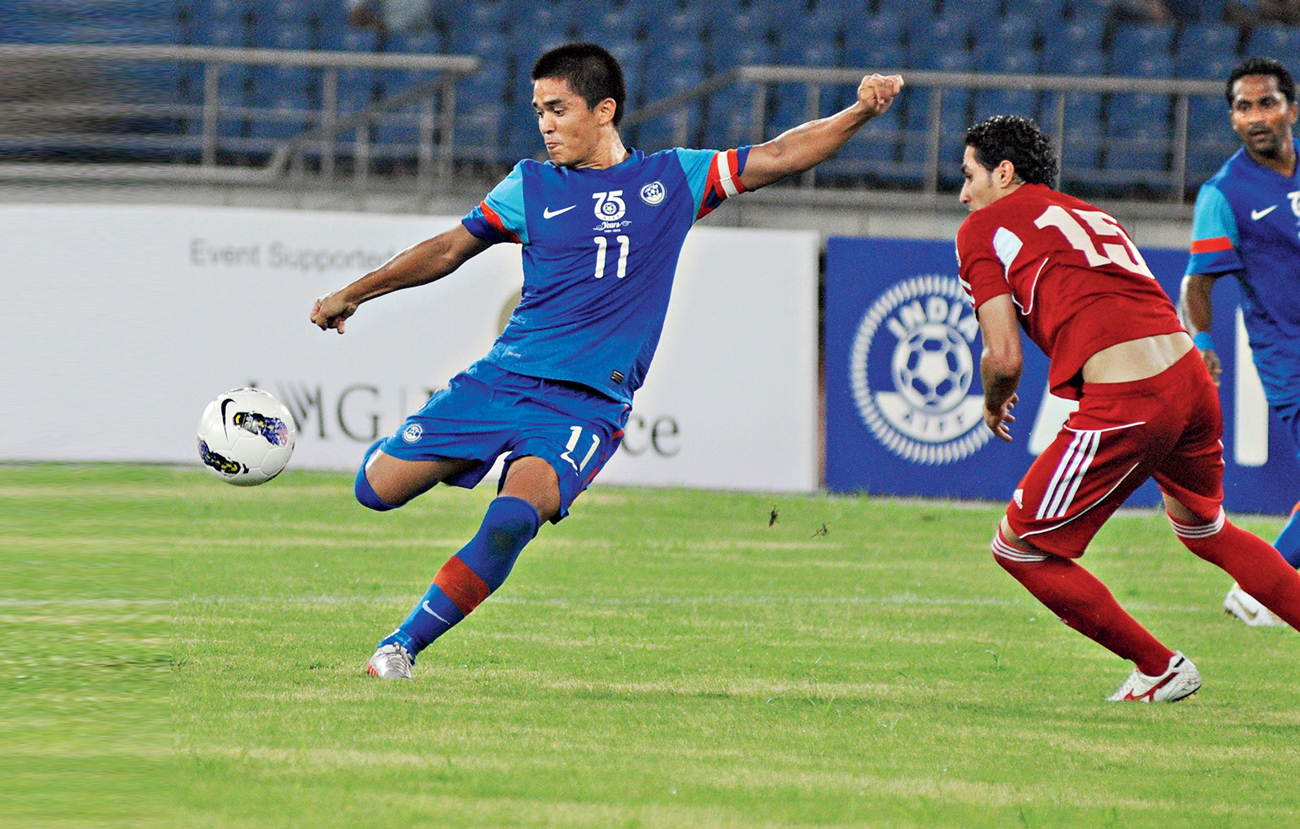 Sunil Chhetri Rashbehari Das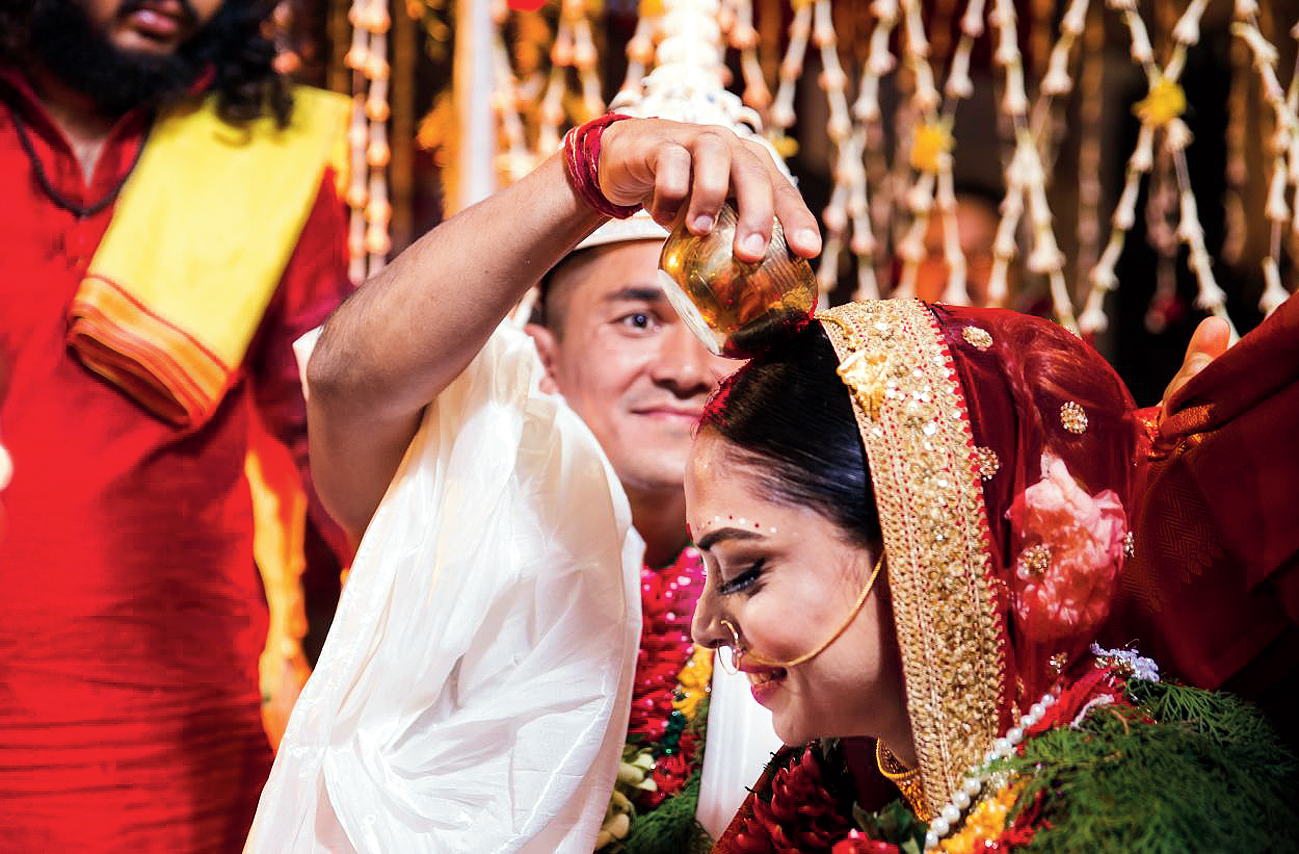 Sunil and Sonam have been married 11 months Sourced by The Telegraph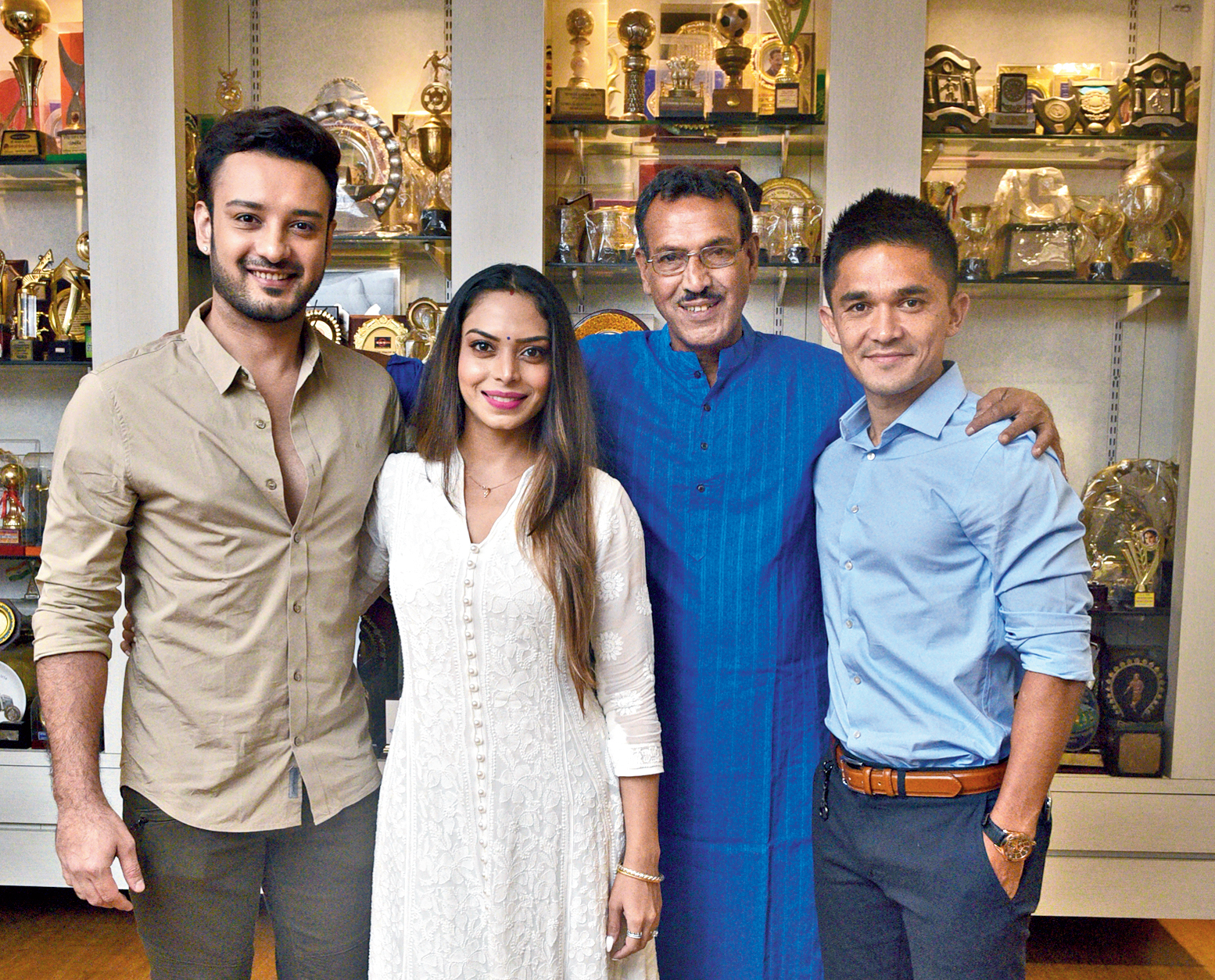 (R-L) Sunil with father-in-law Subrata Bhattacharya, wife Sonam and brother-in-law Shaheb. Picture: Rashbehari Das
Sonam: Everything has changed for me… but I am enjoying it. I will not say that it is not challenging because I have to shuffle cities a lot more than before. I come to Calcutta every month and travel with him for a few of the away matches. Apart from that, my diet has changed! (Laughs) It is difficult to have mutton curry and prawn malai curry every day if this person is having boiled food beside me! I adopted his lifestyle.
Somehow I knew at the back of my mind that I was in love with a footballer and what my mother did for my father is what I have to do for my husband. That kind of helped me. Also, handling my work from Bangalore was a little difficult initially, but I think we are managing fine.
Sunil: The most important change in her life has been in the timings of her meals.
Sonam: Every day he is doing something new to improve… researching diets. A simple example is tea. I used to have ginger tea with milk and sugar. When I got married, it became black coffee; that became Darjeeling tea for a while and then yerba mate.
Sunil: She was ready to try and 95 per cent of the things she tried, she liked.
Sonam: I figured he needs a little company in whatever he is doing. Even if he is trying a diet, I can see his happiness when he sees me eating the same thing. I also feel satisfied thinking that I am a part of the team; it's only that I don't wear studs and play with him!
Sunil: Even if she is indirectly getting involved in it, I know she is getting in it for good. What she was eight-nine months back, in terms of fitness and body fat, everything has changed for the better.
Sonam: We work out together and we are always pushing each other.
I thought he had the talent. He has proved himself. He has paved his own path. It's all because of his discipline and diligence. He is a good player, he doesn't want to lose. Turning is good, outside-offside is good, he can shoot with both legs.... Chheleta bhalo chhele, bhodro chhele, kathabarta bhalo bole
Subrata Bhattacharya, former star footballer and Chhetri's father-in-law
My all-time favourite: Messi. Pure God's gift, man. Makes me happy.
My fitness icon: Cristiano Ronaldo. He is an unbelievable athlete. If there is one role model I want to follow when it comes to food, fitness, diet and sleep, it's him. He is the benchmark. The guy has achieved everything in life but he is as hungry as a 16-year-old. When people ask me how I stay motivated at 33-34, I say, 'Watch Ronaldo'. I have achieved at the Indian level, but he has achieved at an international level.

A song I listen to before every match: Lose Yourself. Eminem.

The highs: Apart from my marriage? I think qualifying for the Asian Cup twice — 2011 and 2019 — was massive. Playing the AFC Cup finals for Bengaluru FC was huge. As team achievements, these three are right up there.

The Sunil-Sonam love story
Sonam: I think for both the father and the daughter, it was love at first sight (laughs). I was a fan, honestly. He had started scoring as well and cute pictures would come out in the papers. Being a football fan, I would follow everything. My dad would come home and say, 'There is this little boy who reminds me of Shaheb (son)… he is mischievous, but if he concentrates he can be a very good footballer.'
I was very curious. I bribed our driver who used to take my dad to the training for his number. By the time the driver got me the number, Chhetri had left for Delhi for a break. One day my dad was having lunch at home and Chhetri called up from his dad's number to ask for two more days with his family. My dad scolded him! (Laughs) The moment dad got up to wash his hand, I picked up his phone and took down the number. That was the first and last time I stole something from my dad! (Laughs) I don't know how I did that! And Chhetri was like, 'Who is this fan calling in Delhi?' I had to lie to make him meet me. I told him, I am your coach's daughter's best friend. The day he came to meet me, I confessed. He ran away!
Sunil: I was so scared!
Sonam: In a month or so, he called me back… 'We'll only talk on phone'.
Sunil: Not being seen in public was very crucial when we started dating. The most we met was in movie halls. When I went to their place with the marriage proposal, coach (Subrata Bhattacharya) wasn't angry or sad. He was awkward. He is usually chirpy, talks loudly and is witty. I came in my formals… she was zapped!
Sonam: At 7.30 in the morning… when I saw him, I wanted to run and hide! We didn't know how dad would react…
Sunil: The first thing he told Shaheb was 'eke shorts de… pants porey eshechey… he is not comfortable.'
I took the decision to get married in a day but I wasn't ready because I wanted to buy a house in Bangalore before she moved in. I had a long speech ready… but he cut me short. I told him, 'Coach, I really wanted to talk about Sonam.' Shaheb was there to help me. I said, 'I love your daughter and I would want to get married to her.' He rushed off to the bathroom… it was not a feeling of 'no'… but it was a weird reaction! He came out and he was like, 'Thik achhey, thik achhey, tui bhalo chhele'… and off he went to the bathroom again! Shaheb was like, 'Let's go!'
Sonam: Kaam ho gaya! (Laughs)
Sunil: It's been almost 11 months since our marriage and it's been great. I stepped into it very easily and smoothly. The credit really goes to Sonam. There's been no drastic change because I am still in Bangalore and she took the plunge of leaving her city to come and stay with me in Bangalore. A lot has changed for her.
After marriage, everyone has to make sacrifices and I think she has made the biggest sacrifice. It helps that she is a fan of football. Thankfully, personally and professionally, it has been good for me. She takes care of a lot of things and she does it very keenly. She doesn't have to force herself, I hope? (Looks at Sonam and smiles).
When you are not married, you can only contemplate or think how marriage is going to be. The best part for me is it's like living with a friend… lots to share, lots to talk about… somebody is always there… somebody who understands.
I was 17 when I left home and I have always lived alone and when you live alone, you get used to being alone. You tend to find friends or company when you want to. To be honest, in my sport, it helps me. It's a very individual thing. You tend to spend so much time with the team that when you want to return and be in your own zone... my life allowed me that because I was alone.
I missed my family a lot initially, but I got used to it. I used to see my mum, dad, sister and Sonam rarely… 30-35 days a year. I am not sure if they liked it that much, or I liked it that much, but that was how life was. Football was so important for all of us that we all thought it's all right.
My life hasn't changed. Just a mental fact that now I am also responsible for somebody completely. My everyday life is the same. I eat breakfast at the same time, go to the same training field. Now there is somebody I share my lunch and dinner with.
It's been almost 11 months since our marriage and it's been great. I stepped into it very easily and smoothly. I was 17 when I left home and I have always lived alone and when you live alone, you get used to being alone.... The best part for me is it's like living with a friend