Class of '98 made the world aware about Croatia: Stimac
Silver is a better coloured medal, he said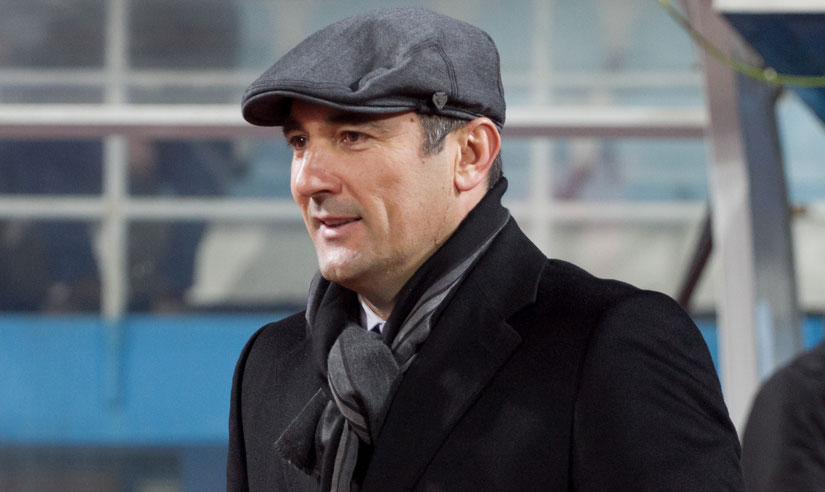 ---
|
Calcutta
|
Published 12.10.19, 08:52 PM
---
Igor Stimac was a key member of the Croatian national team which finished third in the 1998 World Cup in France. The articulate 52-year-old believes the class of 1998 gave Croatia the relevance in world football. "We were the pioneers of Croatian football," India's national football coach told The Telegraph during a free-wheeling conversation.
Excerpts...
The Telegraph: What was the significance of the 1987 Fifa World Youth Championship triumph? Zvonimir Boban, Davor Suker, Robert Jarni and you were part of the Yugoslavia team…
Igor Stimac: The Fifa Youth Championship (later rechristened Fifa U-20 World Cup) gold medal was very important for us because it proved the fact that we, as a team, were capable of beating anyone in the world. Beating hosts Chile in the opener in front of 80,000 people was an unforgettable experience. The starting line-up of the Yugoslavia side had six players with Croatian ethnicity — Zvonimir Boban, Davor Suker, Robert Jarni (now the head of coach of NorthEast United Football Club), Robert Prosinecki, Dubravko Pavlicic and myself. It was a great platform laid for the future success of Croatian football after our independence. The significance of the gold medal can be gauged from the fact that Boban was signed by Milan, Suker went to play for Sevilla, Prosinecki was roped in by Real Madrid.
Q: Class of 1998 and Croatia of 2018. How do you see?
A: Different eras... Realistically, it's impossible to compare. We were the pioneers of Croatian football. We were the first generation of Croatia to appear in a big tournament like Euro 1996 and World Cup 1998 as an independent country which was a statement in its own merit. We made the world know about the quality of Croatian players. On the other hand, when these youngsters were playing in their respective clubs, everybody was keeping a close tab on them. Comparing the gap of 20 years and keeping in mind that football is a game which continuously develops, we can't compare two different generations.
Q: Croatia finished third in 1998 and runners-up two decades later. Impact-wise, which one is bigger?
A: Silver is a better coloured medal. In our time, the war wounds were still alive and the passion and excitement around our journey to the semi-final were enormous. The emotional connect between us and the fellows fighting for our independence was unbelievable. All of us were used to a feeling of strong motivation and we stuck together as one integral unit. We always mention how proud we were having got a chance to defend our country's colours on the football pitch as well as those brave souls who deserved the praise. They were our strength and motivation. I would love to see such a strong connection between the team and supporters here in India.
Q: In 1998, Croatia was just seven years old and now it's a nation of 28 years. Have you noticed any change in your country? Also, what role has football played in developing Croatia as a nation?
A: Before the France '98, only three-four per cent of the world population were aware of the existence of Croatia. After the tournament, 70 per cent people came to know of our country. Sportspersons, especially, the national football team of that era were the best ambassadors of Croatia.
Q: Suker was the figurehead of a fledgling nation… Now he is a much vilified president of the Croatian football association… Do you feel hurt by that?
A: It's somehow difficult to understand the mindset of Croatian people. In Croatia, we don't appreciate our own successes soon after achieving great things. When we speak about Suker, it's more important to acknowledge what he has achieved as a player, president of HNS and executive committee member of Uefa rather than reading about what his critics say. We have to keep in mind that we won the silver medal in Russia and the football fraternity of Croatia got the financial stability during his tenure and we have to give him the due credit.
Q: What about Boban?
A: Boban is one of the greatest footballers that Croatia has ever produced. He is an outright scholar with a degree from the university. He has always been eager to learn and achieve more, that's why he has achieved so many things. Becoming vice-president of Fifa and leading clubs like AC Milan are not easily achievable. I wish he achieved more in his career.
Q: How do you rate Luka Modric and Ivan Rakitic?
A: I don't need to speak about Luka because his performances speak volumes — winning the Golden Ball. He won all the best player awards in 2018 and that summarises his impact on the pitch. He's an amazing, easy-going person who doesn't boast of his on-field achievements at all. What I like the most about him is he prefers to maintain a low profile. I hope after he hangs up his boots, he stays involved in football because he has so much to offer. Rakitic is next to Modric in terms of football credibility. He had a terrific impact on Croatia's campaign in Russia. He was brought up abroad, in Switzerland, where he started playing in academies. Croatia later made a successful attempt to bring him back and play for his native country.