Brendon McCullum looks back in wonder
Much of his reputation was built around the innings of 158 not out that he played for KKR against RCB on April 18, 2008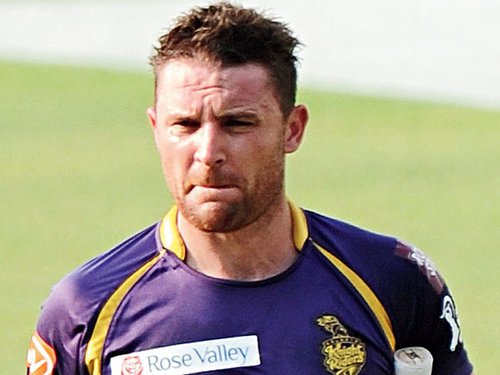 Brendon McCullum
Telegraph file picture
---
Calcutta
|
Published 17.04.20, 09:42 PM
|
---
Brendon McCullum is now the Kolkata Knight Riders' head coach. He was quite successful as the New Zealand captain, leading them to the 2015 World Cup final before losing to Australia. Personally too, he had a sparkling career.
Much of his reputation was built around the innings of 158 not out that he played for KKR against Royal Challengers Bangalore on April 18, 2008 — the opening day of the inaugural edition of the IPL.
A nostalgic McCullum relived that "surreal moment" in an interview to kkr.in.
"Well, I never really got too nervous throughout my cricket career, but on that occasion, I'll admit I was very nervous. I feel so lucky and privileged to have had the opportunity… You talk about sliding doors, and moments in your careers and in lives. That night, my life changed completely in the space of those three hours or actually, even an hour-hour-and-a-half," McCullum said.
"Why was I the one who got that opportunity to be able to go and face (the) first (delivery) with Sourav Ganguly? How did I get a chance to play in the first game, have the first opportunity to bat in such a huge tournament for world cricket? How was I even able to grab that opportunity? How much luck did I have along the way? Honestly, I don't know the answers to any of these, but what I do know is that it changed my life forever.
"It changed my family's life forever, and I feel very blessed and very humble and very lucky. What I did that night was something I didn't
think I was capable of achieving. It was just a surreal moment in time where you just look back and say, 'How lucky was I?'"
He also remembers what his captain, Sourav, told him after that innings.
"I don't remember many reactions in detail, but what I do remember is what Sourav said to me that night. Dada said, 'Your life is changed forever', and I didn't quite know what he meant at the time. (Knights' principal owner) Shah Rukh Khan, in the months which followed or the days and the weeks and the months which followed, said, 'you'll always be with the Knight Riders'."
Asked how is he dealing with social distancing and lockdown, McCullum said: "Well I guess we are all dealing with it in different ways, and every country has its own issues. I'm trying to enjoy the time that I'm getting at home with the family, because, in a funny way, we are all forced to really spend a lot of time with our loved ones which is fantastic. We probably don't stop and take as much time to appreciate that. When we are on the other side of this pandemic and hopefully, we haven't lost too many lives, and things are returning to normal in the schedule of all of us cricket coaches, commentators and people all around involved in the game, it's going to get pretty intense. So I'm trying to just enjoy the break for now."