Brearley, Imran and Gavaskar's skull cap
Interview/Sunil Gavaskar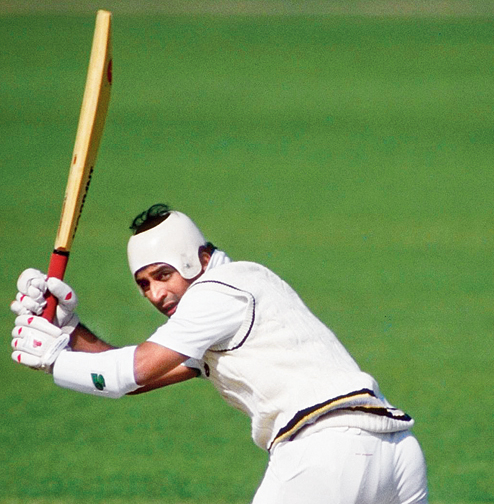 ---
Published 09.01.18, 12:00 AM
|
---
Cape Town: Sunil Manohar Gavaskar rarely gives interviews. On Monday, however, he again made an exception for The Telegraph.
For the first time, perhaps, Gavaskar (among the greatest of openers cricket has seen) spoke on the fascinating story behind using the skull cap in the last four years of his India career.
The interview took place at Newlands.
Excerpts...
Q Did you ever think of wearing a helmet?
A No.
Q But helmets had come into vogue in the 1970s...
A Yes, the (Kerry) Packer seasons, 1977-'78 and 1978-'79, saw everybody wear them... Mike Brearley had, by then, begun using a skull cap and I found that a much better option than the helmet of those days. They were then more like the two-wheeler helmets.
Q So, did you have a skull cap made immediately?
A I took the manufacturer's details from Brearley and got it in 1980. But, for three years, it just remained in my kit bag.
[The skull cap was designed by Bill Swanwick.]
Q What made you wear the skull cap from the 1983-'84 home season?
A I'd been hit by Malcolm Marshall on the tour of the West Indies in the early part of 1983 (in the third Test, in Georgetown), so that was a trigger. Also, we'd toured Pakistan in the 1982-'83 season and Imran Khan had, off the field, suggested that I try the skull cap.
Q Did Imran's suggestion influence you strongly?
A It did... Imran has been a friend for long and I knew he had my best interests in mind... Imran's suggestion had been at the back of my mind and, when I got hit by Marshall, I decided to wear the skull cap.
Q What was Imran's point?
A That one could get that one ball (which would possibly lead to a tragedy).
Q You got hit by Marshall in the third Test, but two more followed. Why didn't you wear the skull cap straightaway, after Georgetown?
A Didn't feel like... I didn't wear it during the World Cup either.
Q I can't recall the match when your skull cap made its debut...
A Actually, I cannot either... Would have been the home series against Pakistan, at the start of the 1983-'84 season, or the first Test (in Kanpur) against the West Indies later that season.
Q Well, did the skull cap enhance your confidence or make you feel that you'd compromised on your stand of the first 13 or so years of your India career?
A Didn't feel anything and my confidence definitely wasn't enhanced... Look, when I'd injured my hand, I altered the protective padding around the right glove... So, for me, it wasn't anything more than that.
Q Did Imran say anything on you having followed his advice?
A No.
Q One more... Why is it that batsmen still get hit, with Phil Hughes even dying, despite the much more superior quality of helmets nowadays?
A Accidents can happen. You may be wearing the thigh pad, but could still suffer a thigh injury. See it that way.