Bhaichung leads dazzling display - NEHRU CUP - India demolish Kyrgyzstan 3-0 to make final for first time
Read more below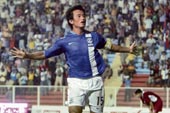 ---
Delhi
|
Published 27.08.07, 12:00 AM
|
---
Bhaichung Bhutia after his goal on Sunday. (PTI)
New Delhi: Bhaichung Bhutia's magical touch was on display at the floodlit Ambedkar Stadium on Sunday as India marched into the final of the 13th ONGC Nehru Cup with a resounding 3-0 victory over Kyrgyzstan.
It was a moment of glory for Indian football as the hosts have never made the title round in the 25-year history of the tournament. On Wednesday, India will play Syria in the final. For the near capacity crowd, the finest moment came in the 38th minute when Bhaichung put India ahead.
It was a brilliant effort from the captain, who was at his vintage best for the 69 minutes that he was on the pitch. When Rennedy Singh passed for Bhaichung on the left, the ace striker had at least two defenders closing in on him. No one gave him much of a chance to wriggle his way through.
Bhaichung proved he was still a master marksman inside the box. He got past his marker and outwitted another onrushing defender with a delicate body dodge. Still he didn't have much room to manoeuvre as goalkeeper Maskim Agapov had narrowed the gap. Bhaichung was prepared. In a flash he craftily spooned the ball with his deft right foot.
After 10 minutes of cohesive display in the middle, Kyrgyzstan was unsettled by India's constant attacking game. If Bhaichung's goal caught them on the wrong foot, injury to striker Lut Fullaev broke their backbone.
In the second half, India were all over their rivals.Sunil Chhetri, who missed an easy opportunity earlier, scored his fourth goal of the tournament in the 60th minute.
Steven Dias was a constant supplier of crosses from the right. The one that brought the goal was yet another defence splitting one. It hit Bhaichung before travelling to an unmarked Chhetri, who directed it in with a low left-footer.
The Indian defenders rose to the occasion, giving Krygyzstan little space and goalkeeper Subrata Pal, with his canny anticipation, proved impregnable. Even the substitutes grabbed the opportunity when Abhishek Yadav finished a through ball by K. Ajayan in injury time.
TEAMS
India: Subrata Pal; Surkumar Singh, Mahsh Gawli, Gourmangi Singh and NS Manju; Steven Dias, Climax Lawrence, NP Pradeep (K Ajayan, 56 th) and Rennedy Singh; Sunil Chhetri and Bhaichung Bhutia (Abhishek Yadav, 69th).
Kyrgyzstan: Maskim Agapov; Amin Viacheslav, Talant Samsaliev, Radik Vodopianov (Roman Kornilov, 75th) and Sergei Knizev; Vadim Harchenko, Ruslan Djamshidov, Aibek Bokoev and Bakytbek Mamatov; Pavel Sidorenko (Timur Valiev, 19th) and Lut Fullaev (Alamzabek Mirzalive, 44 th).
Referee: S Surendra (Nepal).