Bangal the Great, fans punch 'Bangladeshi' taunts
The total cost of the giant tifos, made by East Bengal Ultras, was Rs 55,000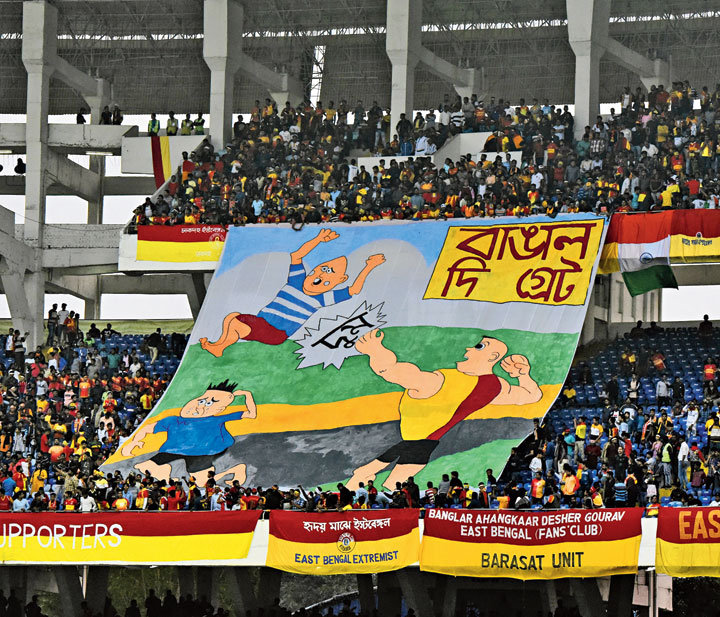 Narayan Debnath's iconic comic book character Bantul the Great becomes Bangal the Great in this East Bengal tifo in protest against the new citizenship regime.
Picture by Sanat Kr. Sinha
---
Calcutta
|
Published 20.01.20, 09:37 PM
|
---
East Bengal Ultras, the fan group which unfurled three anti-CAA banners during Sunday's I-League Derby clash against Mohun Bagan, on Monday said they had conceptualised their campaign during the Assam agitation.
The protests in Assam against CAA and NRC gained momentum from December 12, a day after the Citizenship Amendment Bill (CAB) became an Act.
"Some people were taunting us regarding NRC and CAB. So we thought of coming up with something for the December 22 Derby. Accordingly everything was done by the second week of last month. But that Derby got postponed. So we had to wait," a member of the fan group told The Telegraph on Monday.
The first banner, or tifo, showed Bantul the Great, a popular superhero Bengali comic strip character created by Narayan Debnath, in East Bengal colours, being taunted by bete noirs Bacchu and Bicchu. "Ki re Bangal, NRC ashche! (You refugee, NRC is coming)!" it read. The next tifo showed Bantul as Bangal the Great punching the duo.
The last banner caught the imagination of the country. "Rokto diye kena maati, kagoj diye noy (Land bought with blood, not paper)," it read.
Most East Bengal fans trace their roots to present-day Bangladesh, while arch-rivals Mohun Bagan boast a support base of "ghotis" (those of south-central Bengal origin).
The banner became a rage among opponents of the CAA and NRC, almost overshadowing Bagan's 2-1 victory.
The fan group said they had to face abuse from trolls on social media on Monday. "Irrespective of which club they support, a section of the fans is abusing us since morning. There are threats also. But the majority are with us," the member added.
On Monday, the fan group posted a statement on their Twitter handle. "We have raised our voice against those who keep instigating us, hitting on our Bengal sentiment each and every time. We raised our voices against those who keep intimidating/threatening us by calling us Bangladeshi… Thanks to all the media houses for appreciating the idea… We would like to add that in no way is our protest related to any political party. Thank you all for the love and support," they said.
According to one of the members, the group had a brainstorming session regarding the tifo in early December and shortlisted two to three ideas. "In Europe we have seen fans making tifos on superheroes like Batman and Superman. So we thought how about depicting Bantul the Great as a refugee. He is part of our growing up years. That's how it began," the member said.
"The entire process was very cumbersome. First we had to design it on photoshop, then some members, who are good with sketches, did their part and later the colouring part. We always prepare tifos in Sonarpur," he added.
The total cost for the banners was around Rs 55,000 and most of the money was raised through an online donation campaign. "That's a common practice among fan groups of most of the clubs. Online campaigns and sale of memorabilia are always helpful," he said.
Meanwhile Debabrata Sarkar, senior official of the club, said in a democratic country everyone has the freedom to express views.