At 20, Iga Swiatek walks tall
After winning the French Open in 2020, she is back in Paris this year as a dominant and increasingly intimidating world No. 1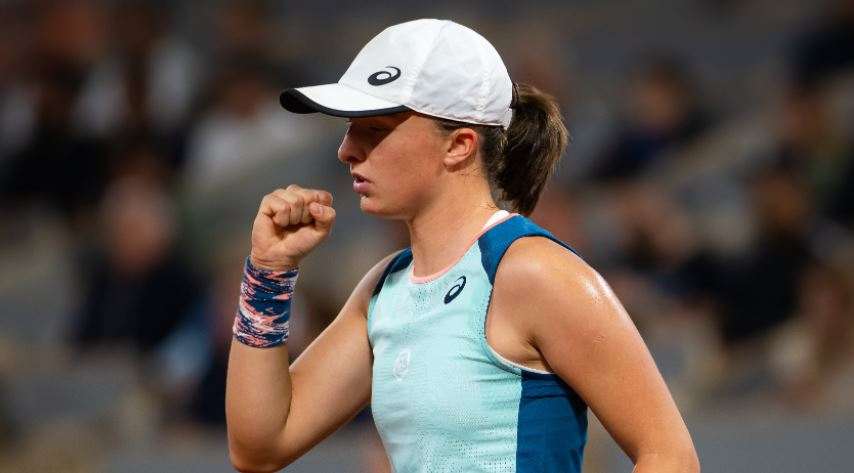 ---
Paris
|
Published 26.05.22, 01:42 AM
|
---
Iga Swiatek, unbeaten since February, was sitting in the players' restaurant at the French Open and twisting her head right and left at high speed, her eyes comically wide as they darted to and fro.
This was her impression of her former self. "I remember a time when I was only able to focus for like 40 minutes and suddenly my head was like a pigeon," Swiatek said in an interview. "I was looking everywhere but where I should have been looking."
Her gaze and her game are steadier now. After winning the French Open in 2020 out of the blue and out of season in October as an unseeded teenager, she is back in Paris this year in the spring as a dominant and increasingly intimidating world No. 1.
At age 20, it is as if she has grasped — in Jedi Knight fashion — the full powers at her disposal. "I'm not a Star Wars fan, but that makes sense," Swiatek said.
Swiatek, who claimed the top women's singles ranking on April 3, has won five straight tournaments: three on hardcourts and two on clay. She has won 29 straight singles matches, the longest streak in nine years on the WTA Tour, often prevailing by lopsided, in-the-zone margins that have fans joking that she must enjoy baking because of all the bagels (sets won 6-0) and baguettes (sets won 6-1).
"When I see the ranking next to my name it's pretty surreal still," said Swiatek, the first No. 1 in singles from Poland on either tour.
Is she walking taller now as she makes her way around the grounds and locker rooms of Roland Garros and slaps hands with her idol, the 13-time French Open champion Rafael Nadal, on the practice courts?
"I feel much, much taller than two years ago," she said.
Swiatek, a self-described perfectionist, and her team recognize that this trait cuts two ways in a sport in which perfection is impossible. It can break players down as they bemoan the inevitable errors, but it can also fuel a deep internal drive.
Swiatek is well aware of the downside, which is partly why she has worked with psychologists since her junior career. She still has her struggles. At the WTA Finals last November in Guadalajara, Mexico, in her final match of the season, she began crying on the court during the final stages of her round-robin loss to Maria Sakkari.
"I felt like I was getting more tired every month and for sure in Guadalajara that was for sure the peak moment for me where I just didn't have battery you know to kind of control my emotions," she said.
With an eye on conserving battery power, she is aiming for work-life balance, which means cutting back on playing doubles and adding more tourist time in the cities she visits after all the pandemic restrictions and tournament-only bubbles of 2020 and 2021.
Avoiding burnout also means compartmentalizing, and Swiatek's compartmentalizer-in-chief is Daria Abramowicz, her full-time performance psychologist.
Swiatek said she realized after Abramowicz started travelling with her to tournaments in 2019 that sports psychology was best practiced on site, not during office visits in Warsaw.
Though Swiatek calls herself shy and gets drained by too much socialising, she is easy company. She is quick-witted, even in her second language of English.
For her 20th birthday, her management team gave her 20 books, all in Polish because for Swiatek reading long-form in English, despite her fluency in the language, still feels like studying.
Though there were no tennis books in her birthday package, she has twice read Andre Agassi's autobiography Open in which he writes about coming to love the game after hating it.
Where is she on that scale? "Whoa, whoa, whoa, that's a tough one," she said.
"It's a love-and-hate relationship for sure," she said of tennis. "I'm not the kind of person who fell in love with it from the first time. I'm aware of the fact that if my dad had not been so persistent and so encouraging for me to continue playing tennis, probably I wouldn't be playing right now. But for sure, I'm that kind of person who likes to finish things that I started."
(New York Times News Service)