Arun Lal's advice for Indian cricket team: play more practice games
Points to ponder after another Test loss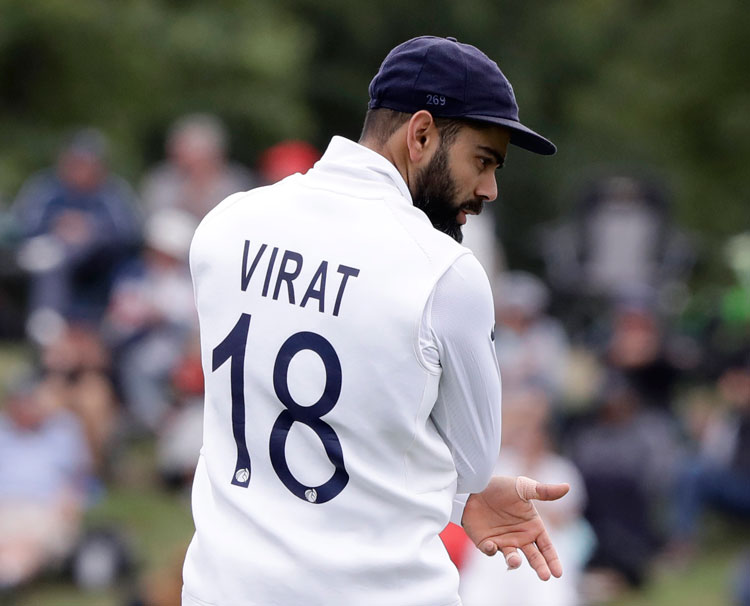 Virat Kohli gestures during play on day three of the second cricket test between New Zealand and India in Christchurch on Monday
(AP)
---
Calcutta
|
Published 03.03.20, 09:18 PM
|
---
Cricket, thanks to its complexity of multiple formats, has become fickle in terms of what's good and what's not-so-good.
Just about a month back, India were on cloud nine having routed New Zealand 5-0 in a T20I series. Currently, however, Virat Kohli's team have been brutally pulled down to earth after a 0-2 thrashing in the Test series versus Kane Williamson's side.
What went wrong? It's not that this Indian team is better in the shortest format, because they are no less than the No.1-ranked side in Test cricket currently.
Some critics and analysts have pointed to the Indian batsmen's frailties against the moving ball as the possible reason for the downfall. Captain Virat, No.2 in ICC rankings for batsmen in Tests, has himself had a miserable series with scores of 2, 19, 3 and 14. The manner of his dismissals in the Christchurch Test — LBW in both innings — have led to many saying that the owner of 7240 Test runs is suffering from technical flaws — head falling off during the point of delivery or not playing from inside the crease which could have given him more time to negotiate the swing.
But former India batsman Arun Lal believes the core of the problem lies elsewhere.
"Look, I haven't watched Virat bat in this series… However, the fact is, you can say whatever you please, but he is the same player who is considered one of the top batsmen in the world. When you get a hundred, everything seems alright. No one says your head is not in the position when you get a double hundred," Lal told The Telegraph.
Kapil Dev, speaking to a television channel, observed that Virat might be suffering from a lax in his reflexes. Lal disagreed. "Fifteen days ago he was a champion batsman and suddenly his reflexes are not alright? Tomorrow when he gets a century, what will you say? His reflexes are back?"
According to Lal, it's the lack of preparation — lack of practice matches to be precise — which has hurt Virat & Co. the most.
"The main thing is acclimatising to foreign conditions. It has been a perennial problem for us," Lal, under whose coaching Bengal have reached the final of the Ranji Trophy this time, said.
The 64-year-old, however, accepted that nowadays it is difficult to accommodate more practice matches. "You see, the calendar is so packed, there is no preparation time. One day you are playing against Australia at home and three days later you are in New Zealand.
"Earlier, there used to be tour matches… Quite a few of them. Nowadays there are no tour matches, or just one maybe. Those matches are very important to acclimatise."
For the record, India have played ten Test series in New Zealand so far. Till the 1998-99 tour, they always played two practice matches before the Tests, barring the 1980-81 series when they played just one. Post 1998-99, the practice of playing practice matches shrunk, with mostly just one game being somehow slotted prior to a Test series.
"It would be advisable to have a couple of practice matches. But nobody is interested in that. It's very commercial nowadays. That's a big drawback."
Commercial it is. The IPL begins later this month. Very soon, the disappointment of a Test series loss in New Zealand will be forgotten in the glitz and glamour of the most popular cricket tournament on earth. That's how it is.