Artefacts track journey of sports & games
Exhibition threw light on society's poverty, ethnicity and sub-cultural class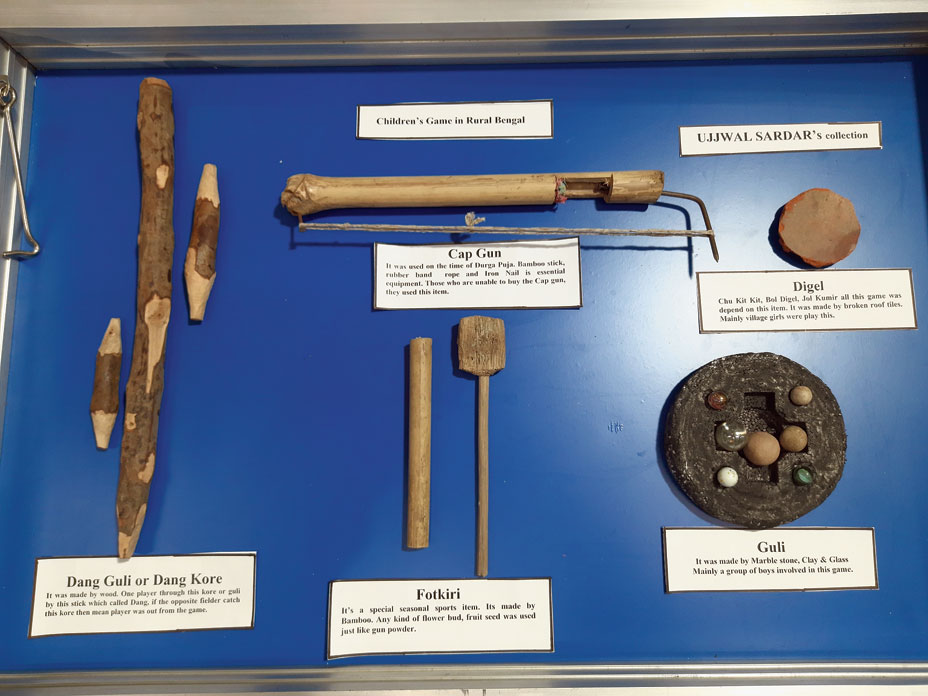 A board contains various games equipment that once used to be popular among rural children of Bengal
Picture by Bitan Sikdar
---
Calcutta
|
Published 13.01.20, 09:30 PM
|
---
From a choth-made indoor game board believed to have been invented in India during the 14th century to a tennis ball signed by Martina Navratilova — collectibles showcasing the country's evolution in sports and games were on display at an exhibition in the city that ended on Sunday.
Twenty-six members of Kolkata Kathakata, a group of artefact collectors, took part in the show with their "treasures". The special focus was on the development of sports and games in Bengal in the past two centuries. The exhibits comprised memorabilia, documents, coins and currencies, paper clips, medallions, philatelic items and sports literature, among other things.
"Games and sports have always been integral aspects of human nature. While a game deals with a branch of play — free, spontaneous or guided by informal norms — sports belong to the broader category, organised physical activity. We tried to focus on both and how they have shaped the sporting heritage of a nation," said Kolkata Kathakata member Chandranath Chattopadhyay.
Called "Sports and Games — Past and Present", the exhibition threw light on the society's poverty, ethnicity and sub-cultural class through "typical leisure time recreations".
A special corner dedicated to folk games and other sporting activities that had catered to Bengal's rural population was a big hit. "In the last century, cap gun was something a child would crave for during Durga Puja. But the rural children, who could not afford to buy it, used to make their own cap guns by using a bamboo stick, rubber band, rope and an iron nail," said collector Ujjwal Sardar, showing his exhibits on children's games in rural Bengal. He also exhibited a broken roof tile that was a must for games such as chu kit kit, bol digel, jol kumir and so on.
"It's an endeavour to hark back to our glorious past," added collector Soumen Nath, showing a board of chaupad made of cloth, a cross-and-circle board game played in middle-age India.
Nath explained how a set of wooden pawns and six cowry shells would determine each player's move. "I may not be wrong to say that this game was the predecessor of ludo," he said.
The exhibition, in its own way, dealt with the seemingly unrelated political processes such as nationalism and colonial culture in sports. Showing a copy of S. Anand's masterpiece Brahmans & Cricket, collector Debasis Mukhopadhyay shed light on how the upper castes ruled the roost.
Sports equipment related to physical exercise formed part of collector Apurba Kumar Panda's "treasures". "Stick play, playing with knife and wrestling were very much popular sports," said Panda, whose collectibles included equipment for the "oldest sport" — hunting.
"Then came football, as a result of which, we still proudly talk of 1911 when Mohun Bagan won the IFA Shield, defeating East Yorkshire Regiment. Gradually, more outdoor games were introduced in the Bengali life," said collector Souvik Mukhopadhyay.
His collection included valuables such as the Calcutta Football League's first charity match ticket issued in 1951 and a rare photograph of players before a friendly football match between the Calcutta Tramways Co. and Burn and Co. in 1941.
The collections representing the modern era attracted their own share of eyeballs. Autographs of stalwarts such as football legends Bobby Moore, Pele and Maradona; coins issued to commemorate the Asian Games of 1982 and the Commonwealth Games in 2010; decks of cards from different countries; the almost one-foot-long ticket of the exhibition football match in which Maradona played in 2008 and so on kept visitors engaged. Falguni Datta Roy proudly showed his collection of the Olympics' commemorative ceramic plates, along with the tennis ball signed by Martina Navratilova.
The show, held at Aurobindo Bhavan on Shakespeare Sarani, reflected how professional and amateur sports shaped popular culture.
"In the vision of Sri Aurobindo and the Mother, physical education had always been an integral part of one's spiritual life. In our Pondicherry ashram, too, there is always a great emphasis on sports. Therefore, it's a pleasure for us to be associated with such an exhibition," said Biswajit Ganguly, trustee, Aurobindo Bhavan.
"The final objective is, however, to enthuse and inspire our future generation," he said.