Anushka a soft target: Kohli
Anushka too had lashed out at Engineer on that issue some weeks ago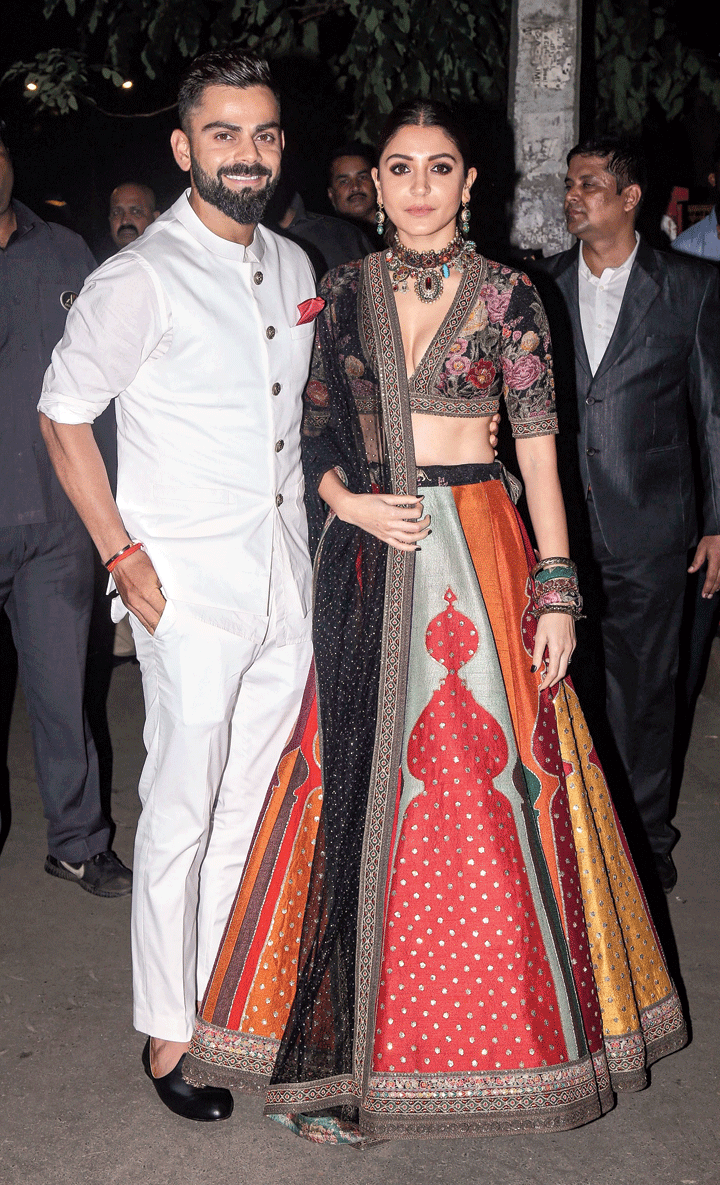 ---
Calcutta
|
Published 30.11.19, 08:45 PM
|
---
Virat Kohli rubbished rumours of his wife Anushka Sharma getting preferential treatment and upheld her value system that would never allow her "to go against rules and protocols".
Speaking at a talk show on a TV channel, the India captain said: "So much has been said about her (Anushka) and so much comes out about her.You have to understand that she is someone who has achieved success at a very high level. She was a superstar even when we met.When these things come out of protocols not being followed and rules being broken, it is not in her nature to do something like that because she understands my profession and I understand hers. Either of us doesn't interfere in it.The value system that she has and her beliefs and the nature she has, they won't allow her to go against rules and protocols. So I don't know why people have wanted to sensationalise stories by taking her name because she's a soft target. We both had been ignoring it for a while."
Kohli also broke his silence on Farokh Engineer's claim that the Bollywood actress was served tea by one of the selectors during this year's World Cup. Claiming there was no selector in the box where Anushka was present, Kohli said one may have an issue with selectors but dragging her name wasn't the right thing to do.
Anushka too had lashed out at Engineer on that issue some weeks ago.
"When the lies are spoken so much all around, they start becoming truths. So you need to speak up at some stage and that's exactly what happened recently. She came for one World Cup game, against Sri Lanka, and the family box and the selectors' box were different… And there was no selector in that box…
"She came for one game with two friends. As I said, she is known and been successful at a very high level. So when people take her name, it gets noticed.You want to mention something about the selectors, do that… Why join her name with it? We are not people who would go out and start these debates, but you have to put the truth out there — the way things actually are and the way they are perceived and accepted are very different.So you need to put across what is happening because you yourself are in those situations," Kohli clarified.
Moving to Ravi Shastri, claims such as the head coach being the skipper's "Yes man" are nothing but "agenda-driven things" being spread around, Kohli retorted.
"All the things we spoke about, you know what was being spoken and said about Anushka as well. I think most of these things are agenda-driven. I don't know what for, but to accept lies in that manner, it could not be anything else but agenda-driven.
"In Ravibhai's case, he is luckily a person who doesn't care at all. I mean a guy who has faced that attack (during his career) without a helmet and got runs there, he is not going to be bothering about someone sitting at home and trolling him.
"Because if you want to troll a guy who has done that, get up, go into that position, face those bowlers, do what he has done and then have a debate with that guy. Ravibhai is absolutely chilled out. He says our only focus is on how we can be the best team of all time.
"We want to leave behind a legacy so that (future) cricketers in the country say, 'We want to play like that as a team'," Kohli stressed.