Action replay: Sharmila Tagore looks back in wonder
Calcutta is my favourite city: Sharmila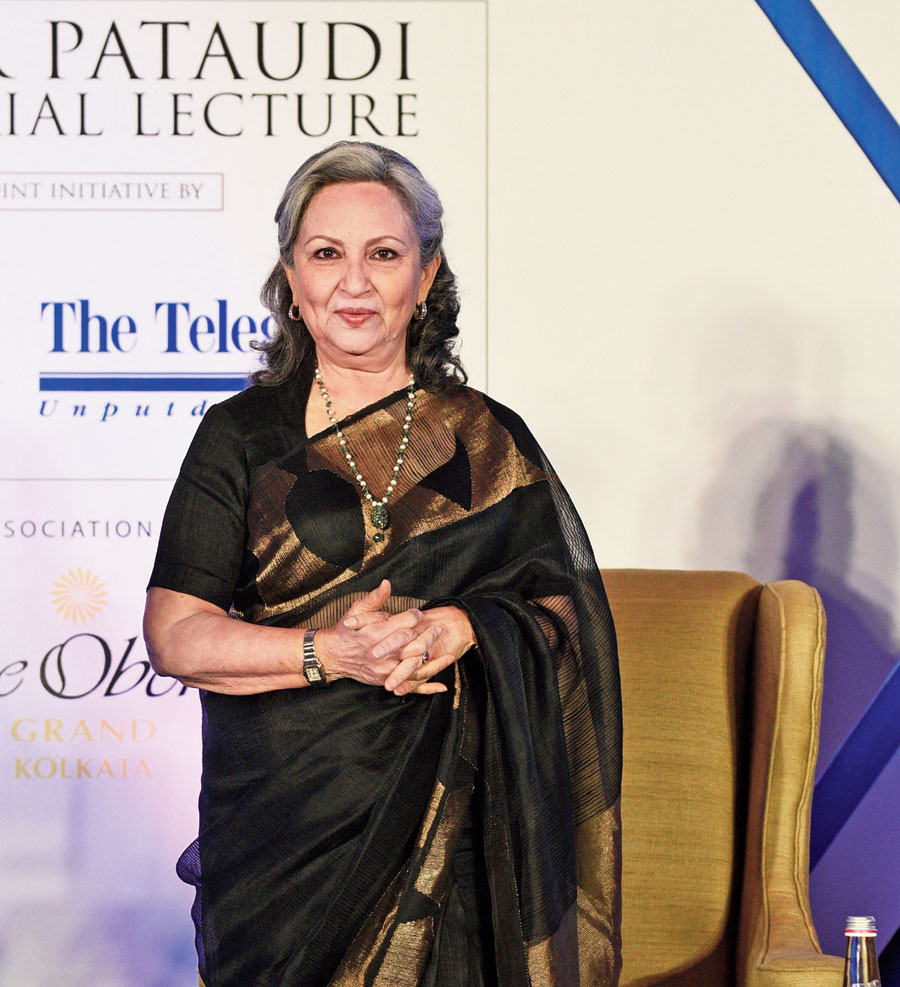 Sharmila Tagore at the Lecture.
Picture by Gautam Bose
---
Calcutta
|
Published 02.03.20, 10:24 PM
|
---
Team India cricketers nowadays mostly lead glamourous, comfortable lives. But how was it decades back, when Indian cricket was still struggling to find its feet on the world stage? Sharmila Tagore, wife of legendary India captain Mansur Ali Khan Pataudi, took a walk down memory lane on Monday.
Speaking on the occasion of the Air India presents Tiger Pataudi Memorial Lecture, a joint initiative by The Bengal Club & The Telegraph in association with The Oberoi Grand Kolkata, Sharmila said: "I remember those days… For Ranji Trophy, they used to get Rs 10, and for Duleep Trophy, they used to get Rs 20. Then they had to pay for their laundry also, because they used to wear whites then. So it used to be quite a massive bill.
"In those days, they couldn't fly for domestic matches, they had to go by train. There are many other such things.
"Of course, girlfriends and wives were not allowed. So when they used to go to Australia to play Test matches — it was five Test matches in Australia, then to New Zealand for another five. On their way back, they had to stop in Singapore. So the whole thing was for many months," Sharmila recounted.
Adding further about the hardships that family members of players had to face in those days, Sharmila said: "I remember going to Chennai with Bapu Nadkarni's wife to see them off. Because they were taking off from there to Australia. And Bapu wasn't keeping very well, so his wife was very unhappy. But anyway, that was that, and then we came back.
"Those days, I didn't have a telephone. I don't know how many of you remember, but getting a telephone was a huge challenge. You had to beg, borrow or steal to get a phone. Of course mobile was never there.
"I used to go to Raj Singhji's (Dungarpur) house in the middle of the night, at about 1'o clock, and book a lightning call to Sydney. And of course that wasn't a lightning call. It took an hour-and-a-half and I would wait.
"And then every time the phone rang, I would quickly pick up the phone. The other person on the other side of the phone would think who's this woman in Raj Singhji's house at 1'o clock in the morning. So they would quickly put the phone down. The phone call those days would go via London to Sydney. So you can imagine how it was, we could not hear each other.
"It was like the call drops these days, when you say 'hello, hello, are you still there' or 'can you hear me'... Or often we would speak to each other via the operators. So we had to invite all of them to our wedding," she said to a round of applause and laughter.
Contrasting the olden hardships with the modern comforts, she added: "So nowadays, they (cricketers) have such comfort. Wives and girlfriends are allowed to be on tours and they can even walk into the dressing room I believe. And Tiger would have none of that. He wouldn't give us a ticket also, and we all had to fend for ourselves and go and watch."
The ninth edition of the Tiger Pataudi Memorial Lecture was delivered by Mohammed Azharuddin. Speaking about the former India captain, Sharmila said: "Azhar, your lecture today was so personal and so honest and so straight from the heart. You made many relevant points. Thank you so, so much for the wonderful lecture.
"It's been a very personal and a kind of a moving experience."
Expressing her fondness for the city, Sharmila said: "Calcutta again, obviously it's my favourite city."
Lecture lauded
Former Bengal captain and national selector, Sambaran Banerjee, who was present at the Lecture, was overwhelmed with the experience. "Azhar spoke so well on topics that were pertinent. I really liked everything what he said," Banerjee said.
For ace cueist Sourav Kothari, it was an evening to remember.
"It was really a lovely experience listening to someone like Azharuddin, whom I have always admired as a sportsman. He shared a few excellent anecdotes and I thoroughly enjoyed every moment," Kothari said.