A British and an Australian diplomat face off
The chat was in the run-up to the ICC Cricket World Cup 2019 semi-finals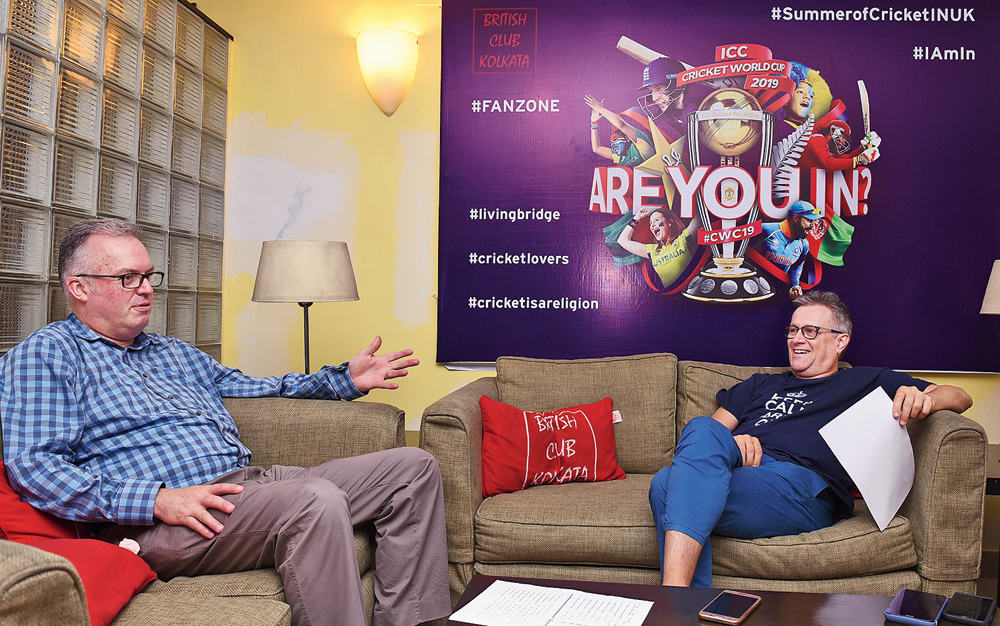 ---
---
Sunday afternoon saw Bruce Bucknell, the British deputy high commissioner, and Andrew Ford, the Australian consul general, lounge at the British Club as cricket fans for a chat with The Telegraph on the World Cup that will see their teams face off in the semi-final on Thursday.
The Telegraph: Do the four semi-finalist teams match your expectations?
Andrew Ford: We could easily say yes. You should have asked before the World Cup (smiles). But I do recall saying Australia, England and India.
Bruce Bucknell: Yes, they are the strongest teams.
AF: And the fourth — New Zealand (NZ), our friends from across the Ditch, as we say Down Under. They punch above their weight. It's good they have done it again. But they seem to have fallen off in the last two games, so I'm not sure if they will be strong rivals for India on Tuesday.
TT: Which team is the surprise exclusion from the four?
BB: South Africa (SA). They underperformed. Yesterday, they played really well against Australia. I had Pakistan as a dark horse, but I said NZ and SA as well. Sri Lanka (SL) did a bit better given they were in all sorts of problems. A slight underperformer — but they're always like that — is West Indies (WI).
AF: It would be nice to see WI competing at the top again.
BB: England are still the best ODI team despite their blips in the tournament.
TT: You don't think they are 'flat pitch beasts' as they are being called?
BB: No, though as a fan, it's disappointing that so many games are being decided by who bats first.
AF: Yeah, happened again last night when SA got off to a great start.
BB: You want an even contest. But the London bookmakers got it right.
AF: I was a bit concerned that the winner was going to be the weather.
BB: Yeah, lot of rain at the end of the second week.
AF: The thing that can worry you, Bruce, is if there is rain and even the reserve day is washed off, the finalist will be decided by ladder position and Australia would automatically be in the finals.
BB: Really?
AF: Of course, no one wants that. Just to make you feel a bit... (laughs).
TT: Which batsman has impressed you the most?
BB: Rohit Sharma, though he has been a bit lucky because he has been dropped a few times.
TT: Yeah, four times on single-digit scores.
BB: Shakib (Al Hasan) had a really good World Cup.
TT: Did you see Carlos Brathwaite in the WI-NZ match?
AF: Yes, he got very close to winning it!
BB: He is a really nice guy. I met him. But I'll still say Rohit Sharma. You can't drop catches. He has delivered through the tournament. Of course, both of us will pray that he'll lose form now (laughs).
AF: Sharma, yes. But I'd also say David Warner. After a year out of cricket, his style in the first two matches was not what we are used to. He was anchoring the innings and letting Aaron Finch and others do the fast scoring.
BB: His strike rate is 89.48.
AF: He'd normally be above 100.
BB: Finch has been great. He has got a strike rate of 102.
TT: As for the bowlers?
BB: I have to pay homage to Lasith Malinga bowling against England at Headingley (4/43). We shouldn't have lost that match. One last blast from a great player, whose style is not comfortable for many batsmen. I watched Mustafizur (Rahman of Bangladesh) against Pakistan. He bowled really well at the death and got six wickets. Obviously, the (Mitchell) Starc fellow is our concern because he has the pace.
AF: He has taken his form from the last World Cup to this one and he's so good at the death. Jasprit Bumrah's been consistent. He is quite clearly the best bowler in the world now.
BB: He is a sight to see, the way he lumbers up and then stutters up and then it's all wrench from the shoulder. He is quite unique.
TT: Let's analyse the strengths and weaknesses of the semi-finalists.
BB: The problem for India is bowlers other than Bumrah are quite indifferent. Bhuvi (Bhuvneshwar Kumar) got tonked yesterday. (Hardik) Pandya is all right, but the spinners… I was far more confident about an England-India semi-final not just because we won but because we were going to go after their spinners.
TT: England has figured out how to beat India.
BB: …and Australia knows how to beat England. We are in an interesting position. Who'd India want to face in the final?
AF: They'd prefer Australia.
TT: Yes, because of Australia's injury issues.
AF: And because they've beaten us once. And based on what you said, Australia will beat England!
BB: (Laughs) On any given day! What's England's big problem? Jason Roy, our Bengali-sounding opener. He was injured, missed those games, came back and spurred on young Jonny Bairstow. Roy and Bairstow — it's almost the same dynamic as Warner and Bairstow for Sunrisers Hyderabad. He said a few things before the must-win game against India...
TT: …about not getting enough support.
BB: This England team feels more Australian and Australia seems serene! Remember, last summer we put on 481 against Australia. It's almost a transformed team. Your new wicketkeeper (Alex Carey) is so good. He almost won the game against SA.
AF: Yes, he makes runs. Steve Smith has been a bit up and down. So has most of our middle order.
TT: Your thoughts on the semi-finals. Let's start with the first.
BB: NZ have got to take their chances. If they drop anybody they are not going to win.
AF: I am a great believer in momentum. Currently India has it and NZ has lost it. At this level, the difference is often psychological — who can handle the pressure in a high pressure game and who can't. But it might help NZ that they are underdogs. Another factor would be who bats first.
TT: What would India's biggest concern be?
BB: If the top order fails, who would make up? But you don't see it happening. Rahul is so stylish. Kohli is determined. Even if NZ bat first you'd still have India as favourites, so good has been their top order. NZ will have to keep attacking the top order, take catches and then hope to get through to the slightly untested lower order. Pandya's getting runs, Pant's in — I'm so glad, I'm such a fan — but he can throw his wicket away, as we know. The money must be on India. India has tended to use five bowlers, which can be an issue. I don't know how good New Zealanders are against spin.
AF: In India, cricket is the number one sport. The whole nation is depending on this team. New Zealanders are much more concerned about the rugby world cup. The Black Caps are their second or third national team. The pressure is a lot less.
TT: If you are in Ravi Shastri's shoes, which spinners would you play?
BB: I'd play (Ravindra) Jadeja because he is such fun to watch. I was quite amused by his spat with (Sanjay) Manjrekar... called him a bits-and-pieces player. But the bits and pieces are so good! He gets his overs in so quickly. The batsmen don't get time to think. His fielding is a joy. And he bats with so much passion. Another factor is the crowd at Old Trafford. We had a great success in selling the World Cup to the Indian market. It will be like a home game for India.
TT: Let's move on to the England-Australia semi-final.
AF: England is the host nation, so lots of pressure on them. But Australia lost their last game and the momentum. So I'd like to call England the favourites. Mitchell Starc managed to get both Glenn Maxwell and Shaun Marsh in the nets. Marsh is now out with injury. Stoinis has an injury. Usman Khawaja also retired hurt yesterday. Losing might turn out to be a blessing as with the four-day break, they might have time to recover.
TT: Ten days back, you were worried whether Australia had peaked too fast.
AF: I still am. That's why I am calling England the favourite.
BB: I'm looking at a website that aggregates the odds. Guess who's favourite to win? India. Who's second?
AF: Australia.
BB: No, England. London bookies will be biased. Third is Australia. The toss would be important. Our batters are okay but a bit brittle when Joe Root is rooted out as he was against Sri Lanka. It will be interesting — Bairstow and Roy versus Finch and Warner. Jofra Archer has performed pretty well but not as much as was expected. Mitchell Starc has been great but has leaked a lot of runs. On paper, it will be a tighter game than India-NZ.
TT: Your prediction for player of the tournament?
AF: It will depend on who performs in the final games.
BB: Exactly, when the pressure is on. If Kohli scores a winning knock, it might be him as he has scored lots of runs, though not a ton.
AF: Ditto for Sharma or Warner.
BB: If NZ wins — Martin Guptill hits a double century — we will all look stupid, won't we? (Both break off in laughter)