'I am on national duty, so everything else can wait'
Middle overs will be a key factor for us: Dhoni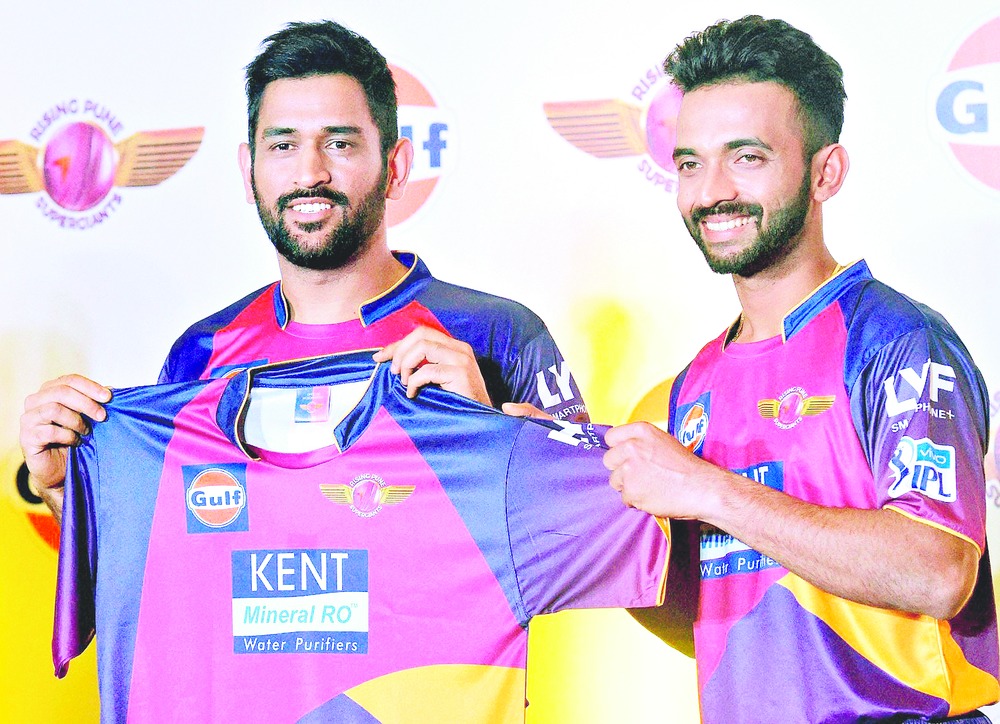 ---
Published 08.02.15, 12:00 AM
|
---
Calcutta: For India captain Mahendra Singh Dhoni, serving the nation comes first. And that is why he doesn't mind being away from home on national duty even while his wife Sakshi gave birth to a daughter in Gurgaon on Friday.
Speaking during a media interaction in Adelaide on Saturday, Dhoni also said that the upcoming World Cup will be special since "most of the teams are balanced".
The following are excerpts
On whether he would have preferred being in India when his wife gave birth to a daughter on Friday
Not really... I've been blessed with a baby daughter... Mom and daughter both are good. But as of now, I'm on national duty, so I think everything else can wait. World Cup is a very important campaign, so everything can wait as of now.
On if India, as the defending champions, have got the respect of the other teams
I think what's important is not the respect... The capability of the team is more important. Even when we were playing the Champions Trophy, we were going through a patch where we were not doing really well... The guys stepped up during that tournament, and we played very consistently. That's what really counts.
I feel in this World Cup, most of the teams are quite balanced and most of the teams are looking good. When I say most, it's in excess of six or seven teams that I'm talking about. So I feel it will be a very special World Cup for all the teams. It's a matter of which team is more consistent during the World Cup, what kind of momentum they take with them into the knockout stages... All of that will be crucial.
On the pressure of being the defending champions
I think what's most important is to not think about the expectation level... That will be crucial. That's something that we have dealt with in the last World Cup, and we constantly have to deal with it, the expectation levels of the fans of India... and what's important for us is to think and concentrate more about what our plans are, how we need to execute our plans, and how we quickly need to assess the situation, and those will be the key factors, so we are not thinking too much about what the fans are expecting out of us. We know what needs to be done and we'll be concentrating more on that.
On India's preparations
As I said, when we went and played the Champions Trophy we were in a similar situation like this, and the guys stepped up... That's what I feel is important in the ICC tournaments. If you see the past, there have been quite a few teams that do really well in the ICC tournaments. They may not be the best of teams when it comes to the bilateral series, but they have always stepped up when it comes to the ICC tournaments... How you rise to an occasion like this and how you take the confidence forward to something that's more important and somewhat different to a bilateral series is important.
On the areas of concern
I think what's crucial for us will be the middle overs, both while batting and while bowling. We know the new ball is something that's key. If you can get partnership going when you're batting and if you can take wickets with the new ball, it becomes relatively easy to capitalise in those middle overs. The middle overs will be the key factor. We haven't had much opportunity to bowl in the slog overs. That's something that will only come into action once the World Cup starts. We have got a couple of practice games, and apart from that we are quite happy with everyone, how they have come up. There have been a few fitness issues, but it has been sorted.
On whether the team has recharged its batteries
Well, only time will tell. Yes, we have played a Test series which was fairly long, followed by a tri-series, and it's almost the same team that plays for us. Definitely, they would have felt the workload. It's not easy to play four Test matches followed by a tri-series. This break would have definitely helped us to recharge the batteries.
On if the Indian batting order is flexible, given that it doesn't run too deep
That's something we have to alter a bit depending on the condition. Having wickets in hand is something that's really our strength... That's why I said that the middle overs will be the key for us. But we are not that deep when it comes to batting. When you lose quick wickets, it does play on your mind.
On the India-Pakistan rivalry
A lot of people have different views about it. I personally take it as something similar to playing against Australia, Sri Lanka or any other Test-playing nation... Because the moment you start thinking about a traditional rivalry and all of that, you're just adding pressure on yourself. Also, what we have successfully done in the last three to four years, we have mellowed down the things.
We have stuck to good, aggressive cricket on the field, but what we have minimised are the things that often happen between the cricketers. I feel that's really good for the game because you want to play it as a sport, you want to play it hard, but you still have to maintain the spirit of the game. That's one thing that both sides have done really well.
On how hard is it to win the World Cup on home soil
Well, it is slightly tough. That's what also the statistics suggest... Not a lot of home teams have won the World Cup. The expectation of the people is very high... Everybody just says you have to get the World Cup... When you ask them why, the answer is not that because you are a very good team, because it is happening in India.
I think the same will apply to the Australians and the New Zealand side. But at the same time, their culture is slightly different. I think it will be exciting.
On how much the one-day game has changed since the 2011 World Cup
I think the game has changed so much that you can't really explain it by statistics... Like the rule changes, the use of the new balls... A lot has changed in cricket.
The way the game is played, because of the T20 format coming in, I think there have been big changes. Also, we have to respect the conditions that we will be playing in and realise that on those type of wickets, even 240 or 260 can be a good score... And on some wickets even 340-350 may not be a score that you can easily defend. It will all be about how quickly you assess the wicket.