An unpredictable year for sports
As an unprecedented year draws to a close, we take a look at 20 defining sporting moments — the terrific, the tragic, the tumultuous — that made 2020 impossible to forget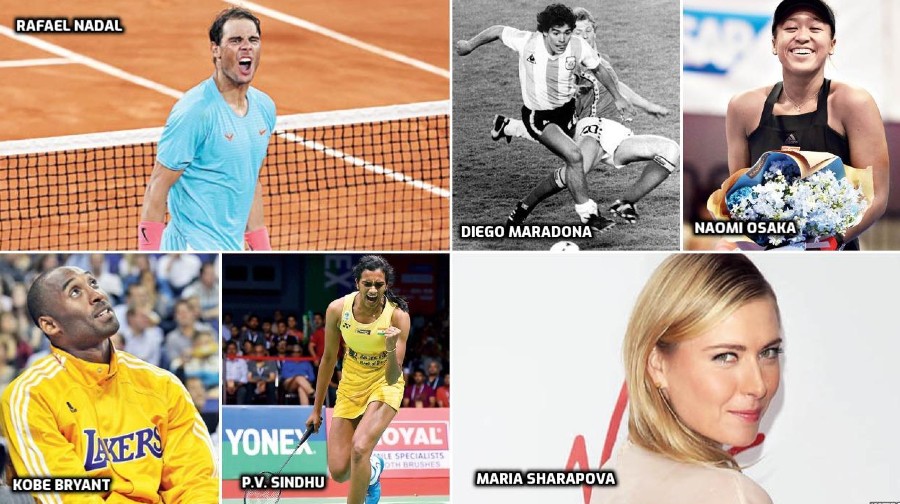 Sourced by the correspondent
---
Published 29.12.20, 01:04 AM
|
---
RONALDO SINGH ON TOP OF THE WORLD
The last few years have been rejuvenating for the fortunes of Indian cycling, and Laitonjam Ronaldo Singh, all of 18, offered the icing on the cake by scripting a memorable feat in 2020. In early January, Ronaldo scaled the summit of the Union Cycliste Internationale's (UCI) rankings in all four sprint event categories, which included the men's junior individual sprint, men's junior 1 kilometre time trial, and men's junior keirin. This came only a few months after Ronaldo first attracted attention by bagging a gold medal in the junior keirin event at the Asian Track Cycling Championships. With his incredible consistency, tender age, and an insatiable appetite for success, Ronaldo Singh seems set to wheel past many more records in the time to come.
KOBE BRYANT DIES IN CRASH
On January 26, a helicopter carrying nine people, including basketball superstar Kobe Bryant and Gianna, his 13-year-old daughter, crashed into the side of a mountain in Calabasas, about 50km northwest of downtown Los Angeles. With the chopper set ablaze, all nine on board were killed. Bryant, who had become one of the most recognisable athletes of his generation as a result of his two decades of accomplishments with the Los Angeles Lakers, was 41, survived by his wife Vanessa and their three other children.
THE LONE RANGER
In January, Manipur's Ngangom Bala Devi became the first Indian woman to sign for a European footballing giant, penning a contract with Scottish heavyweights Rangers. With 38 appearances for Team India, Bala Devi has been a force to reckon with in the annals of Indian football since 2016, plying her trade most prominently for the Manipur Police team. In a country where systemic lacunae ensure that very few women make the leap from amateur to professional football, moving to Rangers allowed Bala Devi to lay down a precedent, proving that nothing is impossible if one's will is unalterable. She went on to make more history to close out the year when she netted her first goal for Rangers in a 9-0 win in December, making her the solitary Indian woman to find the back of the net in a professional European league.
JABEUR BLAZES A TRAIL
Arab women have, for a variety of socio-political reasons, struggled to be mainstays in sports at the elite level. But Ons Jabeur, a tennis starlet from Tunisia, is rewriting history through her pioneering efforts. After ending 2019 as Arab Woman of the Year in Sports, Jabeur became the first Arab female to reach the last eight of a Grand Slam when she made it to the business end of the Australian Open. Her steady performances also earned her the tag of being the highest-ranked Arab player in WTA history. Not one to rest on her laurels, Jabeur is all set to go for the jugular in 2021, as she bids to be the first Arab woman to attain the moniker of Grand Slam champion.
FISTS OF FURY
In a highly awaited rematch from 2018, Tyson Fury went punch-for-punch with Deontay Wilder for the World Heavyweight championship in Las Vegas in February. After their previous face-off had ended in a controversial draw, Fury was intent on establishing his supremacy and pressed on the attack from the get-go. With Fury repeatedly landing his big shots on Wilder and the latter unable to counter, the fight was stopped in the middle of the seventh round, following a flurry of hard-hitting blows from Fury. A unanimous verdict adjudged Fury as the winner and champion, culminating one of the most fearsome individual performances of 2020.
SHARAPOVA QUITS, BUT REMAINS EN VOGUE
Maria Sharapova, one of the most decorated and celebrated athletes of the 21st century, announced her retirement from tennis on February 26. In an article published in Vogue magazine, Sharapova wrote laconically but powerfully about her decision to quit the game that had launched her to superstardom. A five-time Grand Slam champion, Sharapova's form and fitness had taken a nosedive after her temporary suspension on account of using meldonium, a banned substance, in 2016. In spite of retiring at 32, Sharapova did not disappear from the limelight, gaining traction through her entrepreneurship, fashion interests, and a desire to study architecture.
SHE POWER AT THE MELBOURNE CRICKET GROUND
On March 8, International Women's Day, the women's cricket teams of Australia and India went head-to-head in the ICC T20 World Cup final at the MCG. The match witnessed an overall attendance of 86,174, more than any other in the history of women's cricket as well as in any WT20 final. Amidst an electrifying atmosphere, it was the hosts who came up trumps, putting on a formidable total of 184 with the bat, anchored by an unbeaten 78 from Beth Mooney. In reply, the Indian batswomen were bowled out for 99, as the pressure got to the visitors at the most decisive hurdle, allowing Australia to scoop their fifth WT20 title.
THE SUMMER SPORTS FROZE
Between late March and the middle of June, almost all sporting activity ground to a halt owing to the outbreak of the coronavirus. As lockdowns became the norm across the world, sports became an afterthought for authorities and the common public alike. Tournaments were cancelled, postponed, or suspended altogether. Eventually, once the first wave of the virus appeared to recede, sporting action made a muted comeback, with no spectators in attendance. For sports lovers who could not pass a single day without the thrill of live action, 2020 was the ultimate test, but a test that was overcome nonetheless.
DELIVERANCE FOR LIVERPOOL
A three-decade-long burden was lifted at Anfield as Liverpool FC captured their inaugural English Premier League title, winning a top-flight championship for the first time since 1990. The pandemic, and fears of a season declared null and void, nearly ruined Liverpool's dreams, but in the end Jurgen Klopp's indefatigable squad sailed to the finish line, with plenty to spare. With a fantastic spine that included a watertight defence, a dynamic midfield, and a clinical attack, the Reds finished with a staggering 99 league points in 2019-2020, a whopping 18 clear of dethroned champions Manchester City.
BAYERN MUNICH 8-2 BARCELONA
No single scoreline had sent such shockwaves across the world of football since a rampant German unit dashed Brazilian hopes of winning the FIFA World Cup on home soil six years ago. Barcelona, already fragile before their UEFA Champions League quarter-final against Bayern Munich's juggernaut, imploded in Lisbon, marking the nadir to their increasingly disappointing European exits in recent years. Even after the Spanish outfit had equalised following Bayern's fourth-minute lead, there looked only one team capable of winning. And win Bayern did, in a delectably devastating fashion. Down 6-2, the final vestiges of Catalan pride were smashed when Philippe Coutinho, playing for Bayern after being loaned out by the Blaugrana, came off the bench to put the exclamation mark on the scoreline, bagging the seventh and eighth goals in a comprehensive mauling. While Bayern went on to win the treble shortly after, the structural flaws that derailed Lionel Messi and Co. so humiliatingly, remain to be fixed.
OSAKA MAKES HERSELF HEARD
Japanese prodigy Naomi Osaka wrote headlines for all the right reasons in the autumn during the US Open. Besides winning her third Grand Slam by getting the better of Belarusian Victoria Azarenka in the final, the 23-year-old drew the attention of millions with her prematch appearances throughout the tournament. Before every round, Osaka entered the court wearing a black face mask, with each mask bearing the name of an African American who had fallen victim to police violence. In the wake of George Floyd's death, Osaka's gestures resonated across the sporting fraternity and underlined her eventual tournament victory with the message that she was not afraid to express herself, whether as a tennis player or as a conscientious member of society.
NO LAUGHING MATTER FOR THE DJOKER
2020 found Novak Djokovic at his most unhinged, for both good and bad. The year began in customary style with the Serb triumphing in the Australian Open, but things soon turned topsy-turvy. Involvement in a naive junket at the height of the pandemic brought a series of Covid positive tests and global embarrassment, before Djokovic managed to inadvertently hit a lineswoman after striking the ball in frustration at the US Open, a mistake that earned him an instant disqualification. Apologetic yet appalled, Djokovic had only himself to blame, and soon found his misery compounded after being thoroughly outplayed at the hands of Rafael Nadal in the Roland Garros final.
RASHFORD 1-0 CHILD HUNGER8
Manchester United and England forward Marcus Rashford enjoyed an impressive year on the pitch, netting a basket of goals for club and country, including a sensational late winner against Paris Saint-Germain in October. But it was off the pitch that the 22-year-old outdid himself, by fighting for the cause of free school meals for children across the UK, a scheme from which he himself had benefited in his formative years. Rashford's relentless campaigning to help reduce child hunger forced the British government to execute a clumsy about turn in policy, earned Rashford recognition as a Member of the Order of the British Empire (MBE) from the Queen, and ensured that for the foreseeable future, no collection of English football fans will even imagine jeering the forward, no matter the amount of goals he scores against their favourite team.
NO STOPPING NADAL
Some things don't change, not even in 2020. Across this century, Rafael Nadal holding aloft the Musketeers' Trophy on the red clay of Paris has become such a frequent image that it feels wrong to see someone else in the victorious frame. This was supposed to be the year when Novak Djokovic, Dominic Thiem, or anyone else willing to rise to the occasion, stopped the Nadal procession in the French capital. This was supposed to be the year when a pandemic rescheduling, cooler conditions, and indifferent pre-tournament form were to make Nadal less than invincible. Instead, it was the year when a semblance of familiarity was retained on the Court Philippe-Chatrier, even as the "new normal" subsumed everything else. At Roland Garros 2020, it was the old normal that prevailed, with Nadal trouncing Djokovic in the final to secure his 13th French Open championship, and draw level with a certain Roger Federer atop the men's singles Grand Slam honours' board.
A SUBLIME FAREWELL FOR KHABIB
UFC 254 witnessed the meeting of colossals, Khabib Nurmagomedov and Justin Gaethje, in a unification bout for the UFC Lightweight Championship. Abu Dhabi's Flash Forum was chosen as the venue for a match tipped by many to be a generational showdown between two of the best athletes UFC had to offer. Gaethje, fancied by some for his wrestling background to finally end Khabib's unbeaten streak, made a solid start, but could not keep up with the sheer ruthlessness of his Russian adversary. After wearing down Gaethje in the opening exchanges, Khabib unleashed his patent submission manoeuvre that made the result a mere formality. Having extended his unparalleled run to 29-0, Khabib stunned the world by announcing his retirement from Mixed Martial Arts, describing how the recent death of his father had impelled him to call it quits. A remarkably poignant end for a remarkably perfect fighter.
THE MOST SURREAL IPL
After a pandemic enforced no-show in its initial summertime slot, the Indian Premier League (IPL) appeared to be endangered in 2020, till the BCCI found a way to put hundreds of cricketers plus hundreds more of support staff and broadcasters in the biggest cricketing bubble in history, marooned safely in the United Arab Emirates. What followed was close to two months of compelling cricket in empty stadiums, with some of the most thrilling, edge-of-the-seat action the T20 tournament has ever seen. Sixty matches, scores of sixes, toe-crushing yorkers, and five super overs later, Mumbai Indians sealed a record fifth championship, convincingly dispatching a promising Delhi Capitals outfit in the final.
HAMILTON AT THE TOP OF THE MOUNTAIN
2020 was a fabulous year for Lewis Hamilton. After being the joint winner of the Laureus Sportsman of the Year (with Lionel Messi) in February, Hamilton went on to claim a seventh Formula One Driver's Championship when he saw the chequered flag with a characteristically dominant performance at the Turkish Grand Prix. This tied the British driver with Michael Schumacher for the most individual titles in the sport. With an earlier win in Portugal, Hamilton had eclipsed Schumacher for most race wins in F1. Besides his astronomical levels of performance on the track, Hamilton also spent 2020 raising awareness about racial justice in his profession, taking the knee before every race and urging his Mercedes team to change the colour of the iconic racing car from its traditional silver to a black livery, in light of the Black Lives Matter movement.
P.V. SINDHU DECIDES TO "RETIRE"
In a sure-fire candidate for tweet of the year, P.V. Sindhu caused millions of hearts to flutter when she posted on Twitter, "Denmark Open was the final straw; I RETIRE." Those with a short attention span may have been sent into bawling or bewilderment, but on going through Sindhu's longish tweet it emerges that the
25-year-old Olympic silver medallist was not intending to retire from badminton, but rather from the negativity that surrounded Covid-19. Sindhu's justification for an alarming context to a reasonable and relatable admission was that "unprecedented times require unprecedented measures", even as she acknowledged that her tweet may have given her legions of fans "a mini heart-attack".
DIEGO MARADONA NO MORE
On November 25, Diego Armando Maradona passed away in his Buenos Aires home, having suffered a heart attack, just days after successfully undergoing precarious brain surgery. Aged 60, Maradona's death precipitated a swathe of tributes from across the world, not least from football-crazy Calcutta, which the Argentine legend had graced with his presence twice, most famously in 2008. While his exploits during the 1986 World Cup will forever be etched in the minds of every single follower of the beautiful game, in totality, Maradona left behind a complicated legacy. One that involved soaring professional heights as well as damning personal lows, but one always capable of moments of redemption through Maradona's relationship with his beloved piece of sporting leather. As the man himself had delightfully quipped, "La pelota no se mancha"— the ball does not show the dirt.
THE BADDEST MAN ON THE PLANET RETURNS
After a hiatus of 15 years, former world heavyweight champion Mike Tyson returned to in-ring action in 2020 when he squared off against familiar foe Roy Jones Jr in an exhibition contest in late November. Donning his trademark black trunks, Tyson provided glimpses of his former, glorious self, boxing eight rounds that climaxed in a highly entertaining draw. Speaking post-match, the 54-year-old, once hailed as the "baddest man on the planet", confessed, "I'm happy I'm not knocked out. I'll look better in the next one."
WHAT TO WATCH OUT FOR IN 2021
As 2020 draws to a close, t2 picks the unmissable sporting events that are guaranteed to entertain next year.
2020 SUMMER OLYMPICS
After its inevitable postponement due to the pandemic, the world's greatest sporting competition should go ahead as planned in the Japanese capital in 2021. With more than 11,000 athletes from more than 200 nations set to assemble in Tokyo, the 2020 Games (yes, it will not be called the 2021 Games!) will be among the most decorated Olympics in history, and certainly the one with the most awe-inspiring use of technology. Japanese emperor Naruhito is expected to light the Olympic flame to open proceedings at the Japan National Stadium on July 23, before the planet's leading athletes fight it out till August 8.
UEFA EURO 2020
As of now, UEFA still intend to host their flagship international tournament across a total of 12 European cities, between June 11 and July 11, with the final slotted for London's Wembley Stadium. A deferral from 2020 should not make much of a difference for the participating teams, with defending champions Portugal among the favourites, but drawn in the group of death alongside Germany and reigning world champions, France. Spain, England, Italy, Belgium, and the Netherlands, all look in fine fettle.
WIMBLEDON 2021
Tennis' most pristine tournament was the only Grand Slam that did not see any action in 2020, but by summer, the sprawling lawns at the All England Club should be decked in their elegant self for the oldest major in the game. Barring unforeseen injuries, Novak Djokovic and Simona Halep will be in a strong position to defend their respective singles championships, while the likes of Roger Federer and Serena Williams will step on court knowing that they might very well be having their Wimbledon swansongs. June 28 to July 21 are the dates for the return of tennis royalty.
ICC MEN'S T20 WORLD CUP
A full year after its original timeline in October-November 2020, the biggest prize in the shortest format of cricket will be contested over fiercely in India, with the ICC T20 World Cup making a return to the subcontinent since an exhilarating tournament four years ago. As hosts, India will always be in the running for the trophy, with England and Australia also among the prime contenders. But with 16 teams involved for the first time in the tournament's history, it is the unfamiliarity of sides like Oman, Papua New Guinea, and Namibia, that should excite neutrals the most.