The last couple of weeks have been Noteshelf-crazy! It's one of those fantastic note-taking apps that is popular among students, teachers, fashionistas and journalists. Be it annotating documents, recording discussions or sketching ideas… it's like having a piece of paper which is digital.
With Apple Worldwide Developers Conference (WWDC) just a few days away (June 22-26), we decided to get in touch with the developer behind this beautifully-designed app. It's from the Hyderabad-based company Fluid Touch and at its helm is Rama Krishna. He says that with a developer-heavy team at Fluidtouch, things like user experience needed work and that's where Apple's App Accelerator played a key role. Here's more from the man.
With other note-taking apps out there, what made you come up with Noteshelf?
Noteshelf is one of the very first note-taking apps made for the iPad. We released it within a few months after the first iPad was released. I loved the big-canvas look that the iPad offers and the high-performance hardware that powers the screen. I instantly envisioned a note-book-style note-taking app with natural handwriting features as a great fit for the device. That is what inspired Noteshelf.
Though I like the app more on the iPad, how did you go about conceptualising it for a range of Apple products?
Noteshelf works with the iPad, iPhone, and Apple Watch. Although the iPhone and Apple Watch versions of the app can be used standalone, they are primarily created to compliment the iPad version.

The iPhone version is used to do a quick review of the notes taken on an iPad. Some of our users also take notes with an iPhone, when they are on the move, and refine them later on the iPad with the Apple Pencil.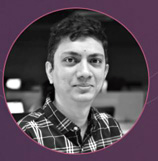 Rama Krishna The Telegraph
The Apple Watch version is targeted towards busy business people. They use it to record audio notes on the move. These audio notes automatically sync with the iPad and iPhone versions. They can then add these audio recordings to individual pages in their iPad/iPhone, replay them and take down additional points from their discussions.
What are some of the features you are planning to add in the future?
One of the focus areas for the future is adding AI and machine learning related features such as intelligent diagramming using the Apple Pencil and object recognition in images for improved searching. We are also planning to introduce a vertical scrolling mode for our notebooks. This will greatly improve the usability of our app on mobile devices.
Tell us a bit about yourself and what made you start Fluid Touch?
I started developing apps as a hobby in 2009 while working in Japan as a senior project manager. It began with the development of an app (that I later named Daily Notes). It mimicked the way I used to take notes at work. I started using the app at work and found that it worked well. Hence I decided to put it on the App Store. This is how my app development journey started, and our company Fluid Touch came into being.
I developed two apps — Daily Notes and then Noteshelf — all on my own for two years. As the products matured, I alone couldn't handle the user demands. So, I hired a team of designers and programmers. Now we stand as a team of 20 developers, designers, and marketers. Our app Noteshelf is consistently on the top 10 productivity apps in all major app stores worldwide.