WhiteHat Jr shows how to make coding child's play
Children and teenagers easily take to computer programming and some make it a lifelong passion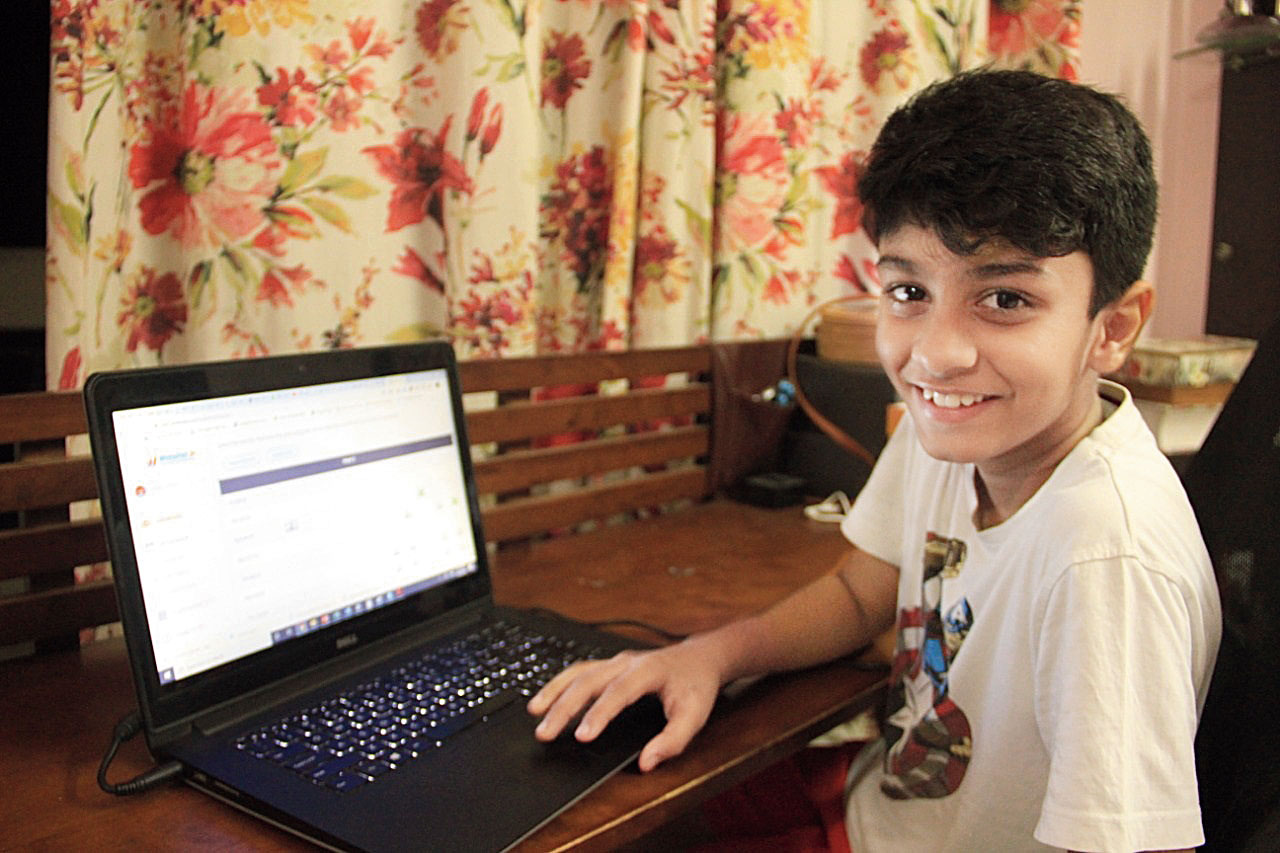 Vihaan Khera, 9, from Gurgaon has developed the app Book Barter, which helps with the process of exchanging books between people. The programming skills that WhiteHat Jr offers has helped him
Picture: WhiteHat Jr
---
Published 08.12.19, 10:01 PM
|
---
The first computer programme that Bill Gates wrote involved playing tic-tac-toe. For Mark Zuckerberg it was an inter-office message software called ZuckNet. Children and teenagers easily take to computer programming and some make it a lifelong passion. Focusing on these young programmers is the edu-tech start-up WhiteHat Jr, which is based out of Mumbai and has as founder and CEO Karan Bajaj (the former Discovery Networks CEO).
Founded in 2018, the start-up has found takers across the country. "Over the past few months, WhiteHat Jr's online platform has seen over 150,000 student trials, over 400,000 student projects created, over 500 teachers onboarded and 100 per cent month-on-month student and revenue growth," Bajaj tells t2.
What made him start WhiteHat Jr and what are his plans? Here's what he told t2. What prompted you to begin WhiteHat Jr?
WhiteHat Jr was founded in November 2018 with the vision of making kids creators rather than just consumers of technology. As a father of two daughters, I believe in the incredible power of early childhood learning and wanted to harness the creativity that most five- or six-year-olds naturally have. After reading a fair bit of research on the subject from MIT I found that kids use the fundamentals of logic, sequence, structure and algorithmic thinking while coding to create tech products, for example, games, animations and apps. More fundamentally, at an early age they start viewing themselves as creators-makers of games versus players of games, creators of videos versus surfers of videos. This is a huge change in the mindset that affects their behaviour and approach towards almost everything in life. By teaching kids these skills at a young age, we hope to create the next generation of digital entrepreneurs who can create apps and digital products that can make the world a better place.
Do you think coding will be an essential skill in the near future? And how do you introduce coding to a six/seven-year-old?
The Future of Jobs report by the World Economic Forum has predicted 65 per cent of children entering primary school today will ultimately end up working in completely new job types that do not even exist yet. Sixty-five per cent of today's jobs won't exist seven years from now. Artificial Intelligence will impact 800 million jobs in 2020. Basically, any job that doesn't involve creation will be automated. So the mission of the company is to empower a generation to be creators in this world with the help of coding. Besides this, coding helps kids to improve their logical and analytical thinking and increases creativity and concentration — all of which are skills that can be applied far beyond the realm of computer science.
We know that not everyone is the same. Few kids pick up coding easily and enjoy it, while others do take time to gain proficiency. However, we have teachers who are specially trained in getting kids to not only learn but also enjoy the process of coding and due to this we've seen kids create some great apps on our platform. All our classes are taught in a live one-is-to-one virtual classroom by teachers who are specially trained on our unique, completely original and proprietary curriculum and only the top 99.9th percentile of teachers conduct the classes. We've repeatedly received some incredible feedback from the parents on the quality of our teachers.
For many '80s kids, coding involved moving from GW-Basic/QBasic to Visual Basic to C++ and so on. How different is the arc now?
Technology is a highly evolving field. The programming languages which are in vogue keep changing depending on the change in computer architecture and evolving features.
There are two core aspects of any programming language — syntax and semantics. The syntax is the grammar of any programming language, and is different for each language. The semantics is the power of any language — what you can do with the language. All programming languages have the same semantics, that is, you can do almost anything with any language.
The core part of writing programmes is not learning the syntax but being able to think computationally about a problem — how to break down a complex problem into simpler smaller problems, use abstractions to think about the problems, design algorithms to solve the problem and identify patterns within the problem. The course tries to cover these important computational thinking pillars through project-based learning and languages with a simple syntax.
What would you tell a kid who wants to learn something like Scratch?
Scratch is a great language and tool, especially for kids to learn the fundamentals of coding. That being said, less than 10 per cent of people are true self-learners. Assisted learning enables the kids to push boundaries of their creativity. That is why we see kids accomplish app creation in just four classes on WhiteHat Jr. An unassisted learning journey on Scratch can take up to 100+ sessions to achieve the same goal.
Is it easy to scale WhiteHat Jr and do you have plans to take it international?
In the past few months, we've been scaling up at a month-on-month growth rate of 100 per cent. The demand is overwhelming and the response from kids, parents as well as teachers working with us has been very encouraging. Our offering is unique and something that's never been done in any other country in the past, so taking the company global is an important part of the strategy that we're already working towards. Nobody has ever heard of a six-year-old creating apps and products that are disruptive and market ready. So I think we have great potential to tap other countries too. The fact that the kids can be changemakers in a technologically-driven future is a resonant idea globally. We're currently in the process of beta testing for rolling out the programme in Singapore and later will look at expanding to other geographies.
Have people taken to WhiteHat Jr?
We have kids from across India, including tier-II and III cities, like Balangir in Odisha, Nagpur, Ahmedabad and many more. The first few signups were purely through word-of-mouth publicity and we've seen a lot of organic traction for our courses. I personally spoke to all parents to enroll in the early days to educate them about the programme, and since then we have grown to a team of over 100. The response from parents and kids has been overwhelming and a lot of our new customers come via referrals. Over the past few months, WhiteHat Jr's online platform has seen over 150,000 student trials, over 400,000 student projects created, over 500 teachers onboarded and 100 per cent month-on-month student and revenue growth. What's really kept us going as a team are the incredible apps that the kids are creating with the help of the platform.
Coding needs to go hand in hand with hardware. Would you encourage kids to take up Arduino and Raspberry Pi projects at the same time?
We do cover Arduino in the later part of our curriculum. Device programming requires knowledge of electronics as well, so it is better to start and build a solid foundation of coding software and programmes before exploring hardware or device programming.
What have been some of the learnings from your Discovery Channel days that you can employ at your start-up?
I think my major learnings from working as the CEO of a large organisation like Discovery Channel was being able to lead a varied set of verticals and functions and build them to scale. I moved from the vertical outlook of a functional leader to the horizontal perspective of a CEO. This is a key skill I've leveraged in setting up a variety of teams and functions and achieving scale across WhiteHat Jr.
Any plans to have tie-ups with educational institution?
Yes, schools are a big focus area and we are receiving a large number of expressions of interest from various schools. We are in the process of educating schools on the benefits of coding classes at an early age and sensitising them on the gap in the current education system that we're addressing. The response has been overwhelmingly positive and we're looking to amplify our outreach to schools in the coming months.