Web daddy's hope and caution
On 30th Birthday, message against hate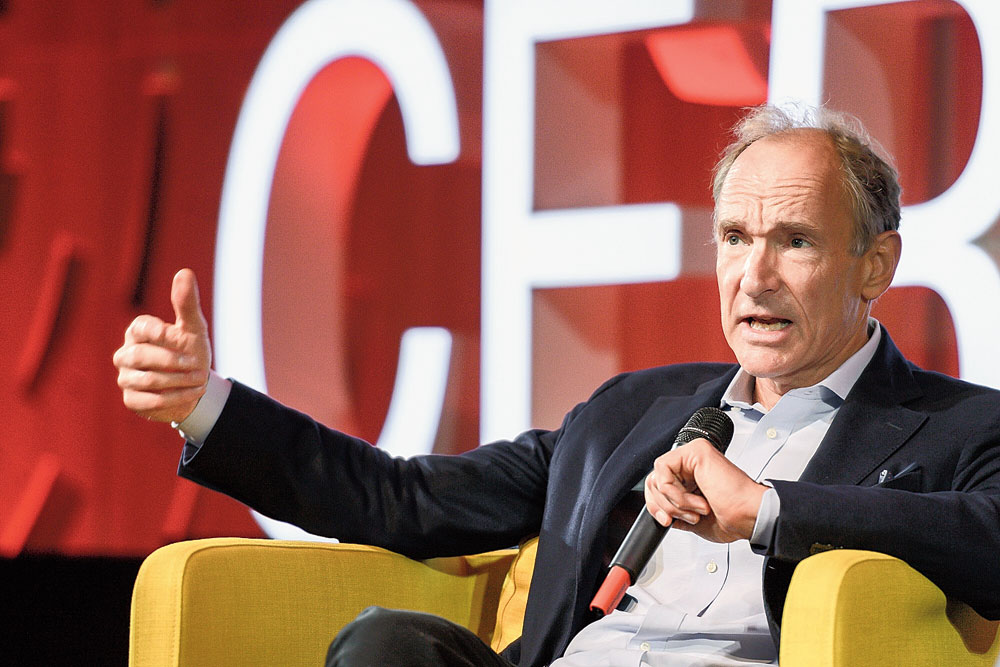 ---
---
At the ripe age of 30 and with half the globe using it, the World Wide Web is facing growing pains with issues like hate speech, privacy concerns and state-sponsored hacking, its creator said on Tuesday, trumpeting a call to make it better for humanity.
British scientist Tim Berners-Lee joined a celebration of the web at its birthplace CERN, the European Organisation for Nuclear Research where the concept started with a proposal he had made for automated information sharing on March 12, 1989.
The innovation — a way to organise, link and browse pages on networks of computers — has since then transformed business, society and access to knowledge but also spawned new forms of crime, malice and worries.
It also allows tech titans to scoop up personal data, rival governments to spy and seek to scuttle elections, and hate speech and vitriol to thrive — taking the web far from its roots as a space for progress-oriented minds to collaborate.
But only half the world was online by end-2018, the other half living with no Internet.
Speaking at CERN on Tuesday, Berners-Lee cautioned it was important to strike a balance between oversight and freedom. "Where is the balance between leaving the tech companies to do the right thing and regulating them? Where is the balance between freedom of speech and hate speech?" he said.
Berners-Lee's original suggestion for an information management system for scientists had at the time initially evoked three handwritten words on the proposal by his boss, Mike Sendall: "Vague, but exciting."
By December 1990, the WorldWideWeb programme had become the first successful demonstration of web clients and servers working over the Internet. In 1993, CERN released the web software into the public domain, relinquishing intellectual property rights to the code and allowing the subsequent growth of the Internet — to nearly 2 billion websites by early 2019 — and its myriad applications.
"The web has become a public square, a library, a doctor's office, a shop, a school, a design studio, an office, a cinema, a bank and so much more," Berners-Lee said in a statement released through the World Wide Web Foundation which he founded in 2009 to defend the web as "a public good and a basic right".
But he cautioned that the web has also created "an opportunity for scammers, given a voice to those who spread hatred and made all kinds of crime easier to commit," and cited the "digital divide" between those with and without access to the web.
The International Telecommunications Union estimated in December 2018 that 3.9 billion people, 51.2 per cent of the global population, use the Internet. Analysts estimate India now has over 500 million Internet users, with 61 per cent urban and 53 per cent rural users on the Internet every day.
Technology analysts in the late 1990s began predicting a boom in e-commerce — but the scale and diversity of applications may have exceeded expectations. Consumers use the web to purchase everything — from books to education to fresh fish.
India's commerce ministry estimates that the population of online shoppers in India will rise from about 120 million in 2018 to over 220 million by 2025.
But the web has also engendered opportunities for digital crime. India's National Crime Records Bureau has documented a steady rise in cybercrimes — from 9,600 in 2014 to 12,300 in 2016.
"The challenges come from the same thing that make it (the web) wonderful and that's the difficulty," said Zeynep Tufekci, associate professor at the University of North Carolina who was a panellist with Berners-Lee at the CERN event.
"It was created as a network for academics who are kind of into trusting each other," she said. Now with the web, "there's an enormous amount of centralisation going on, with a few big players becoming gatekeepers. Those few big players have built, basically, surveillance machines," she said. "It's based on surveillance profiling us and targeting us for ads — which wasn't the original idea at all."
Tufekci said because the original concept was a trusted academic network, it didn't have certain kinds of verification or authentication built into it. "Spoofing, misinformation, fake information… these are all things that come from the things that also make it wonderful."
Given its diverse applications, scientists say picking areas where the web has had its biggest impacts will pose a challenge.
"As an educationist, I see huge impacts on the way people learn," said Dheeraj Sanghi, professor of computer science at the Indian Institute of Technology, Kanpur. "Google, Wikipedia, Khan Academy and other websites have made information easily accessible anytime anywhere."
Additional reporting by agencies