Video will continue to be the preferred way of communication for many: Sameer Raje
Video communications will continue to play a large role beyond the pandemic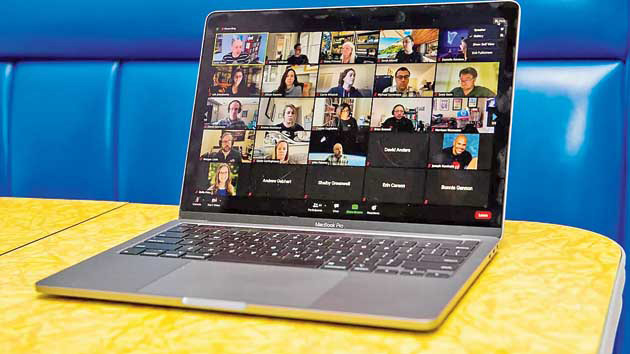 In a hybrid workspace, Zoom will continue to play an important role.
---
Published 07.01.22, 12:24 AM
|
---
Most of us are back to work-from-home mode 24x7 and that means we are logging in almost every other hour to attend meetings facilitated by the videoconferencing platform that we all know very well — Zoom. Yes, a dozen heads stare at you and we nod our way through. But thanks to Zoom and other videoconferencing platforms, work is getting done and we remain connected. Zoom has become a staple of pandemic life and that will not change for some time. Here's what Sameer Raje, general manager and India head, Zoom Video Communications, told us about the platform.

Since we're Zoom-ing all the time, where do you see the platform at a time when the vaccination drive is in top gear?
Remote working has challenged us to rethink our traditional work and office models. While employees treasure the benefits of remote work, individuals still want in-person time with colleagues and teammates for connection and collaboration. Employees desire flexibility and choice to decide where and how they work best, whether it is from home, the office or a mix of both.
This is where hybrid comes into picture: the best of in-person and the best of virtual communications coming together for maximum productivity and flexibility at work. Video communication has proven itself crucial in maintaining human connection and should not be completely written off as we emerge into the next normal. There is no going back to the status quo of fully in-person meetings, and video will continue to be the preferred way of communication for many, particularly for remote workers and distributed teams.

What are some of the unexplored ways users can collaborate on the platform?
Some of our latest features launched during our recent Zoomtopia event and thereafter are:
Video Engagement Centre: To reimagine how we interact with our end customers, Zoom Video Engagement Center (VEC), which will be launched in early 2022, will be an easy-to-use, cloud-based solution that enables experts and end customers to connect over video. Built with the same Cloud-first scalability and trusted video architecture, Zoom VEC will raise the customer experience bar for organisations in every industry.
Workspace Reservation: It provides a safe and frictionless on-site experience is critical with the rise of hybrid work where employees can both work from home and the office. Workspace Reservation enables users to easily book spaces using an interactive map whether they are on-site or remote, creating a seamless experience for all employees. 
Zoom Apps: Later this year, we plan to make integration of Zoom Apps available throughout the platform, including Zoom Apps for Webinars, Zoom Apps for Mobile, and immersive apps, which will enable even more immersive and collaborative app experiences. Zoom Apps gives users  enough screen space to collaborate with the ability to expand and collapse the Apps side panel, open your app in a new window, and switch between multiple Zoom Apps at once.
Zoom Rooms: With break-out rooms, kids can call a teacher into their room, or the teacher can move from room to room, checking in and understanding progress of separate groups and giving more personalized feedback to smaller groups.

How big a market is India for Zoom?
We are proud of the many unique ways people have been able to leverage Zoom to continue to drive progress forward across all industries and geographies — in fact, half a million businesses globally choose Zoom for their critical communications. Seventy per cent of the Fortune 100 companies, over half of the Fortune 500 companies and 85 per cent of the Forbes Cloud 100, the world's top private cloud companies, are now using Zoom.We've innovated from a single video app into a comprehensive communications platform that powers every type of organisation. Customers can create, run, and grow their businesses on Zoom.
The India story is also quite similar. Thousands who had gone back to their home towns are spending less, saving more and still not going to workplaces on all days of the week. For them, Zoom is not just a video conferencing tool but more of a work collaboration mechanism.
In India, apart from the SMB segment which is our mass market, we are equally focussing on corporates as large enterprises are also consolidating and have realised the power of online collaboration in a hybrid work model in place and the many benefits it brings to them. Zoom is already seeing bigger platform play for larger enterprises and have partnered with some of the region's largest enterprises, including Tata Teleservices in India, Telkomsel in Indonesia and Gapo in Vietnam. These employers are now building tools other than the conventional IT systems to make Zoom a part of their daily work environment.

What is the future of virtual communications (beyond the pandemic)?
Particularly with the trend of remote hiring more prevalent, it is important that organisations equip their employees with the best tools to collaborate across geographical and language barriers. We are already seeing the integration of advanced technologies like AI or AR/VR into video communications platforms. AR/ VR technology helps to drive equal participation in the hybrid meeting room, by allowing each in-person attendee to feature just as prominently as remote attendees with their own dedicated video streams e.g. video conferencing pods with features like auto-tracking cameras powered by AR/ VR. Thousands who had gone back to their home towns are spending less, saving more and still not going to workplaces on all days of the week. For them, Zoom is not just a video conferencing tool but more of a work collaboration mechanism.
— Sameer Raje of Zoom Video Communications