Varundo makes faces, starts trends on Facebook
Watch celebrities pull a face at you... after getting a 3D treatment!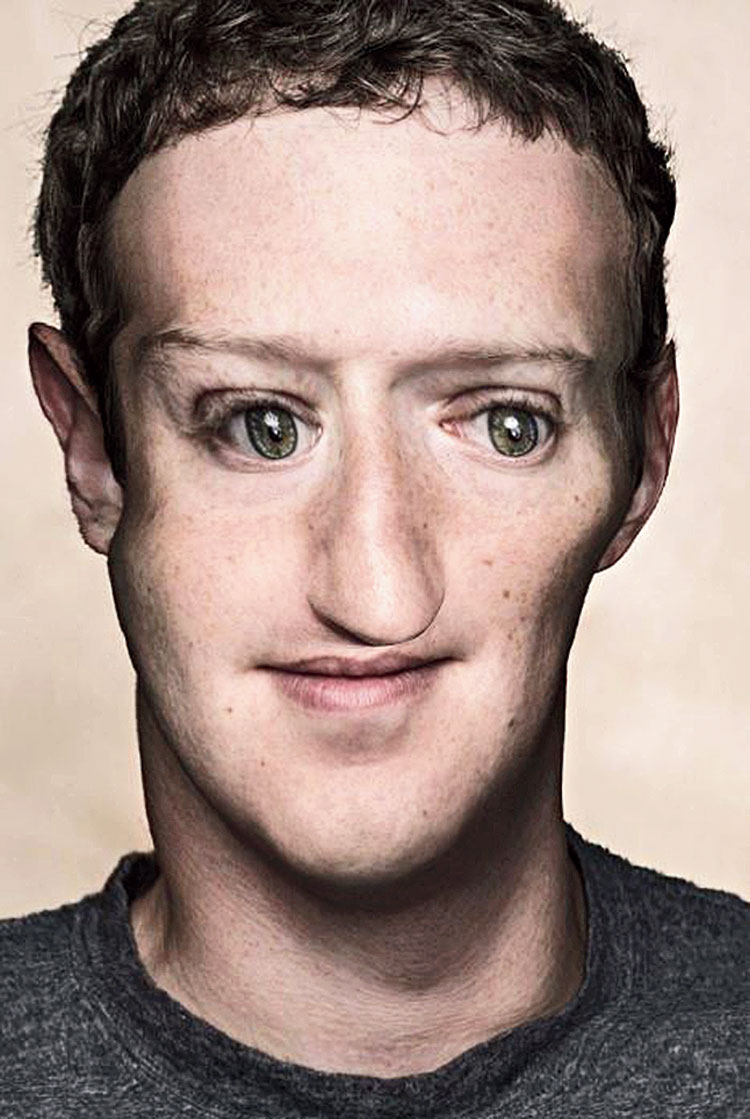 Mark Zuckerberg
Picture: Facebook account of Varundo
---
Published 24.05.19, 03:00 PM
|
---
When the Facebook account Varundo makes a post, it's time to spend quite a few minutes exploring it. What "video artist, creative coder and designer" Varun Desai, 36, does is take a photograph, apply 3D effects and with every movement of the mouse (or the phone) the subject seems to showcase peculiar expressions. His Facebook page already has over 284,000 followers. "Most of the new tech is getting ported to your smartphone and with 3D depth sensors built into phones these days you can expect some very interesting new apps. In the hardware space I'm excited to see how the all-in-one virtual reality systems, like Oculus Quest, are received," the man who's armed with a Redmi Note 4 Android smartphone from 2017 ("I want what I do to be accessible to all, so I'm sticking to an open-source platform), a MSI laptop with 4GB graphics card and Microsoft Kinect (V1.0 and V.20) told us.
What prompted you to come up with distorted 3D images of celebrities on Facebook?
It started on the very day that Facebook released the technology for developers to create their own 3D photos via a browser. In the months before it was only accessible to iPhone (iOS) users, which I'm not, so it was a great revelation to finally have open use of that tech. The first thing I did was create a 3D photo of Mark Zuckerberg as a kind of thank you with a twist.
What's the idea behind the project?
The idea is to use technology in a tangential way where it takes you away from functional use and more towards aesthetic use. I've been doing the same thing with different technologies before this one.
How do you make the distortion effect different for each of your posts, like a Ronaldo vs Rihanna vs Priyanka Chopra or a chimpanzee vs a cat?
The trick is to edit what is known as the depth map. Each piece has a different depth map that determines what part of the image is distorted in 3D space and by how much.
What do you look for in a photograph before giving it a 3D treatment?
It depends on the mood but there has to be the potential for something that can be universally relevant and not taken too seriously. I look at each one as a piece of interactive art.
And was the Mark Zuckerberg twist well received?
Well, 3.5k peopled shared it and it reached over 700,000 people. Collectively, the 3D work has reached over a 100 million people to date. The most popular one has been shared by over 600,000 people. All this has happened in a span of 10 days from the time Facebook released the technology, so the level of "virality" has come as quite a surprise to me. It's all been organic as well. I have not spent a single rupee to boost or promote this work.
You have always been interested in 3D. Tell us a bit about what makes 3D interesting to you?
I've been working with 3D depth maps for a while now. I guess the interest began during my childhood years staring at stereogram books trying to find the 3D object hidden in the patterns. Analogue holography has also been quite fascinating but out of reach since you need access to lasers and special film. Things changed with digital technology. Once I got my hands on the Microsoft Kinect and used it for my own video art installations I realised that what I was doing with this was quite unique, so I have continued to push myself to get more creative with it.
Are you interested in AR technology?
Absolutely, what I'm doing is directly linked to AR. I'm currently developing AR applications as well that would put a lot of the techniques I use in the hands of people to use themselves.
Do you have a bigger plan for your project, something beyond Facebook?
Facebook is an exciting place to be right now because the company is heavily invested in AR, and in VR with Oculus. The ecosystem of this technology is currently depending a lot on Facebook to make it mainstream. The world of AR/VR is going to explode in the coming years, so I feel the bigger plans will fall into place as that happens.