The story of an Indian brand that's bringing tech to the heart of our homes
Somany Home Innovation Limited is making all the right noises coming to the world of Internet of Things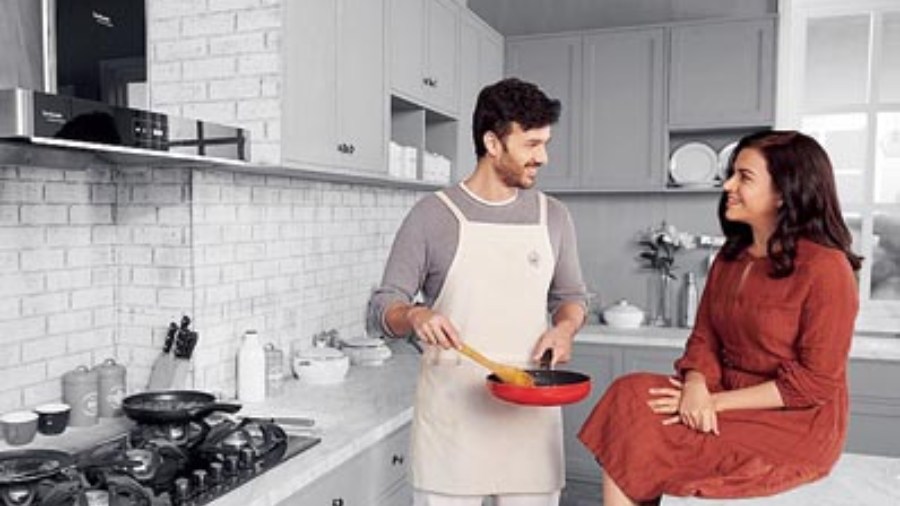 Hindware 'Maxx Silence' chimney comes with voice and gesture control and produces less noise compared to conventional chimneys.
Pictures: Somany Home Innovation Limited
---
Published 09.05.22, 01:31 AM
|
---
These days when couples set-up their pad, they decide to make it a smart one where lights, refrigerator, thermostat, kitchen chimney and everything in between work with smartphones. It is about boosting the value of one's home. For many, the introduction to the world of Internet of Things (IoT) has been through Amazon Echo and Google Home. It's a fast-growing segment in which one Indian company is making all the right noises — Somany Home Innovation Limited, which is also home to the iconic brand Hindware. Rakesh Kaul, CEO and whole-time director, Somany Home Innovation Limited, tells us how tech can be at the heart of our homes. Being a late entrant in the IoT segment, how has Hindware Appliances managed to create a brand connect?
Since inception, we have invested substantially in R&D to launch innovative products. As a brand, we believe in taking customer feedback into consideration and include their inputs when we launch our products.
We have the largest range of IoT-enabled appliances in India, including water purifiers, water heaters, air coolers, and kitchen chimneys. One such product is the Hindware 'Maxx Silence' chimney which comes with voice and gesture control and produces less noise as compared to other conventional chimneys. In order to build a top-of-the-mind recall for this range, last year we introduced a multimedia campaign that highlights the essence of silence. The TVC features an upscale kitchen where the enthusiastic husband is trying to impress his wife by making brunch for her. Things don't go to plan. Instead of telling him how to cook, the wife uses the IoT function of the chimney to help him.
We believe that connected appliances are going to be prominent in the future, owing to factors such as increasing Internet penetration and usage of smartphones. By 2030 we expect that connected appliances will contribute more than 15 per cent to our overall revenue.
Would you say young couples are your main customers when it comes to IoT products?
It's tech-savvy consumers, who use our range of IoT products. The onset of Covid accelerated the growth and acceptance of connected appliances beyond Tier 1 markets as well. A Frost and Sullivan study suggests that the Indian IoT market will reach $9.28 billion by 2025 from $4.98 billion in 2020. In the days ahead, most of the appliances and devices in an Indian household are expected to be IoT-enabled or connected via one single device. We would say our consumers are tech-savvy, especially in the age group of 25-40 years.
How are you distinguishing yourself from other IoT-centred brands?
The range of IoT products from Hindware Appliances come with features such as Alexa and Google Assistant voice control. They are also equipped with GEO-FENCE technology, an intelligent location-sensing functionality that activates the product for operation based on user proximity.
We are also capturing product performance data which helps us understand consumer usage trends, and performance over a period. While many other brands offer multiple apps for managing appliances, making it confusing for consumers, we have a single mobile app called Hindware Appliances. We have developed our own IoT platform called HindwareKonnect. This gives us the advantage of optimising our services and products.
How has the focus of Evok by Hindware changed during the pandemic?
The furniture and home retail market for decades has been fragmented and dominated by unorganised players. Only in recent years we have seen the organised sector on an uptick. Looking at trends and growth patterns in the industry, home innovation and the furniture business is poised to grow around 25 to 30 per cent in the next few years on the back of product portfolio expansion, increased domestic manufacturing, a vast franchisee network, and an increase in demand for home makeovers.
At Evok, with a wide variety of furniture and home decor products, our aim is to cater to homeowners as well as interior designers, and architects across India. Currently, Evok products are sold via our website Evok.in, franchise and retail stores, and online marketplaces such as Amazon, Pepperfry, and Flipkart. Additionally, we are in the process of working towards establishing a direct-to-consumer platform.
We are focused on opening franchise stores to reach customers in Tier 2 and 3 cities. Over the past few months, we have opened stores across regions such as Jamshedpur, Dimapur, Guwahati and Indore.