Tech bridges the gap
Technology brings Barack Obama and Oprah Winfrey together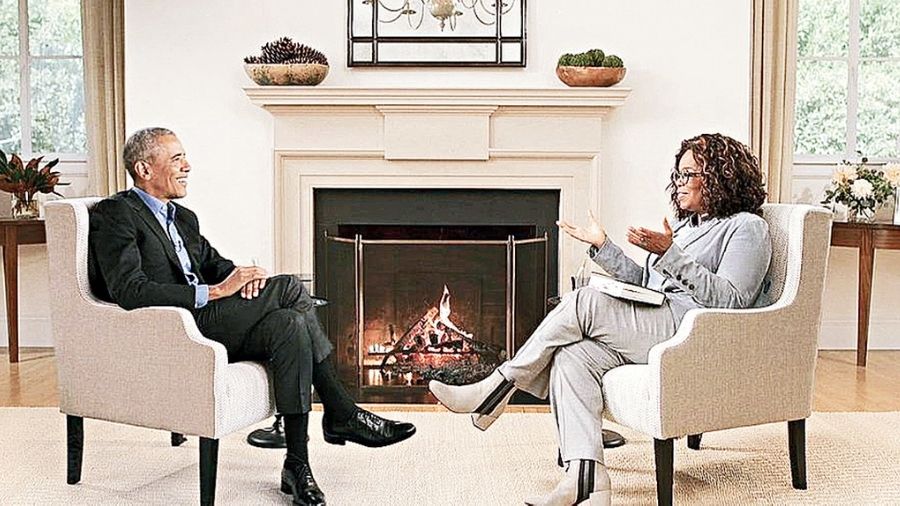 ---
---
Former US President Barack Obama continues to talk about his memoir, A Promised Land, this time with Oprah Winfrey on The Oprah Conversation (Apple TV+). Their candid conversation explores the transformative years leading up to Obama's historic presidency, the accomplishments that led him to the White House, and the monumental expectations placed upon him during his time in office.

The most interesting aspect of the episode is that the two of them are shown sitting face-to-face in the new interview but actually they were in different locations — Obama was in Washington D.C. while Winfrey in Santa Barbara, California — when the conversation took place.

Through the magic of technology, the two appear in the same room in front of a fire. Winfrey shared the technology in a clip on her Twitter page: "Did y'all know that me and former President @BarackObama weren't even in the same room for this interview? He was in D.C. and I was in California. But thanks to the power of technology (and @DrewBarrymore), now I may never leave my house."

The talk show host is referring to Barrymore's technologically-innovative talk show which uses similar green screens.
During the course of the interview, Obama cited how President-elect Joe Biden and vice-president-elect Kamala Harris can take steps so that "we don't just use the Justice Department for example to go after political enemies", to not "call journalists enemies of the state" and to ensure "there's an expectation that the president doesn't routinely lie or reshape the truth to his own convenience".

Watch the episode on Apple TV+, running through December 1.