Realme Watch S is stylish and is packed with just about enough functions
By offering something like a smartwatch at a very competitive price, the company is attracting those looking for their first smartwatch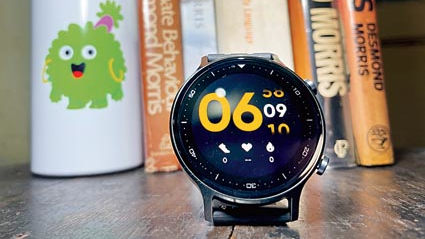 Realme Watch S is an affordable smartwatch with plenty of options to keep you busy.
The Telegraph
---
Published 01.01.21, 11:07 PM
|
---
Smartphone manufacturers are still looking for a smart move to up sales figures but they are having no issues when it comes to smartwatches, even during the pandemic. In August last year, the category showed a 20 per cent global growth year-on-year according to Counterpoint Research. Though Apple captured a record half of the segment's market in terms of revenue, there is enough to be shared by others. Others include Realme, which is fast dipping its toes across a wide range of categories beyond the obvious without compromising too much on quality but maintaining a price point that strikes at the heart of companies like Xiaomi.
We have used the Realme Watch S for a couple of weeks only to be surprised by what can be achieved at a very low price point. It's, in fact, interesting to take note of the company's game plan. By offering something like a smartwatch at a very competitive price, Realme is attracting those looking for their first smartwatch. Satisfied, they will at least look at more Realme products.
Clever design
Realme has learned the smartwatch game quickly to ensure that Watch S has a smart design. There is a fancy aluminium casing instead of a tacky plastic one. Yes, the silicone strap is slightly thicker than I would have preferred but there are some colourful options available, enough to suit your wardrobe.
The circular watch face has a chunky but well-designed bezel, which sort of highlights the small 1.3-inch screen 1.3-inches. But the design cuts both ways. Yes, it highlights the screen and yes, it may appear somewhat stubby on a woman's wrist.
The screen is bright enough to beat the sunlight, ensuring you can read text without any problem. The visuals are nice and sharp because of the 360x360 resolution. In case you have moolah to spare — quite a few thousand more, try the Watch S Pro, which comes with an AMOLED touchscreen that's slightly brighter.
In terms of buttons, things are pretty simple. Both on the right hand side, the top button allows you to dive into all the functions while the bottom one takes you to the different workout modes.
A clever design and clean UI can easily engage users.
Enough functions to keep you busy
When it comes to functions, the question you need to ask yourself is what do you expect from a 5K watch? Using the watch for a couple of weeks doesn't allow me to judge the device's long-term appeal but at a glance, there's enough going on.
The one many would eye is SpO2 or blood oxygen saturation monitoring. You really need to keep your arm steady to get accurate readings but it comes through pretty fast. How accurate? That's a toughie in case the user is in good health. For me the reading has been in the high 90s, which is great. But let's take a minute to understand something important. What do you do with the SpO2 information? It's important to have a framework for sharing this date with a physician. Always take a doctor's advice when it comes to diagnosis. Don't let any smartwatch become your medical expert.
Then there are measurements for heart rate and also a sleep tracker. All the functions work pretty well and the screen is quite intuitive.
What the device doesn't have is in-built GPS, storage or mic, which is fair enough for the pricing. You can't make calls or store music. There are 16 workout modes available and they work well. Sorry, no swimming mode in there but hey, it's rated IP68 or water resistant!
One big advantage of this watch is the Gorilla Glass protection on the display. It's strong enough to prevent the device from getting accidental scratches.
Is it for you?
The company promises 15 days of battery life but that depends on a number of things — brightness level, what kind of fitness activities you are taking on, using music controls and so on. We would say 12-13 days can be enjoyed on a single charge. And that's a lot of days. With most smartwatches, two days sound like a big deal! That brings us to where the device stands. Realme Watch S (available again on January 4, noon onwards; Rs 4,999) is packed with just about enough functions to excite people who are new to the smartwatch category. It's stylish and promising. Realme Watch S flies because…
There are functions like SpO2 and sleep tracking
There are a lot of watch faces to choose from
It has excellent battery life
It's rate IP68 or water resistant
Realme Watch S could have flown higher had it…
Come with some storage for music
Considered an alternate option to go with women's wardrobes