Galaxy Z Fold2 promises a bright future
Samsung is winning at reinventing the smartphone with this folding device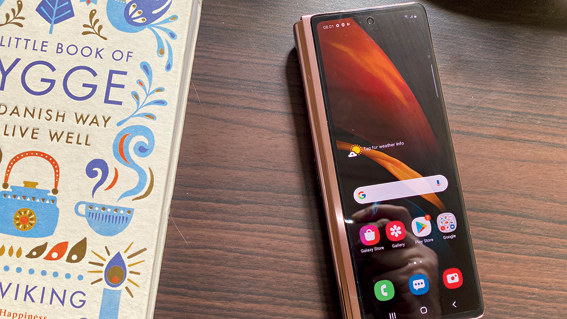 Samsung Galaxy Z Fold2 opens just like a book and the new-generation model is not just a luxury item but holds the key to future forms of the smartphone.
---
Published 16.11.20, 03:04 AM
|
---
Folding phones. You have surely heard about it but probably haven't used one. There could be many reasons behind it. Will I damage it? Why can't I just buy a tablet? What difference would it make to my life? All valid questions, probably the same set as Captain Kirk had when he saw the Star Trek Communicator the first time! Instead of rushing through with an impression of the Samsung Galaxy Z Fold2, we decided to use it for an extended 15 days to give you a better picture of where the device stands. And things look very promising.
Third time's the charm
The first time I saw Samsung's foldable phone last year, the first impression was bookended by oohs and wows, which frankly didn't live up to the practicality factor of the device. Yet, it did hint to a bright future for the category. Then came the Samsung Galaxy Z Flip, a more practical approach to the foldable. And now the Samsung Galaxy Z Fold2.
With more companies joining the foldable bandwagon, there is little uncharted about uncharted waters now. Besides Samsung, there is Microsoft, LG and Motorola. All of them have different approaches. This is where things get interesting. Let's get into it in the next segment.
The original Fold was more of a life lesson for Samsung, about getting up and unfolding when you fall down. Except for the impressive unfolding option on the phone, there were second thoughts — huge plastic bezels, tiny outer screen and oodles of instructions for the user. Fold2 leaves it all behind.
What we now have is build quality that's awesome while the looks have been substantially amped up. There's a massive improvement in the hinge department, allowing users to unfold the screen zero to 180 degrees… anything in-between. Once unfolded at an angle, you can keep it locked at that angle. Flex Mode — that's the name for this feature — can be handy while watching a movie… just keep it open at 180 degrees without having to put books to prop up the device. It can also be handy if you are using something like Microsoft Duo while lying in bed.
Strides have also been made in the finish of the phone. There's a lot more metal and glass, lending the phone a premium look, unlike the original Fold which had some metal and a lot of plastic.
Of course, the main improvement is on the screen front — both outside and inside. The exterior 6.2-inch display is as good as the one on any Samsung phone. Unlike before, you can actually watch a video using the exterior screen, type in a message or send emails. Of course, you get to do much more when you open up the phone to reveal the 7.6-inch dynamic AMOLED 2X screen, which is exactly what Samsung has been aiming for. There has to be an intention behind buying a phone. Here it's the big screen.
The gigantic notch of the old Fold is gone. The amateurish interior camera panel has been replaced by a punch hole camera. The huge bezels have been minimised. It's a premium feel. And the screen is an ultra-thin glass with a protection on top. The crease that was in the centre of the screen is now minimal to the point of disappearing as you work more and more on the phone. It's just like punch hole cameras... the eye adjusts to it.
A big fault that has been ironed out is the jelly scroll effect on the first-generation Fold. Basically, it involved a part of the screen having a jelly effect while scrolling. It's more glaring to the eye when you use a bigger screen. To tackle the problem, Samsung has thrown in adaptive 120Hz display so that the screen refreshes quicker. The outside screen still has a 60Hz display but that's fine.
Intent of use
It is probably the most important element that would decide the future of foldable phones. Bear with me. Some folding phones open like a book (like the Fold2), some like a flip phone (Galaxy Z Flip or Motorola Razr) and some have folding dual screen (like Microsoft Surface Duo).
Each of the phones offers a different reason why folding phones are interesting. In other words, each has a purpose. The Galaxy Z Flip is more like a fashion accessory. Flip it open, use it, flip it shut and slip it into the pocket or clutch.
On the Microsoft Surface Duo there are two screens with a gap in the middle. Microsoft has a different idea… more to do with windows.
Then there is the Fold2. You open it like a book, do whatever you have to do, shut it. Work is done. You wouldn't take the phone out of your pocket just to scroll mindlessly through your Facebook or Twitter feed. Each time you use it, there is an intention, like making a video call or playing a game or reading a book.
Basically, you will find yourself less preoccupied with the phone and enjoying life around you. On the Fold2, what I liked most is how I can read a book; the Kindle app works so well here that I didn't pick up my Kindle device while reviewing the phone. And films play out as if I am using a tablet.
Having the ability to open three (resizable) windows on the big unfolded screen suddenly allows me a world of possibilities. Work on an article on the big window, see messages on a side window and keep track of tweets in the third window.
Samsung has outdone itself in the way windows get handled. One has to remember that Android has been careless when it comes to developing apps for tablets; most Android apps open weirdly on tablets. Samsung has tried to solve the problem with its own layer on top of the Android layer, which is great but it doesn't speak highly of Google.
Instead of going deep into the cameras, it's enough to say that the picture clarity matches that on any of Samsung's latest flagship devices. The company has improved night photography to a great extent while daylight shots are crystal clear. Future possibilities
Who doesn't like to make predictions?! Imagine the possibilities on the Fold if Samsung's powerful S Pen gets added. The stylus is the selling point of the company's Galaxy Note range; there is a loyal base for it. It makes sense if the Fold works like a mini tablet, complete with a stylus. Instead of having three flagship smartphone categories — the lifestyle-focussed Galaxy S, the Galaxy Note and Galaxy Fold — it's better to have two.
What we like to see on future Folds is improved onboard storage; there needs to be an option beyond 256GB.
Things that fold have a long-term appeal. Folding bikes are a rage in some countries as they can be stored in impossibly tight spaces. Folding TV has also become a reality even though it comes at a huge price. Samsung has to a great extent solved the issue of a folding screen; the next frontier is turning upside down the inflexible nature of the battery.
Will I give up my "usual" smartphone for the Fold? Probably not because I have to worry less about the "usual" phone falling from my hand. Will I keep an eye on the Galaxy Fold? Oh yes, because it's putting cool into collapsible tech. For the time being, Samsung is winning at reinventing the smartphone with its Galaxy Z Fold2 promising a bright future. At a glance
The cover screen on Galaxy Z Fold2 is reinforced with polished Corning Gorilla Glass Victus, the most durable glass available on a Galaxy phone. The back of the phone is made with Gorilla Glass 6
The cover screen measures 6.2 inch for easy one-handed use. Unfold to immerse yourself in a tablet-sized 7.6-inch dynamic AMOLED 2X screen made from ultra-thin folding glass
The 120Hz main screen offers smooth visuals and fast touch response
There is 12GB RAM and 256GB storage
The 4,500mAh is enough to last a day. Plug in to super fast charging or fast wireless charging
Price: Rs 149,999