Snapchat is betting big on augmented reality
The company is putting money in the growing segment with the release of AR glasses to let content creators put digital creations into the world around them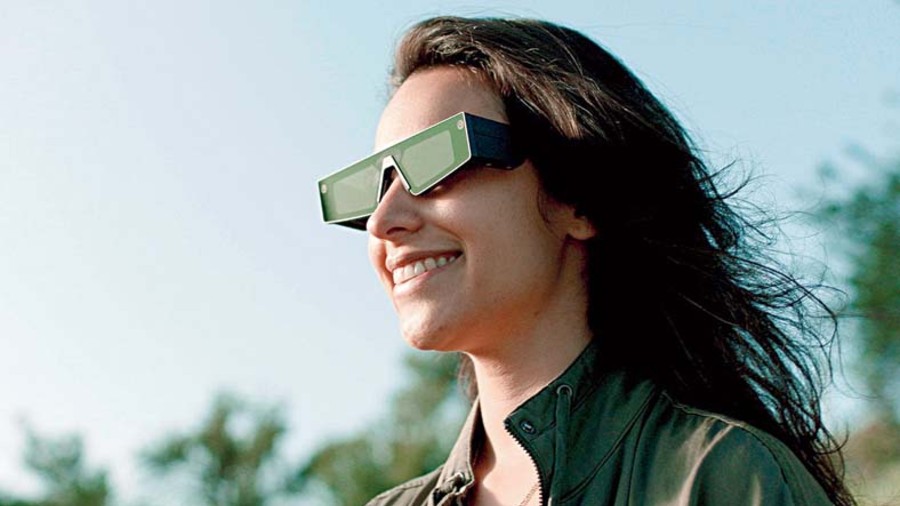 Snap's new version of Spectacles involves augmented reality and it's being given to content creators to try out.
Picture: Snap
---
Published 25.05.21, 04:04 AM
|
---
Augmented reality has certainly received a boost during the pandemic with Apple, Google and Snap getting a front-row treatment. The increased demand for AR — allows superimposing of digital content onto the user's view of the real world — in some sectors cannot be overlooked, from fashion to furniture.
The company behind the popular youth-focused app Snap is putting money in the growing segment with the release of AR glasses — or Spectacles — to let some content creators put digital creations into the world around them. The company is, in fact, giving these to content creators rather than selling the device, meaning you and I can't sport one of these in public in the near future.
A new path
Earlier versions of Spectacles from Snap were absolutely different, allowing users to record videos and photos and import them to the Snapchat app. The latest iteration comes with augmented reality features, which the company has mastered in the last few years. AR lenses are in plenty on the app, which allows overlaying art while taking a selfie or even distorting live images. The idea is expanded with Spectacles, letting lens creators project creations onto their surroundings.
In 2019, Snap CEO Evan Spiegel, 30, had predicted it would be a decade before AR glasses are widely accepted, which probably explains why the new version is not for mass consumption; it's still a work in progress. Wired reports that the lenses are stereo colour displays that automatically adjust for brightness, up to 2,000 nits. The visuals before the eyes is generated by "dual optical waveguides", and there are two RGB cameras built into the specs to capture the peripheral world. Keeping it company are four built-in mics for voice control, a pair of stereo speakers for spatial audio, and a touchpad on the right temple for navigating app interfaces. At its heart is the custom Spatial Engine, which keeps track of all the position information that's required to make apps feel realistic.
The bigger push
A big part of Snap's AR-driven future is WaveOptics, the supplier of the augmented reality displays that power its new Spectacles glasses. The Oxfordshire-based supplier has been snapped by Snap for $500million. The company, founded by three former BAE Systems workers, has about 125 staff in offices in the UK, the US, China and Taiwan. It has raised $60 million in funding since it started trading in 2014. Spiegel and his men have been working with WaveOptics for some years on developing the AR-driven glass.
Buying the company out is more of a strategic move as Snaps rivals are working on their own waveguide technology as they plan to debut AR glasses. The company that everyone needs to be careful about is Facebook, which has, time and again, been inspired by Snap's features. Also, Facebook has said that it's building custom waveguides for future AR glasses, which CEO Mark Zuckerberg believes will one day "redefine our relationship with technology". In a post in January 2020, Zuckerberg wrote: "The technology platform of the 2010s was the mobile phone. While I expect phones to still be out primary devices through most of this decade, at some point in the 2020s, we will get breakthrough augmented reality glasses that will redefine our relationship with technology." CNBC reported in September 2019 that Zuckerberg's company is working on AR glasses, codenamed Orion, in its labs in Redmond, Washington.
Meanwhile, Apple bought the holographic waveguide-maker Akonia Holographics in 2018. Akonia was founded in 2012 by a group of holography scientists and had originally focused on holographic data storage before shifting its efforts to creating displays for augmented reality glasses.
"The smartphone heralded this totally new era for the camera because it put a camera in everyone's pocket and connected it to the internet. And we believe looking at the future that, ultimately, one of the primary use cases of the camera is going to be augmented reality. And that the best way to experience augmented reality is through glasses. Because it's much more immersive, it's hands-free so you can interact with the space around you, sort of in the way that you do with your physical environment," Spiegel has told The New York Times. AR is everywhere
The case for AR is being fought by players across the board. Mercedes-Benz, for example, has revealed a redesigned S-Class luxury car, implementing AR windshield. The augmented reality system displays animated arrows onto the windshield, corresponding to a monitor with a 77-inch diagonal screen.
In 2018, L'Oreal was thinking ahead when it bought an augmented reality filter company called Modiface. Last year, the company rolled out a line of "virtual make-up" selfie filters to show off eye make-up, lipsticks and hair products. The My Dior app from the brand Christian Dior allows users to try on several shades of lipstick by digitally projecting them onto the face. Dutch jeweller Bibi van der Velden has added AR filters to her Instagram feed, allowing anyone to try on her jewellery virtually. To a different segment, furniture brand IKEA is familiar with AR and it rolled out 3D and augmented reality furniture visualisation tools so shoppers could "try before they buy".
For Snap, the market beyond the US is becoming increasingly important. Its app reaches over 500 million monthly active users across the globe with nearly 40 per cent of its users based outside North America and Europe. During its recent virtual Snap Partner Summit, it was announced that Snapchat in India has seen over 100 per cent (year-over-year) growth in daily active users in each of the last five quarters. Snap has extended its short video offering Spotlight to India and has given the country its first original series (Phone Swap) through the Discover platform.
Spectacular, at a glance
• With dual 3D waveguide displays and a 26.3 degree diagonal field of view, immersive AR Lenses are overlaid on the world in front of you. The display dynamically adjusts, shining up to 2000 nits of brightness so you can use them indoors or outside
• The 134g device has two RGB cameras and four microphones
• It's powered by Snap Spatial Engine, which leverages six degrees of freedom, hand, marker, and surface tracking