Steal, run and create chaos
Smashy Road has 3D voxel graphics similar to Crossy Roads, which look cartoony and give a comic-action feel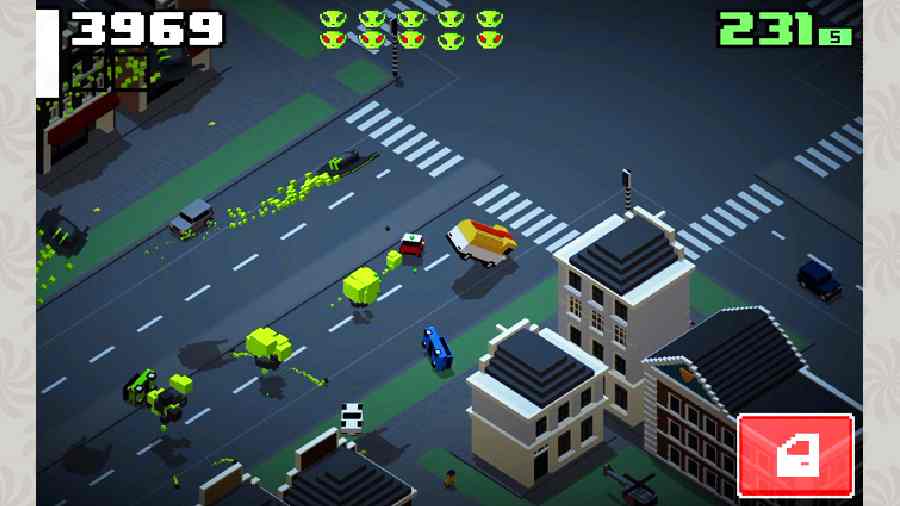 ---
Published 09.05.22, 04:15 AM
|
---
GAME: Smashy Road: Wanted 2 by Bearbit Studios B.V.
GENRE: Action, car
PLATFORMS: Android and iOS
Who doesn't enjoy action-packed chases? The hero steals a fast car, narrowly escapes the police and leaves a trail of chaos. Smashy Road: Wanted 2 is this very sequence made into a game.
Your aim is to cause maximum destruction before getting busted. Like in Grand Theft Auto or GTA games, you speed through heavy traffic and buildings with the police hot on your heels. The bigger the chaos and explosions, the higher you score. Of course, your "Wanted" level too rises.
The controls are simple. The car accelerates by itself and you can turn, stop or drift it. The game starts slow with just a couple of police cars after you. But soon, there are military jeeps and helicopters from all directions. A round takes between one and five minutes. Destroying cars gives you points but also damages your own car. The best part is you can get out of and into any vehicle, including police jeeps and oil tankers. Some are superfast, some real tough and some flying vehicles!
Smashy Road has 3D voxel graphics similar to Crossy Roads, which look cartoony and give a comic-action feel. Some action sequences — like jumping over a bridge — look cinematic and satisfactory. The city map is big and diverse, and makes you want to explore it. There is desert, ocean, snow and suburbs — all within driving distance. However, since the goal of destruction is only to earn points, it may get repetitive. But there is a lot to explore which kept me going for a while. Scattered across the map are special vehicles, like a plane or tank. These have special abilities, and unlocking each is a mission in itself. For instance, unlocking the tank involves searching for a guarded military facility, somehow getting into it, surviving an army and destroying your way out with the tank that fires. These missions are explosive and having these abilities makes you feel powerful.
For cons, even after playing for a while, there is nothing that makes you better at surviving as compared to when you started the game. This feels like you haven't progressed at all. You can buy new characters and cars, but that's not aspirational enough because it doesn't affect the game much. The police cars sometimes feel unfair, especially when the Wanted level rises, as you don't feel equipped to handle a swarm of police from all sides. For an action game, it doesn't help to make the player feel powerless.
VERDICT: Smashy Roads can give you an adrenaline rush even two minutes into a round, if you can survive that long. It delivers a bytesized experience of playing a GTA game with simple controls. While there isn't much scope for progress, there is a lot to explore. And although the balance could have been better in favouring the player, this isn't a glaring issue. If you want some quick chaotic fun, then do try it out. I'd rate it 7.5 out of 10.