Showtime with Apple
Apple takes on Netflix with a starry launch of its new streaming service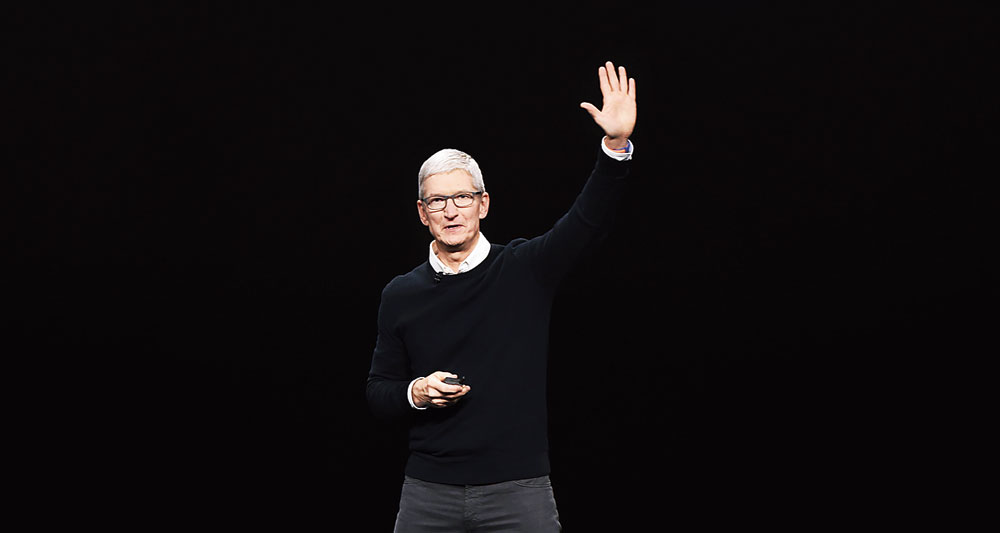 Apple CEO Tim Cook
Picture by AP
---
Published 26.03.19, 02:16 PM
|
---
Hats off to Apple for making Steven Spielberg, J.J. Abrams, Jennifer Aniston, Reese Witherspoon and Steve Carell appear like warm-up acts for the big finale — Oprah Winfrey — at the company's non-device press conference at the Steve Jobs Theater at its Cupertino headquarters in California. Sarcasm? No, we are just highlighting the might of Apple!
On Monday, Apple may have put up an incomplete show by not announcing the pricing of some of its new launches (Apple TV+, Apple Arcade, Apple News+ and Apple Card) but the future path of the company was made crystal clear… one that will take advantage of its massive device base.
"Great stories can move us and inspire us. They can surprise us and challenge our assumptions. So we partnered with the most thoughtful, accomplished and award-winning group of creative visionaries who have ever come together in one place, to create a new service unlike anything that's been done before," said Apple CEO Tim Cook about Apple TV+, the new video streaming service. His statement also highlights that his company's focus is more on quality rather than quantity because the latter is integral to Netflix, which according to Los Angeles Times, is expected to spend $15 billion on content this year.
Even though Apple's stocks took a small hit after the conference, one can never ignore the Steve Jobs-founded company, which has a fan base with more than 900 million active iPhones worldwide… truly a strong distribution network for content. Also, one must remember that after the launch of Apple Music in 2015, it managed to attract more than 50 million paying subscribers, which is not bad at all. So nothing is impossible.
Here's a quick look at what's coming our way.
Apple TV+ and Apple TV Channels
First, don't confuse Apple TV+ and Apple TV Channels with Apple TV, the product, which is a streaming set-top box you can buy from stores.
Set to launch in fall, Apple TV+ is a video subscription service that will feature Apple's expanding list of original TV shows and movies. It's like Netflix and Amazon Prime Video but then again, it's different because there is no access to back catalogues of licensed shows or movies. The service, which is not a standalone app but an expansion of Apple's TV app, will be available both online and offline. Since the company didn't go into the specifics, we can only assume that it could be a dedicated tab on the TV app.
Meanwhile, the new Apple TV update (Channels) will now include channels like HBO, PBS and CBS. Subscribers can choose the channels they'd like to subscribe to and pay per channel instead of packages from cable companies. If one person has access to Apple TV Channels, he or she can share it with up to six family members. And content from certain channels will be viewable right inside the TV app.
The good news is that Apple TV+ will be available on many platforms, including Fire TV, and it will be ad-free, launching in over 100 countries. The TV app is also coming to Samsung smart televisions in spring and televisions from Sony and LG "in the future". The confusing news is that Apple has not given any indication whether it would be available on Android or Windows, which means losing out on a huge customer base. Also, there was mention of streaming the same on desktop browsers like Chrome or Firefox.
The cost of the Apple TV app will not increase unless you're paying for Apple TV+ or an Apple TV Channel subscription. The all-new Apple TV app will be available to iPhone, iPad and Apple TV customers in over 100 countries with a free software update this May, and to Mac in fall.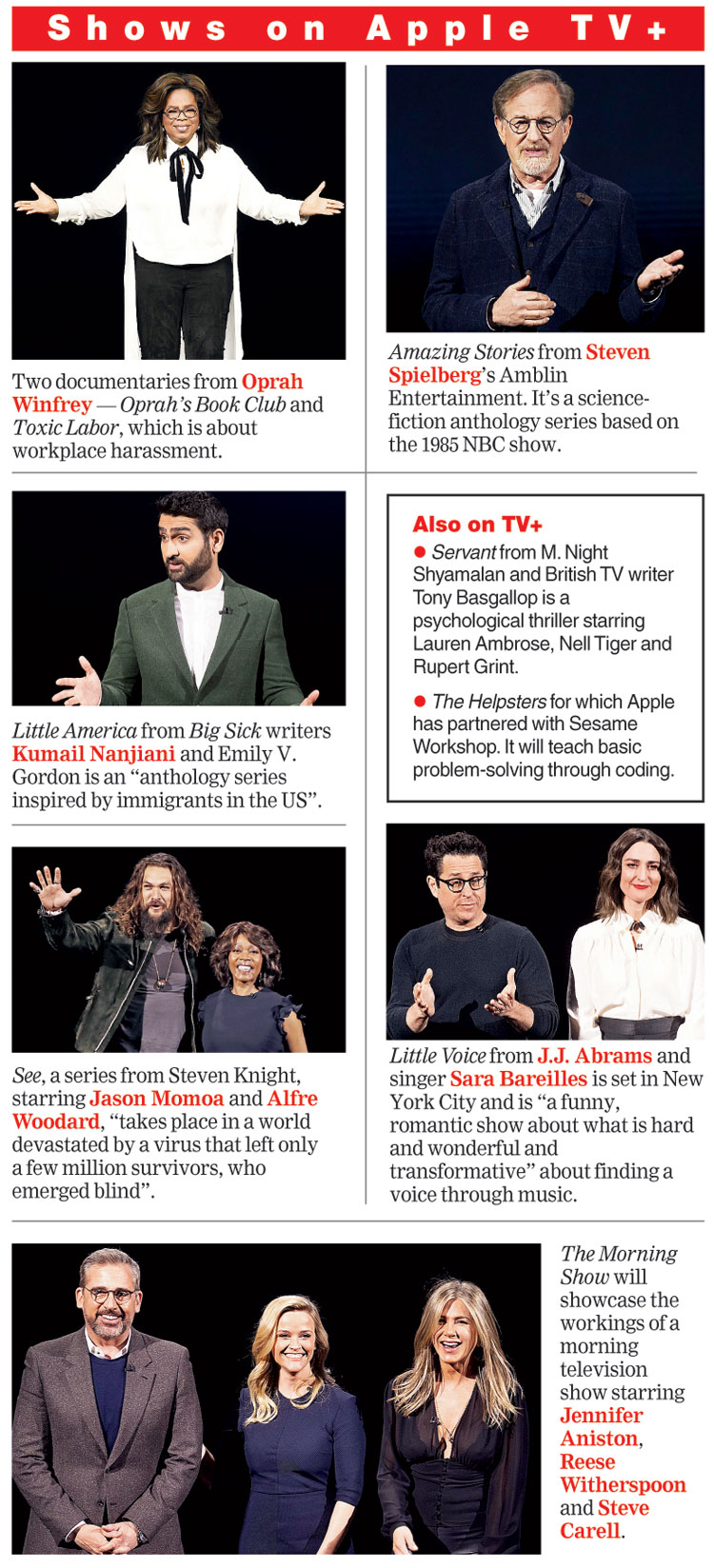 Apple Arcade
For video games, the company said a subscription service called Apple Arcade is coming this fall. Subscribers will have access to over 100 new games, all of which will be exclusive. They will be able to play these games across Apple devices, the iPhone to Apple TV. And these will also be playable offline. Launch date: Later this year in more than 150 countries.
Apple News+
Available in the US and Canada (the UK and Australia later this year), for a $9.99 monthly subscription on access up to 300 magazines, including The Wall Street Journal and Los Angeles Times.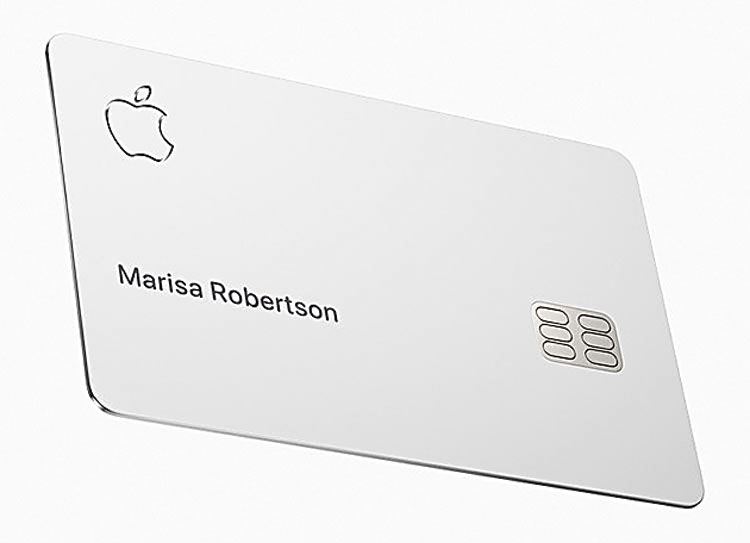 Apple Card
Exclusive to the US, it's a credit card (without a credit card number, CVV, signature, expiration date, late fees, annual fees or international fees!) that the company worked on with Goldman Sachs. iPhone users can apply for the card on the phone and be instantly approved. The credit card offers two per cent cash back for spending on Apple Pay.