Samsung's new flagship phones promise good shots
With the new Galaxy S21, Samsung strikes gold, promising the splashiest camera action possible on Android phones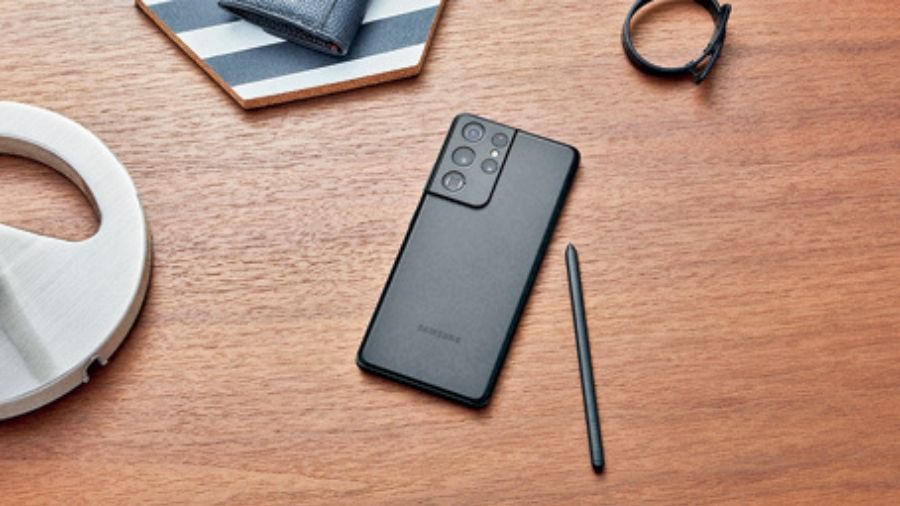 Samsung Galaxy S21 Ultra comes with one of the strongest camera specs on smartphones and it supports the S Pen.
Samsung
---
Published 15.01.21, 11:20 PM
|
---
How to spot the bad guy in the film Knives Out? Find the one who doesn't have an iPhone! It seems that Apple doesn't encourage bad guys to use the iPhone, the device which has a hold on film directors globally. Most of these same film-makers believe that Android phones usually don't qualify for shoots because of the distortion in the ultra-wide lens, the clunky output while switching between lenses, poor performance at night and processing power.
The three new Samsung flagship phones — Galaxy S21, Galaxy S21+ and Galaxy S21 Ultra — will take competition to the iPhone in the video front, especially the last mentioned model. By pushing up the release date of its flagship lifestyle devices by a month, the South Korean company is expected to enjoy an upswing of sorts. Plus, the new device changes the way stylus loyalists have looked at Samsung phones.
Upping the video game
Streaming services have had a good run in the last few months because people have stayed in. More than films, it's the original shows that have attracted long viewing hours to the point many are getting inspired to make short films without having to spend a bomb on equipment. iPhone has been making that possible for some time now while Android has given a few respectable devices — Galaxy S10 and the LG V30, to name a few — but it hasn't been a sustained effort.
Let's take, for example, the Galaxy S21 Ultra. Options like Vlogger View and Director's View are helpful. With a vlogger, shooting simultaneously on the front and rear cameras is important. It's a feature we have seen before on some phones but here it is on a flagship device. A more potent one is Director's View.  You get live thumbnails of each lens on the phone. You get to switch between lenses easily. What it essentially does is give you a real-time feed from all the lenses on the device, whether it is a wide lens, or an ultra-wide lens, you get to see the feed and choose one by tapping on it. We are approaching FilmicPro territory.
Also, for the first time on a Galaxy smartphone, you can shoot in 4K at 60fps across all lenses, including front and rear four lenses, so you can shift to a different perspective with the same quality, something that was a big miss on previous devices.
Here's look at ya… from a distance
The Samsung 'space zoom' became as much a trend as a meme when it first appeared on the Galaxy S20 Ultra. However amazing the technology appeared, there were issues, like steadiness of the camera and quality of the output. Instead of giving up, the company has ironed out the chinks in the armour. Zooming in no longer sacrifices clarity. This time the '100x space zoom' on the Ultra is powered by the company's first-ever dual-tele lens system — one optical 3x and one optical 10x, both equipped with Dual Pixel(2PD) AF — so you can capture clear shots.
There is also an improvement in low-light photography. With improved Night Mode, noise reduction and 12MP nona-binning technology, you can capture challenging shots — like a dimly-lit room, or a landscape at night — quickly and with excellent quality. There is laser auto-focus involved. But we wonder why Samsung is not going for Lidar technology, which the company showcased a few days ago at CES in one of its robots.
Penning a brave move
Ask around and nine out of 10 people will say that they wouldn't give up the S Pen or the stylus with their Samsung's Note devices for anything. The might of the digital pen has been mocked by Apple for years but there is a niche following. Samsung has placed the S Pen more at the centre of the experience with each successive refresh of the Galaxy Note, which usually gets unveiled in August.
The twist comes in the form stylus support on the Ultra device, ensuring loyalist don't have to wait half the year to lay their hands on the speediest processor around. There is also a certain level of flexibility: You can use an existing S Pen from a Galaxy Note or Galaxy Tab or purchase an S Pen separately on its own or with a compatible case. Of course, that pushes up the price a bit.
The move also makes clear the focus of the next flagship Samsung event: It will be about the Fold, which obviously has become a separate category of devices. It's a luxury offering.
Built to last
When the latest stash of iPhones was launched late last year, one of the key points was "ceramic shield", which makes the iPhone 12 series four times more resistant to damage during drops. It's important as the cost of replacing the screen is on the higher side. What the technology doesn't ensure is resistance to scratches. Look carefully at your iPhone 12! Samsung, on the other hand, has Corning Gorilla Glass Victus, which is now 80 per cent more anti-scratch and performs 87 per cent better in drop test (versus S20).
Wi-Fi 6E: A mouthful but helpful
The Galaxy S21 Ultra is one of the first smartphones to support Wi-Fi 6E, which will help you enjoy more bandwidth and a faster Internet connection, allowing you to stream quickly as well as share content in the blink of an eye.
Though we will try the feature out in more details in the coming weeks, here's a quick look. Usually, trouble connecting to a Wi-Fi network arises from spectrum congestion. If too many devices try to connect over the same band of frequencies, devices will start to get dropped. 6GHz Wi-Fi has enough room to accommodate more devices. It will be best suited for close-range connections, like between devices that are in the same room. Devices will be able to exchange huge amounts of data back and forth.
Also, the ultra-wideband capabilities (UWB) embedded in Galaxy S21 Ultra and S21+ will enable you to use your device to automatically unlock compatible car doors without pulling out your keys. You can also use AR finder to drop virtual messages that let other Galaxy smartphone users know you need help searching for a lost item
Visual distinction
We need not get into the quality of the display because Samsung is way ahead of the game and most of the top tech brands depend on the company's expertise. The Ultra's 6.8-inch Dynamic AMOLED 2X display's refresh rate adjusts to the content you're viewing from 10Hz to 120Hz to ensure you enjoy the best image while staying power efficient to stretch your battery life even further. Also, the phone's peak brightness is an amazing 1,500nits.
Unlike the camera bump we see on most Android phones, the biggest design update involves making the bump a seamless part of the phone as the metal flows out naturally from the sides. The design is important, especially on the Ultra model because there are a number of cameras involved.
A moment of silence
The argument is still on whether Apple did the right thing by dropping charging bricks from its boxes. Samsung just did the same. The point is that most of us have plenty of these charging bricks lying around the house, unused. Why add to the e-waste? It's a good move that will hold the company in good stead. It remains to be seen whether Samsung will do the same on its lower models.
The company's Bixby voice assistant is alive on the new S21 line-up but finally the button can be remapped to take on other tasks. That's sort of an acknowledgment of where Bixby stands in the future scheme of things. Galaxy SmartTag
Tile got there first but Samsung has made it to a similar zone. Galaxy SmartTag is a device for tracking lost items. Based on Bluetooth technology, you can put the SmartTag on your pet's collar or your keychain or your wallet and you can find the same when you're in a hurry. The last location of the SmartTag gets recorded on your phone. As soon as you are in the vicinity of the SmartTag, it starts beeping. The SmartThings app shows a proximity indicator of the device depending on the strength of the BLE signal. While you will find the SmartTag in the market soon, the Ultra Wideband version of it — SmartTag+ — will come later this year. Galaxy Buds Pro
The company's most premium earbuds yet has a design that's reflective of the Galaxy Buds Plus but sound-wise, it's inspired by the Galaxy Buds Live. The new design "reduces the contact area between your ear and the bud, improving comfort and minimising any clogged-up feeling," according to Samsung. It comes with an 11mm woofer and 6.5mm tweeter besides improved active noise cancellation. The ambient sound mode now lets you amplify surrounding noise by up to 20 decibels. Price and availability
Galaxy S21 (8+128GB): Rs 69,999 (Phantom Violet, White, Pink, Grey)
Galaxy S21 (8+256GB): Rs 73,999 (Phantom Violet, White, Grey)
 Galaxy S21+ (8+128GB): Rs 81,999 (Phantom Violet, Sliver, Black)
Galaxy S21+ (8+256GB): Rs 85,999 (Phantom Violet, Sliver, Black)
Galaxy S21 Ultra (12+256GB): Rs 105,999 (Phantom Black, Sliver)
Galaxy S21 Ultra (16+512GB): Rs 116,999 (Phantom Black)
 Pre-booked consumers will start getting deliveries on January 25, while Galaxy S21 Series goes on sale on January 29. Consumers can also avail HDFC Bank cashback of up to Rs 10,000 or have an option to avail upgrade bonus of up to Rs 5,000.