Samsung launches AI-powered washing machines in India
It has introduced the country's first artificial intelligence-enabled bi-lingual automatic washer with Hindi and English user interface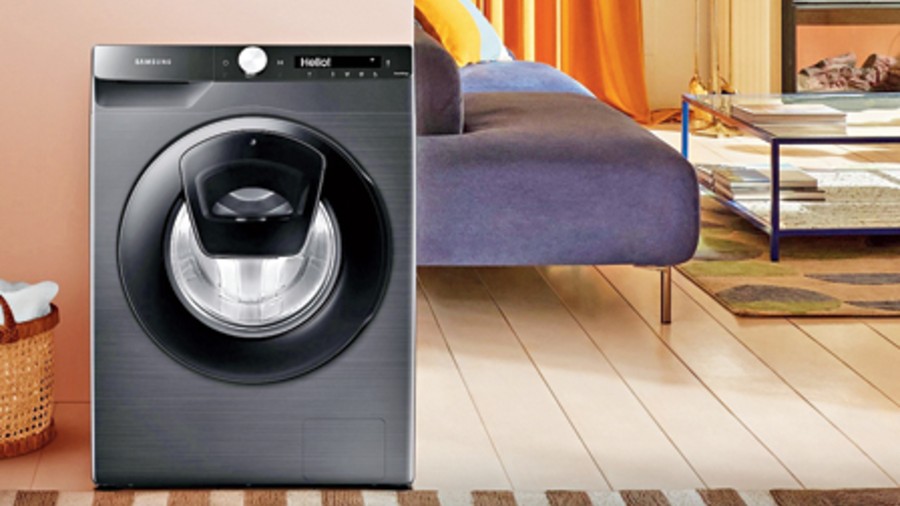 Samsung's AI-enabled and connected washing machine range comes with English and Hindi user interface.
Pictures: Samsung India
---
Published 28.04.21, 03:04 AM
|
---
Laundry is a chore we have to tolerate. During the pandemic, the duty of working the washing machine continues to fall on every family member and there are moments when the chore gets completed listening to our favourite podcast or album. Apart from that, it's the same old machine that hasn't changed much in a long time. Brands keep saying how wash cycles are being constantly improved but sadly, not all of us can feel it.
Samsung, which is one of the trusted names globally in the washing machine category, wants to change the way we interact with the gadget. It has introduced India's first artificial intelligence-enabled bi-lingual washing machine with Hindi and English user interface. The new line-up — a part of the company's new vision of Powering Digital India — comes with proprietary EcoBubble and QuickDrive technology.
Helping us decode all the jargons and what the machine can do is Raju Pullan, senior VP, consumer electronics, Samsung India. "The pandemic has led consumers to look for appliances that offer a convenient washing experience besides giving bacteria-free clothes. Convenience is the most important factor because of which we saw a very strong growth in the fully-automatic category over the last couple of quarters. In fact, the fully-automatic segment today is almost 60 per cent of the washing machine market overall. The launch of AI-enabled washing machines and the EcoBubble have given us a strong head start in creating the fully automatic washing machine category and we are now expanding it with the launch of 21 new models," he said over telephone.
On these machines, AI learns and remembers laundry habits and suggests the frequently-used wash cycle. This Internet of Things (IoT)-enabled line-up can be connected with Samsung smart devices, such as Galaxy smartphones, Samsung smart TVs and Family Hub refrigerators as well as voice devices such as Alexa and Google Home to give users a seamless connected living experience.
EcoBubble provides 45 per cent extra fabric care while QuickDrive technology reduces washing time by up to 50 per cent without compromising on the washing cycle. Not ending up with bad odour
There are two interesting aspects to the new introductions. First, Laundry Planner, which enables users to "schedule the end time of their laundry" and second, Laundry Recipe that gives automatic recommendations for optimal wash cycles based on information such as colour, fabric type and degree of soiling provided by the user, eliminating the need to guess which cycle is best.
To appreciate Laundry Planner, it will be best to wait till most of us are back at work again. "Many consumers in India are working couples, so when they leave from office, the user can preset through their mobile the time he/she will reach home. The clothes will be washed and rinsed by the time they are home. At times, one is late to return home and no one wants a situation where wet clothes are left in the washing machine for a long time and they end up with bad odour. So the feature of laundry planning comes in handy as it ensures that your clothes are gently washed and also in the right condition when you put it out there for drying," says Pullan.
Also present is Going Out mode. The phone and the machine can be connected over the air and "using geo fencing", the SmartThings app pushes notifications to the user if they go beyond 16km away from the washing machine, asking if they want to reset the laundry planner time to fall in line with the time the user will take to return. This notification is sent about 10 minutes before the wash cycle begins.
AI also helps learn the user's wash preferences over 25 wash cycles. The 26th time when clothes are dumped into the machine, the first option on the job dial will be the one that's frequently used.
"Our objective is to move from 24.6 per cent market share in the fully-automatic segment to 32 per cent market by the end of 2021," says Pullan.
Besides Hindi and English, expect to see other Indian languages in the user interface sometime soon. The new AI-enabled laundry line-up is now available, priced upwards of Rs 35,400. "Consumer requirement, even in smaller towns, has drastically increased because of which retailers have increased display units because consumers look for product experiences and a lot of proactive enquiries are being made. Demands have built-up in tier-II and tier-III as well."
What we want to see now is a machine which handles stains that are old… very old, like on vintage quilts or napkins. Fingers crossed!