iPhone 13 Pro's ProRes turns up the game for videographers
It captures fine motion better, so try filming things blowing in the wind or water falling on a plant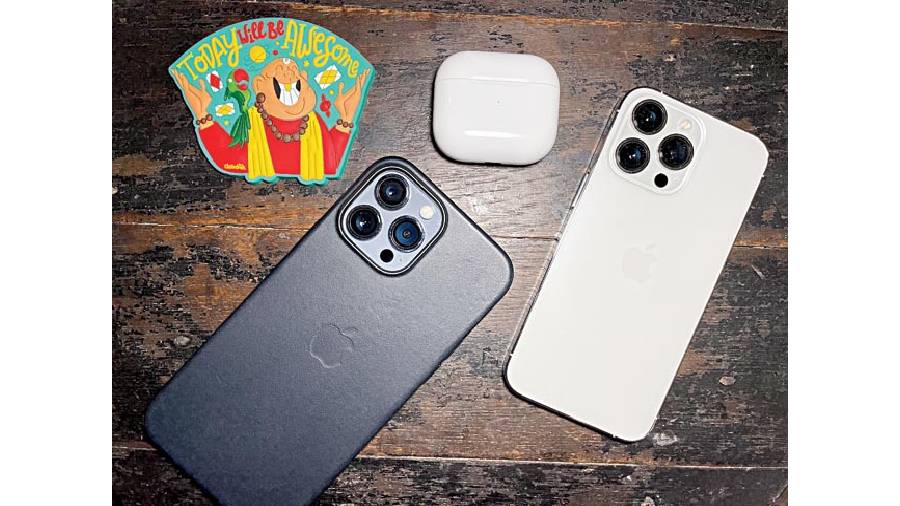 ProRes is a video technology that's now available on the iPhone 13 Pro and 13 Pro Max.
Pictures: The Telegraph
---
Published 15.11.21, 12:02 AM
|
---
For quite a long time, the iPhone has been the best smartphone to capture photos and videos on. Be it stable footage or zero frame drops, the Apple device has been winning hearts forever and the iPhone 13 Pro and Pro Max are no exceptions.
One of the features videographers have been waiting for is ProRes, which has finally appeared on the Pro versions of the latest edition of the iPhone, with the release of iOS 15.1. It comes weeks after the app Filmic Pro added the ability to record ProRes videos in its app.
What is it?
Shooting in ProRes using the native camera app makes a big difference if the scenes you are capturing are complicated in terms of light, details and motion. ProRes is a file format with a high data rate, preserving the detail in high-dynamic-range imagery generated by the latest sensors. ProRes HQ preserves dynamic range many times over that in typical video files and has widespread adoption across the professional cinema landscape. This codec supports full-width, 4:2:2 video sources at 10-bit pixel depths, while remaining visually lossless. It's a format that has a lower amount of compression vis-a-vis the more common H.264 and H.265 codecs currently used on the iPhone. The level of detail preservation during fine motion that ProRes brings is worth it.
At 4K and 24p, the data rate is 704 MB/s and at 4K and 30p, it's 760 MB/s. A 4K file will require just under 6GB of storage for each minute of footage captured. In Full HD 1080 at 30p, the storage rate is about 1.7GB per minute of video. Compare this with shooting using the standard profile — a 10 second 4K 24p clip shot is 24.3 MB (the same shot on ProRes is 781.6 MB).
It's almost impossible to compare a single ProRes frame with what gets captured using the standard format. ProRes captures fine motion better, so try filmming things blowing in the wind or water falling on a plant. And the clips appear slightly less over-sharpened. Is it really new?
The iPhone 13 Pro and 13 Pro Max are the first phones to support the Apple ProRes video codec. Macs have supported ProRes since 2007. The popular codec is optimised for smoother video playback in editing software like Final Cut Pro X, Adobe Premiere Pro and Davinci Resolve.
Who benefits from it?
Professional filmmakers. Nowadays, many are capturing footage on iPhones and film-maker Steven Soderbergh has shot two feature-length films with an iPhone. With ProRes video you will be able to retain better colour, giving you more room to play with in post-production.
Can your phone shoot ProRes?
It's supported on the iPhone 13 Pro and Pro Max. Last year, iPhone 12 was the first to get the Apple ProRaw option. Since the format is dependent on the A15 Bionic processor (comes with ProRes encoders and decoders on the chip), older phones don't support the format. Apple devices that support ProRes playback and editing include Mac with Mac OS X 10.6 and later, iPad Pro 12.9-inch (third generation) and later, iPad Pro 11-inch (first generation) and later, iPad Mini (sixth generation), iPhone 13 Mini, iPhone 13, 13 Pro and 13 Pro Max.
How to find ProRes on the phone?
First, update to iOS 15.1 and then visit settings>camera>formats. Turn on the option and the next time you visit the camera app, try to shoot videos and the ProRes option will be available. You can shoot HD@30fps, HD@60fps, 4K@24fps and 4K@30fps (4K@60fps is not available).
Who will use it?
People who use the iPhone to capture professional-grade videos. Though most people won't have any use for it, those who make content in FiLMiC Pro will love the format.