OPPO Enco M32 wins with its clean soundstage and good microphone quality
The headphone can dangle around your neck and there is no fear of losing any wireless buds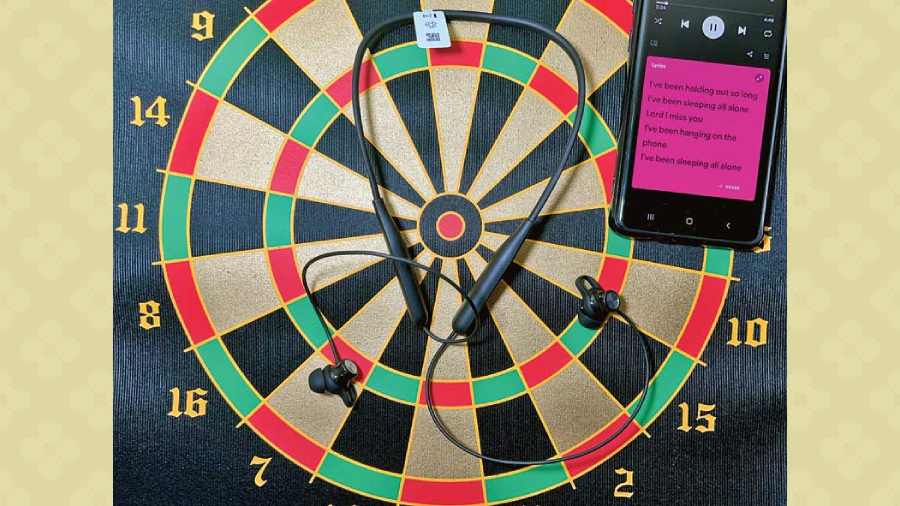 Oppo Enco M32 neckband offers deep bass without compromising on vocals.
The Telegraph
---
Published 06.01.22, 10:04 AM
|
---
Let's call this the wired-wireless sound solution. At a time when true wireless earbuds come for drop-in-the-ocean prices, the neckband continues to make a strong showing. For a lot of people, wire can be a dealbreaker, like on the OPPO Enco M32 wireless headphones.
Personally, I haven't used (for long stretches) a neckband-style headphone in sometime but the review device allowed a pleasant return to an old friend. Obviously, it's a good concept. The headphone can dangle around your neck and there is no fear of losing any wireless buds, especially when exercising outdoors. There is no hassle of carrying a charging case here. And these headphones are very light, perfect during workouts.
But what can Enco M32 offer that others don't? Sound quality — both in way of music and calls. Users are promised deeper bass, which is true but not at the cost of vocal clarity, something we have noticed on a few other brands, like a recently-reviewed device from Boat. Here the sound is cleaner and there is less fatigue while listening to music over a couple of hours. I could enjoy Billie Eilish as much as Fleet Foxes or The Corrs. The sound is somewhat open and with a good soundstage made enjoyable with a 10mm large dynamic driver. There is support for AAC high-definition audio coding and SBC audio format.
Neckbands are a tough segment because these devices have reached a level of perfection over the years, yet, Enco M32 pushes the boundaries with sound. On the microphone front, there is good AI call noise-reduction algorithm at play, allowing separation of environmental sounds in real time, which makes calls come through quite clearly.
About the design, it's an uncomplicated one and has a finish that should see you through for a long time. Even the controls are quite simple and easy to remember. A few other winning features are IP55 waterproof and dustproof capabilities (can be easily used in the gym or outdoor rain/dust), dual-device quick switching, and battery life, which is substantial (up to 28 hours; and with a 10-minute charge, the Enco M32 allows music playback for up to 20 hours). And you can stop music from playing by attaching both earplugs together.
If you are in the market for a neckband that will last you a long time and offer music beyond the gym, this is a good choice. OPPO Enco M32 wins with its clean soundstage and good microphone quality.
At a glance Device: OPPO Enco M32
Price: Rs 1,499 (special discounted price)
High notes
• Clean soundstage and vocal clarity
• Excellent battery life
• Microphone clarity
High notes
• No companion app