OPPO bets on camera zoom and night mode on its new device — Reno 10x Zoom
What makes the phones special? Let Will Yang (CMO, OPPO South Asia) and Jithin Abraham (product manager, OPPO) walk you through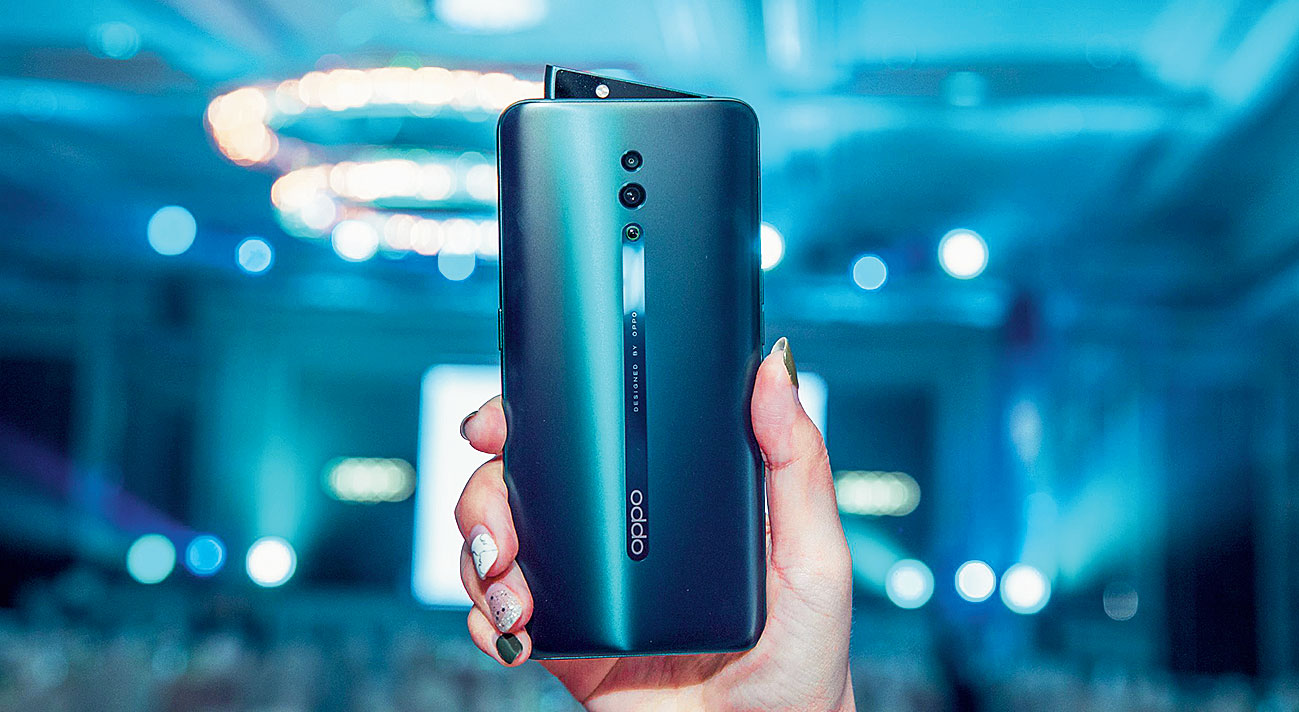 OPPO Reno 10x Zoom
Picture: OPPO India
---
Published 29.05.19, 02:41 PM
|
---
One simply can't miss OPPO as the Dongguan-HQed company is not just on billboards but it travels with the Indian cricket team. Yes, it has the Indian team sponsorship rights till 2022. On the product front, it's continuing to make its mark, the latest being OPPO Reno and Reno 10x Zoom, which were unveiled in India on Tuesday.
What makes the phones special? Let Will Yang (CMO, OPPO South Asia) and Jithin Abraham (product manager, OPPO) walk you through. India is at the heart of operations
Will Yang: Our journey in India has not been anything short of extraordinary. This time we have introduced an AI-powered virtual assistant called Breeno. As we enter our sixth year in India, we remain committed to our operations, bringing top-of-the-line innovations, many of which have been worked on in our R&D centre in Hyderabad, which is our largest outside China. The 5G technology which we have showcased in Europe couldn't have been possible without our operations in Hyderabad.
The design of Reno 10x Zoom
Jithin Abraham: The Reno series is seamless without a bulge. One of the key areas of design involves the camera placement. We have the rear camera completely under the glass, which itself is a 3D glass. It is all about symmetry and balance. And like anything of beauty, everything balances on a central axis. There is a ceramic dot (called O-dot) on the rear panel, which will lift the smartphone ever so slightly to protect the camera when the device is kept on a flat surface.
We have always offered viewers an immersive experience. This time, it is a 6.6-inch notch-less display with 93.1 screen-to-body ratio.
Also, we have upgraded the screen by adding an AMOLED luminescent material, which is power efficient (reduces consumption by eight per cent) and there is blue light filtration capacity of up to 56 per cent, which protects your eyes even if you look at your phone for long hours. Many people talk about a strobe effect in low-light mode. Just turn on the anti-strobe feature and it will disappear. The definition of Reno
Will: Reno doesn't have a simple definition. And it is not an acronym. The Reno series stands for creativity and it is very different from the mobiles in the market. It will be available in every market in which we operate in.
Pop-up front camera
Jithin: It takes mere 0.8 second for the shark-fin camera to rise. It elevates at an 11-degree angle, perfectly integrating with the phone. The camera has passed strict quality testing standards, allowing you to use it over 200,000 times without fail. Even if a customer uses it 100 times a day, it will last more than five years. If you are worried about the safety of the structure, it has a free fall recognition mechanism. If the phone is falling, the structure automatically retracts. The rear camera
Jithin: At the Mobile World Congress this year, we introduced 10x lossless zoom or 10x hybrid zoom. With traditional zooms most of the details get lost and without a stablisation technique, the pictures may appear dull. Also, sometimes one has to move forward or backward to achieve the correct angle. But with the Reno 10x Zoom you can stay put and choose whatever zoom you want. The R&D centre has put in a lot of effort on this front. The tri-lens has a primary 48MP lens, then an 8MP ultra-wide lens and a 13MP telephoto lens, which all have different focal lengths and they all come together to cover a focal length of 60 to 160mm. The big problem with long zoom photos is if the phone shakes, the image gets blurred. That is why we have introduced prism optical image stabilisation. We are using the movement of the prism to eliminate phone shakes. You don't even need a tripod to take amazing pictures.
Ultra-night mode 2.0
Jithin: Taking photos at night is a big challenge. Instead of simply brightening pictures, we add more details to the images. The primary 48MP lens comes with a Sony IMX 586 sensor. Previously, it used to take four to five seconds to complete a shot in ultra-night mode; now it is two to three seconds. In the handheld HDR enhanced mode shots are composed of five different images. In the tripod mode, it is composed of up to 17 images, with different light exposures. In the ultra-night mode 2.0, the phone traces and processes backgrounds and faces separately to optimise screen tones, giving more realistic pictures. There is also a Dazzle Colour mode which performs very well in difficult photography conditions, like when you are in a cafe or a restaurant. Normal phones may give you darker images; the Dazzle Colour mode automatically detects the details that are naturally present and adds them to the pictures.
The phone supports 4K ultra-HD videos of up to 60 frames per second and comes with optical stablisation and electronic image stablisation. The multiple microphones allow stereo sound recording and the microphones can identify sounds from different directions. We have also introduced Sound Focus, which increases the volume of an object as the phone gets closer to a person or an object.